Society Matters
Police Foundation Holds Spectacular 'Fun with the Force'
Event Raises More Than $300,000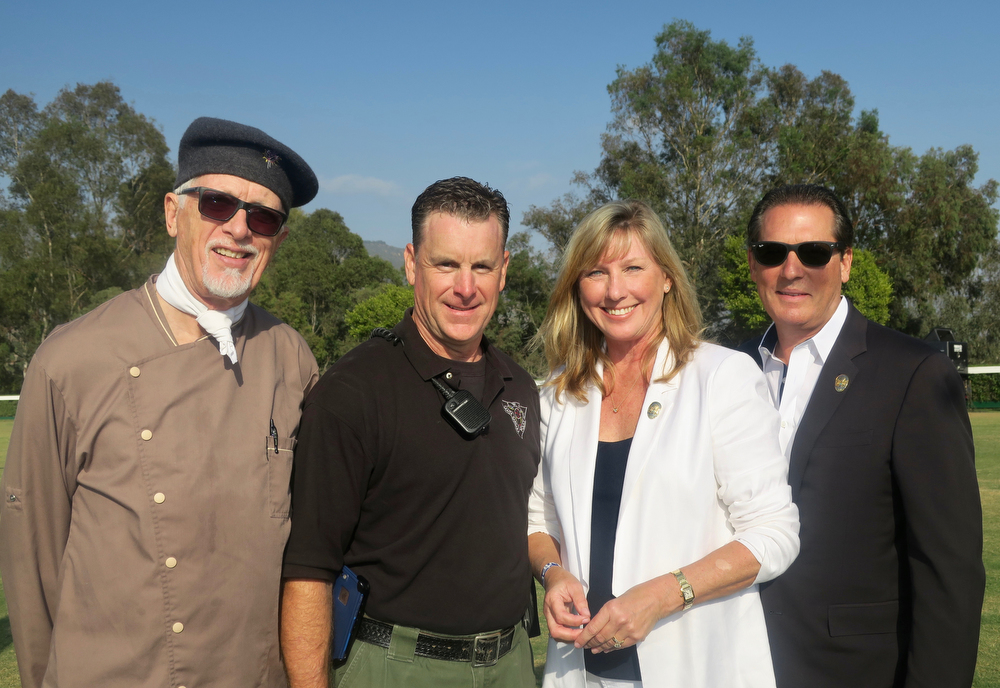 On October 1, a sold-out crowd of 600 enthusiastic supporters of the Santa Barbara Police Foundation (SBPF) gathered at Pat and Ursula Nesbitt's Bella Vista Ranch in Summerland for the fourth annual Fun with the Force event, which netted more than $300,000.
Founded in 2009 by a group of community members, the Police Foundation purchases much-needed equipment, such as bulletproof helmets and shields, hostage negotiation throw phones, and communication devices and it funds the K-9 program. The SBPF also provides support for deceased, injured, and ill police officers, employees, and their families and funds the At Ease program, which provides counseling services to officers and employees, often for job-related post-traumatic stress injuries.
At this casual and amusing event, the K-9 dog Loki was one of the greeters. Guests had the opportunity to chat with SWAT team members while being outfitted with ballistic vests, helmets, and M4 rifles for photo shoots. Many tried the SBPF-funded force option simulator, which simulates real life encounters officers face, and checked out various police vehicles and equipment. Exciting SWAT team demonstrations featured a K-9 team approaching a wanted man (safely ensconced in a bite suit) and Loki fiercely taking him down.
Booths from more than 30 fine food and beverage purveyors, including Barbareño, Olio e Limone, Empty Bowl, and Trattoria Mollie, circled the expansive, scenic field.
During the program, Police Chief Lori Luhnow thanked the foundation "from the bottom of my heart" for the At Ease Program, which is of paramount importance in this difficult profession, and for all the critical equipment the foundation has provided. She related how challenging it is to get new items into her budget and that the equipment the SBPF provides truly saves lives. A poignant video featuring personal stories conveyed how the foundation's assistance has been crucial.
The event honored SBPF Vice President and Event Cochair Eric Phillips, who, along with Jimmy Nigro created the Fun with the Force event four years ago. Phillips is active with many nonprofits and recently oversaw the $5 million remodel of the Riviera Theatre. Honored also was the Hutton Parker Foundation, which has distributed nearly $45 million to area nonprofits, including the SBPF. Lastly, the event honored chef Michael Hutchings, who has generously catered dinners for the foundation that have brought in more than $120,000 in auction proceeds, as well as prepared and served his creations at the Fun with the Force events.
The charismatic duo of actor Billy Baldwin and KEYT senior reporter John Palminteri led an auction and paddle raise that garnered high bids and pledges for this worthy cause while keeping the crowd entertained in the process. The evening concluded with a VIP reception and dancing under stars.
Since inception, the Santa Barbara Police Foundation has raised nearly $1 million.
For more info, go to santabarbarapolicefoundation.com.