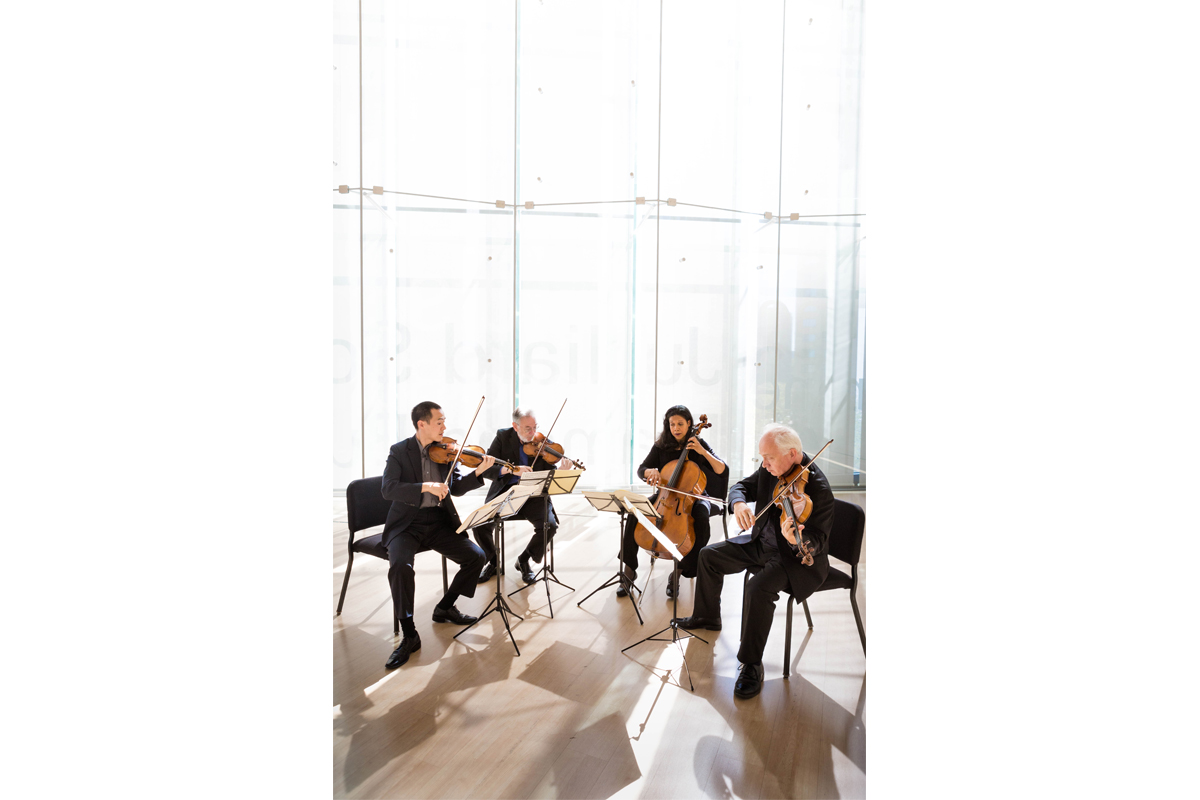 Since its founding in 1946, the Juilliard String Quartet has been one of America's premiere classical music ensembles. It has also comprised four men — until one year ago, when Astrid Schween replaced retiring cellist Joel Krosnick. In many ways, it is a comfortable fit. Schween spent two decades in the Lark Quartet before pursuing a solo career. She also earned her degrees at the Juilliard School, where she studied for a time with a founding member of the quartet, Robert Mann. Nevertheless, she understands the symbolic significance of her hiring. "Whenever glass ceilings are broken, it's a big deal," she said in a phone conversation with the Independent. "I see it as a sign of real progress for us as a country. That said, my daily preoccupation quickly moved from that to, 'How do you want to play this phrase?'"
Schween and her colleagues, including former UCSB professor Ronald Copes, will perform Saturday, November 11, 8 p.m., at the Lobero Theatre in a CAMA recital. During our interview, she talked about her love of the quartet repertoire and the process of fitting in.
Was it intimidating to enter such an established group? It could have been, but my colleagues were so welcoming and kind. At no time have I felt I had to fight to get my ideas through. Even in the audition process, everyone made an effort to create a comfortable environment, so I could be at my best and show them what I was able to do. There was a lot of mutual checking out — a lot of nonverbal communication.
The joy of being in a group like this is we get to go so deep into the material. Every phrase is considered. We probe every nook and cranny, always questioning whether we're taking the most effective approach. There's depth and honesty and willingness to confront whether one is really getting to the heart of the music.
How does the quartet come to agreement, about both what you choose to play and how you play it? There's a real sense of delight when it comes to decision making about repertoire. Considering what to play from this great repertoire, I feel like a kid in a candy store! I think all of us share that. In the process of putting a piece together and forming a cohesive interpretation, there is a lot of talking. We spend a lot of time demonstrating our ideas to one another. There are a lot of gentle arguments for different points of view. Sometimes you can get lost in the thicket, but then you have to pull back, like a camera, and gain a broader perspective. It's a really nifty process. I really enjoy it.
Your Lobero Theatre program includes the Fifth Quartet of Béla Bartók. What are the unique challenges of playing Bartók's music? Bartók is just amazing. He's to the 20th century what Beethoven was to the 19th. The Fifth is so virtuosic — it takes no prisoners. The demands on all four players are huge and fearsome. To say it's cleverly constructed sounds kind of trite, but it's so thoughtfully conceived. One section is straight out of Bulgarian folk music; the time signatures are very alien to those of us here in the far West. One of the challenges is making that sound natural and dance-like.
Finally, we've all been reading about instances of sexual harassment and worse in the entertainment industry. Does that happen in classical music as well? It does. I would say it did happen more in the past [than today]. I personally haven't experienced it, but I have friends who have had very different experiences — shattering experiences for these young women. It's horrible. I can't imagine any field is immune from it.
4·1·1
CAMA presents the Juilliard String Quartet Saturday, November 11, 8 p.m., at the Lobero Theatre. Tickets are $39-$49. Call 963-0761 or visit camasb.com. Schween and Copes will also conduct a free master class Friday, November 10, 5 p.m., at UCSB's Geiringer Hall. Call 893-3230.