News
End of an Era for Open Alternative School
District Board Votes to Close Beloved K-6 Campus at End of School Year
Many months of speculation and no fewer than eight public hearings culminated Tuesday evening as the five-member Board of Education weighed in on the fate of Santa Barbara Unified School District's widely beloved Open Alternative School. Before a standing-room-only crowd, and after heartfelt testimony from parents, students, and former students of the small K-6, boardmembers voted unanimously to shutter the 42-year-old institution at the end of this school year.
Superintendent Cary Matsuoka opened the hearing by reflecting on the past 10 months he has spent with Open Alternative School (OAS) parents. "We've agreed about the great history of OAS and the place it has served in the community," he said. "But where we have disagreed is about [its] health and status. [OAS is] at 70 students; a school needs hundreds of students to be viable." OAS's falling enrollment ​— ​down from 149 students four years ago ​— ​faced further decline as Santa Barbara Unified transitions to what's called a basic aid funding model, which encourages a district, for monetary reasons, to prohibit kids living outside its boundaries from attending its schools. Currently, 37 percent of OAS's student body is made up of such students.
As public testimony unfolded, however, it became vivid that OAS is all about inclusion ​— ​a place of mixed-grade classrooms, diversity, conflict resolution, environmental literacy, and the kind of multigenerational community building any parent would want their child to be part of. The school was described as a safe space where marginalized kids could thrive; where tolerance, compassion, and empowerment balance equally with academic achievement; and where small class settings allow kids to be individually cared for and taught. "When I think about my son [at OAS], he's very safe," Ivan Lopez told the board. "He's a secure little boy; his first language is not English ​— ​we came here two years ago from Mexico ​— ​but he's working very hard. We found a very special place [in OAS], and we want to work together with all of you."
"OAS is a community," said Jenn Long at the podium, with her 4th-grade daughter, Georgia McGrath, riding piggyback. "We raise each others' kids. Families like mine need a place that's intimate so we don't fall through the cracks."
Long lives in western Goleta, she said after the meeting, explaining that her daughter attends OAS through the interdistrict transfer system that Santa Barbara Unified has abandoned with the arrival of its new funding model. OAS experienced a similar hit to attendance ​— ​about a 30 percent drop ​— ​back in 2009-10, according to former boardmember Ed Heron. "That was the beginning of the end," he said, adding that the school's founder and guiding matriarch Gwen Phillips retired right around that time, as well, and died a few years later. "[OAS] never really bounced back." It didn't help that the district has in the past failed to link OAS as an option during online enrollment for elementary schools.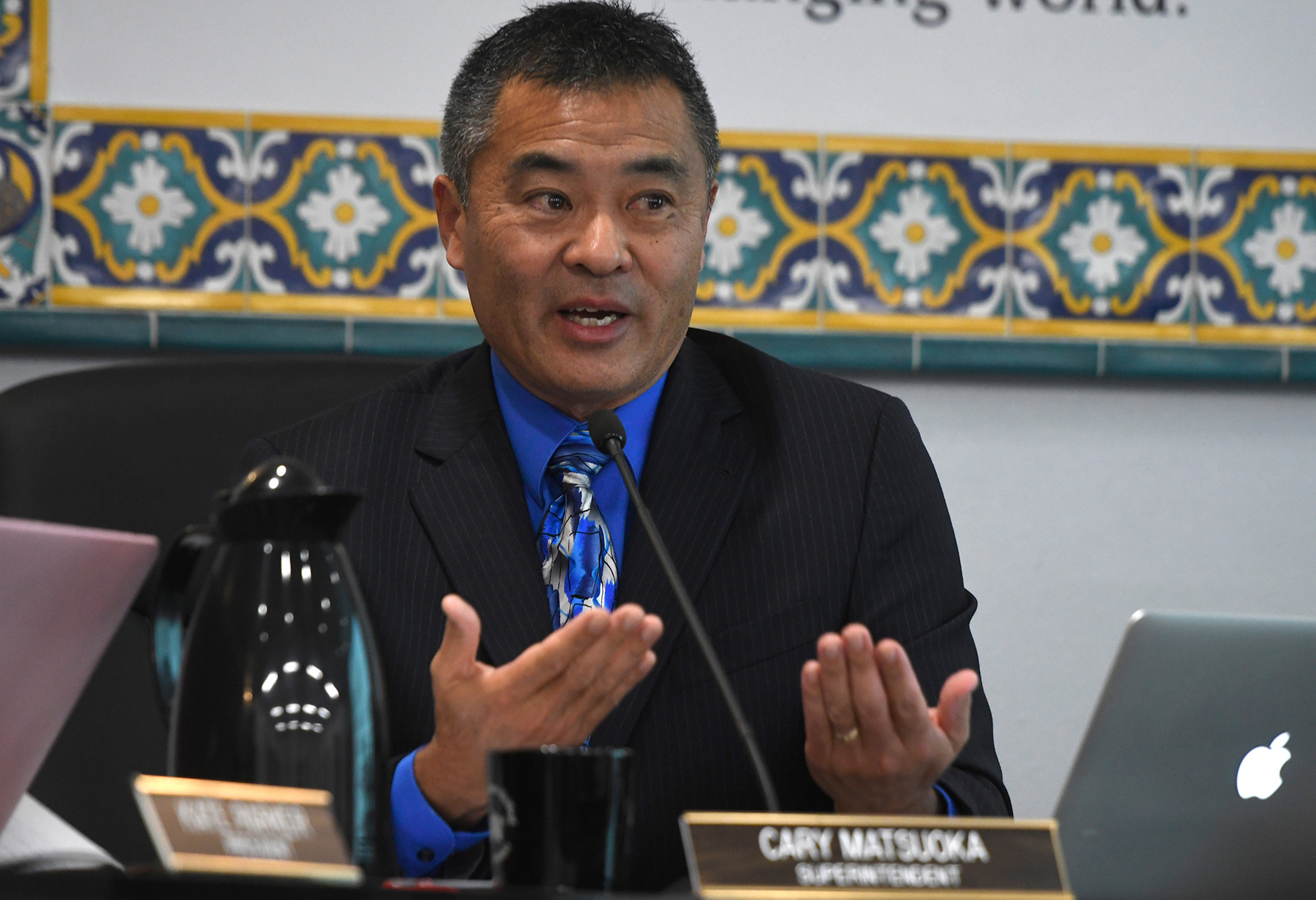 While parents sought support on Tuesday evening to build on OAS's strengths and keep it open at its present location on the campus of La Colina Junior High, the response across the board carried the same finality as Matsuoka's diplomatic yet inevitable resolution. The four new boardmembers ​— ​Jackie Reid, Wendy Sims-Moten, Laura Capps, and Ismael Ulloa ​— ​said the issue was the toughest they'd had to face so far. "It's been a real struggle," said Sims-Moten. "It's heartbreaking," added Ulloa. Capps regarded OAS as the pioneer of many of the teaching approaches now embraced by the district's nine other elementary schools, specifying that she would describe her son's education at Roosevelt as sharing similar qualities with the OAS experience.
Reid received a loud round of applause when she took the discussion into its next phase, urging the prompt formation of a task force to develop a program that mirrors the school's philosophy ​— ​while integrating the technological upgrades of a 21st-century education ​— ​as the district pinpoints which elementary school is best suited to accommodate a honed version of OAS administered by the principal and staff of the campus on which it lands. Matsuoka speculated that could take 12 months. "There needs to be creative minds coming together," Sims-Moten said.
In the meantime, Matsuoka offered, he and Assistant Superintendent of Student Services Frann Wageneck will meet personally with OAS families who wish to stay in the district to find the best-fit elementary school for their kids.