Make Myself at Home
Make Myself at Home: Charming Lucinda Lane Cottage
Take a Look Inside 3051 Lucinda Lane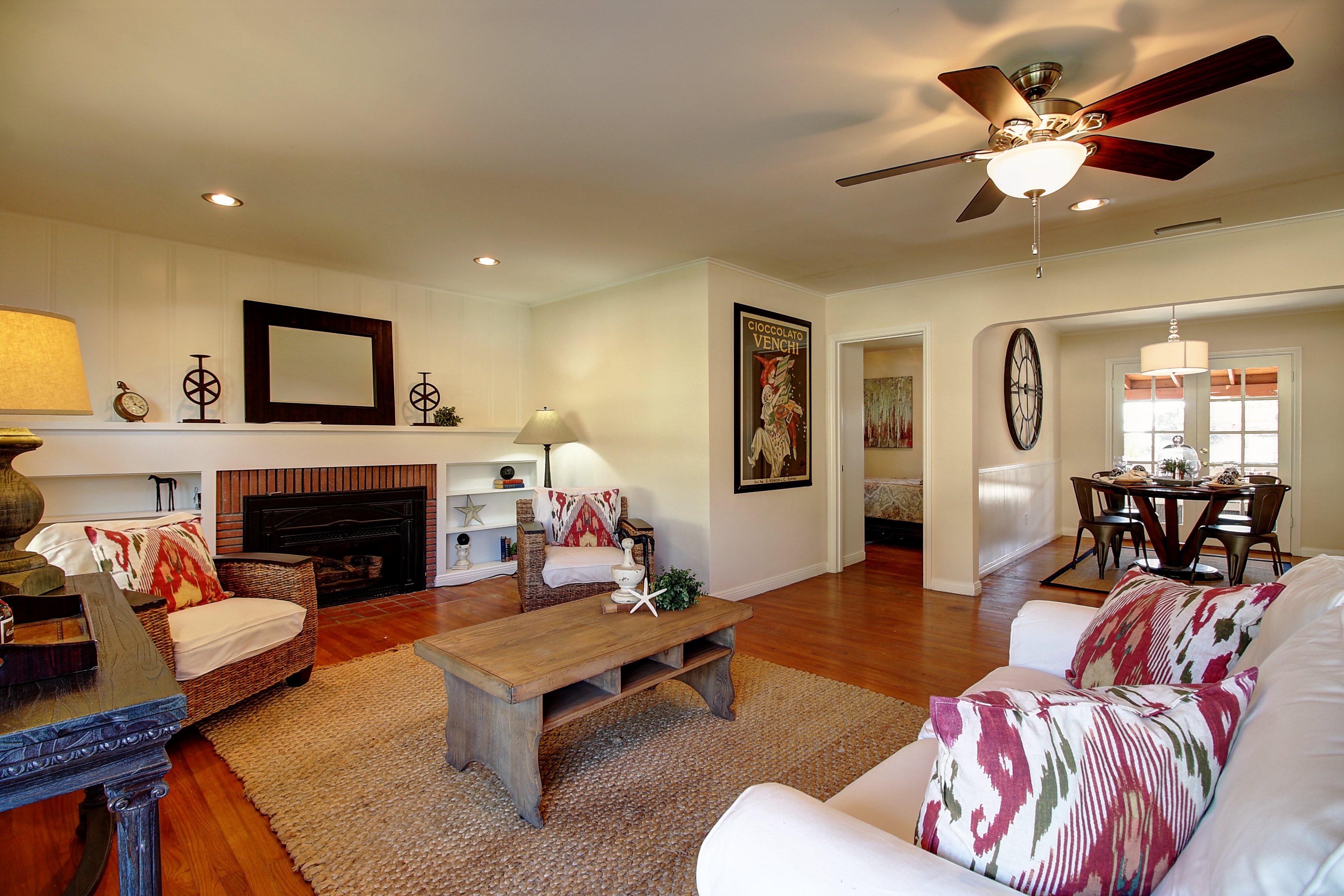 I grew up on a street named Southview Drive in San Diego. Southview was a long cul-de-sac where we kids would play outside long after dark, until we heard our moms or dads call us in. We had slumber parties in each other's garages and turned various yards into staging grounds for our latest large-scale adventure games. It wasn't just the kids who lived an idyllic existence. Among other activities, Southview residents organized block parties, neighborhood plays, and progressive dinners. One summer, I started a newspaper called the Southview Drive Gazette, with updates and news about the people and pets who lived on Southview and their goings-on. It was handwritten and short-lived, but good practice for my future career choices.
Later, raising my kids in Santa Barbara, we never lived on a street quite like Southview Drive. On the Mesa, the Westside, and then downtown during their teenage years, we lived in some great neighborhoods, but never enjoyed the connection that I knew from childhood on Southview.
I know firsthand that such local neighborhoods do exist, however. Entire streets whose residents coordinate their Halloween decorations; blocks where kids go from house to house after school, landing in one kitchen or another to do homework or kick off their shoes to play upstairs. Many years ago, my friend Janine invited us to a block party on her family's San Roque street, and I felt the Southview Drive camaraderie right here in Santa Barbara.
That street is Lucinda Lane, located just above Foothill and off Alamar. I'm told that the block parties are still going strong, with many of the same families as when we were guests 20 years ago. This is where I found my most recent favorite house for sale, a threebedroom, two-bath cottage at 3051 Lucinda Lane in this quintessential San Roque neighborhood. It feels like home before you even step through the front door.
A short hedge all around the house frames a swath of green lawn, divided by a walkway that leads past birds of paradise in brick planters and a huge magnolia tree, up to the porch. Two brick columns form a covered entryway on either side of the front door.
Once inside, the living room sports hardwood floors that are at once classic and cozy. This long front room is spacious enough for versatile design options with the furniture and the focus areas. But no matter how one chooses to arrange the room, one focal point will always be the brick-lined fireplace against the far wall. Built-in bookcases on either side, plus a long mantel spanning the entire wall, offer plenty of display space to show off your favorite things.
From the living room, one can walk down a hallway on the right, straight ahead into the dining room, or into the master bedroom suite on the left. Choosing the right-hand option, I found myself in a hallway that led to two bedrooms with a large bathroom in between. One bedroom is at the front of the house, with a big window overlooking the front yard and street beyond, while the other looks out onto the back. Both have large closets and plenty of light.
This same hallway also provides access into the kitchen and through to the dining room. There is also a laundry room tucked behind the kitchen, with a backdoor exit. I chose to walk through to the dining room, which offers French doors that open onto a large, covered back deck. This spacious outdoor room expands the home's living space and provides a perfect setting for entertaining all year-round. Stepping back inside and through the living room, one can see the master suite isn't larger than the other bedrooms, but it offers an attached private bathroom, plus the seclusion of its location in a separate wing.
I walked outside to check out the rest of the backyard. A one-car detached garage sits behind the house and has a large, separate storage room, which could be used as a home office or workshop, or even a cozy gym or art studio. I was drawn back onto the back porch, which is raised up several steps above the grounds, providing a lofty view onto the yard and even the neighborhood beyond. I imagined standing at this vantage point, as dusk falls, calling for kids to come back inside from whichever nearby house they might be visiting. The magic of the Lucinda Lane neighborhood is alive and well, and you definitely can feel it from this cozy cottage.