Arts & Entertainment
Santa Barbara Christmas Revels Celebrate Early California
Annual Holiday Show Tells of De la Guerra Wedding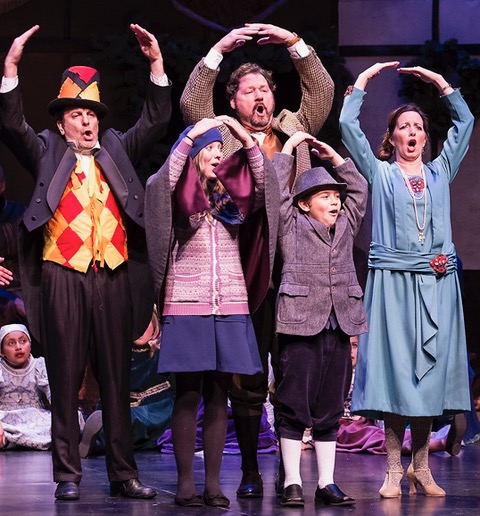 For 10 years, the Santa Barbara Revels have been a staple of the Christmas season, each year depicting holiday traditions from around the world. This year, the group is staying close to home for its inspiration with a show that tells of one of the most famous events to occur in the history of our seaside hamlet: the De la Guerra wedding. Titled An Early California Celebration of the Winter Solstice, the Revels will enact the 1836 nuptials of prominent Boston-born Alfred Robinson to Ana María, the daughter of Santa Barbara Presidio comandante José de la Guerra. The wedding, which was chronicled in Richard Henry Dana's 1840 book, Two Years Before the Mast, is a seminal event in the annals of Alta California and makes an excellent choice for the Revels, which are set in different historical locations and time periods each year.
Penned by Santa Barbara author and historian Erin Graffy in collaboration with Revels Founder/Artistic Director Susan Keller, the show includes actors, singers, dancers, a brass quintet, and a string ensemble, who combine to bring the selected stories to life. This year's cast includes Tyler X Koontz as Richard Henry Dana, Bill Egan as Captain Thompson, Paul Brooks as Alfred Robinson, Frank Artusio as José de la Guerra, and Paula Lopez as María de la Guerra. Special guests include Baile de California, led by rancho dance specialist Diana Replogle-Purinton, and the Barbareño Band of Chumash Indians' Ernestine De Soto, who will enact a traditional story of her tribe.
Shows are Friday-Saturday, December 15-16, 7:30 p.m., and Saturday-Sunday, December 16-17, 2:30 p.m., at the Lobero Theatre (33 E. Canon Perdido St.). Call (805) 963-0761 or see lobero.org.