Living
Tips for Shopping Local Amid the Thomas Fire
Support These and Other Locally Owned Businesses During the Holiday Season
With much of Santa Barbara in a high state of Thomas Fire–induced anxiety, Santa Barbara businesses, city officials, and retail leaders are scrambling to do what they can to encourage shoppers to "shop local." Christmas is just four days away, and December sales can make or break fourth-quarter performance. Even Isla Vista turned into a ghost town when UCSB canceled finals. "And not just students," said I.V. Food Co-op's Steve Snyder, "but families and people who work in the area left all at once."
The following in-store specials, pop-ups, and restaurant deals can sweeten the trip. Also see our Gift Guide from earlier this month at independent.com/gift-guide17.
Last-Minute Gifts
Beads Holiday specials include 20 percent off Blue Lotus jewelry, green and red beads, and all fair-trade scarves. Dancer sweaters from Bali are 30 percent off. 137 E. De la Guerra St.
Chaucer's Books Open normal hours this week, even if the power cuts out, and selling books in the most browsable store in town. Loreto Plaza, 3321 State St.
Color Services Memorable photo gifts can be made in a day, from tile prints to photo mugs. Order online at colorservices.com by midnight on December 21, and pick up in-store on December 22 at 4 p.m. Also open Saturday, December 23, 10 a.m.-2 p.m. 230 E. Cota St.
Figueroa Mountain Brewing Company The Buellton outpost is offering 25 percent off the taproom and restaurant fare to fire evacuees living between Oxnard and Goleta. 45 Industrial Wy., Buellton
Float Luxury Spa Four days are left in "12 Days of Relaxation," including a $25 gift card for every $150 spent on December 21; free bath salts with a $125 retail purchase on December 22, a free skin-care item with three purchased on December 23, and the offer of your choice on December 24. See floatluxuryspa.com for all offers. 18 E. Canon Perdido St.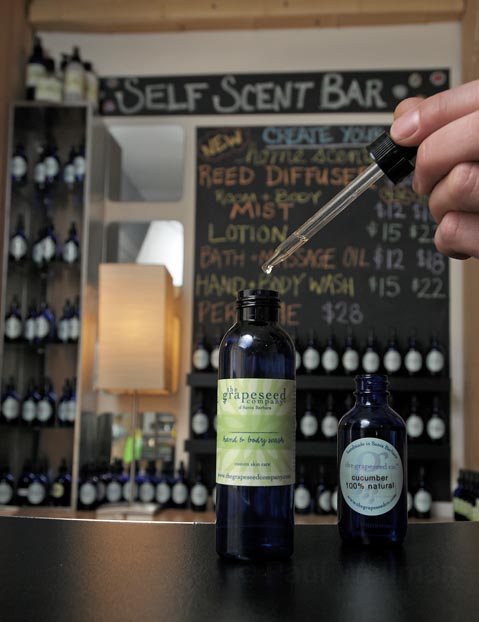 The Grapeseed Company Botanical beauty products from the byproducts of wine, plus soy candles and products for men, babies, and even dogs! Free gift with purchase. 21 W. Ortega St.; 4193 Carpinteria Ave., Ste. 6, Carpinteria
Holiday on the Lane Even Santa Claus Lane has been hit by the Thomas Fire doldrums, but festive stores are offering specials, a Santa visit (11 a.m.- 4 p.m.), a scavenger hunt for the kids (11 a.m.-3 p.m.), and hot cocoa, cookies, and holiday activities on Saturday, December 23. Surf Happens celebrates its opening on Saturday, too, with 10 percent of sales going to fire victims. Santa Claus Ln., Carpinteria
Isabella Gourmet Foods One of 15 pop-ups at Ama Sea Beauty, Isabella joins the "Blue Christmas" eco-friendly group of jewelers, parasol makers, and other Santa Barbara artisans in a week of special events and treats. 506 State St.
Isla Vista Food Co-op The member-run cooperative, founded in 1972, is pushing food specials and Thomas Fire relief efforts both in-house and through social media. "We've been open every day, and we're fully stocked," said the Co-op's Steve Snyder. "We're your store — help us help your community." 6575 Seville Rd., Isla Vista
Lovebird Boutique & Jewelry Bar On Friday, December 22, 5-8 p.m., 10 percent of proceeds from the 535 State Street store will be donated to United Way to help those displaced by fire. Live music and refreshments at 2 p.m., Saturday, December 23, at the 7 East De la Guerra Street store.
Mesa Bookstore Cookies, candy canes, and great deals through Christmas Eve, including D.J. Palladino's Nothing That Is Ours signed on the spot! 1838 Cliff Dr.
Metro Entertainment Free $20 graphic novel with every $40 purchase. 6 W. Anapamu St.
Miss Behavin' Boutique The code DECEMBER LOVE gives 20 percent off at shopmissbehavin.com, with free shipping. Free same-day delivery available in Santa Barbara, Goleta, and I.V. through December 23. 6551 Trigo Rd., Ste. 6, Isla Vista
Municipal Winemakers The Muni Mega Mall takes place Thursday, December 21, 7-10 p.m., with lots of arts, crafts, towels, chairs, and quite a quantity of food. 22 Anacapa St.
Plum Goods Two-for-one ornaments and half-off holiday candles as well as the standard free gift wrap. Plus, Asher Market's sensuously soft goods pop-up at Plum Goods this season. Online or over the phone, your package can be wrapped and ready at the curb. "When buying local, the sales tax goes to firefighting services," reminded proprietor Amy Cooper. 909 and 911 State St., 845-3900, plumgoodsstore.com
Santa Barbara Museum of Natural History and Sea Center The Museum is back open again with the lifting of the evacuation order. Free admission at both venues through Christmas Eve to kids and parents who need a break. Uniquely fun toys, games, and clothing can be found in the gift shops, too. 211 Stearns Wharf
Eating Out
Black Sheep Restaurant Happy-hour menu offered every night, all night through Saturday, December 23. Bonus-bucks gift certificates available through Sunday, December 31: $40 gets $50, $50 gets $65, $60 gets $75, $80 gets $100, $100 gets $130! 26 E. Ortega St.
The Harbor Restaurant and Longboard's Grill Upstairs at Longboard's, the $9.95 Burger & Brew special can be had through Friday, December 22. And the Harbor Restaurant is taking reservations for the popular Christmas Day buffet. 210 Stearns Wharf
Paradise Café Lunch and dinner specials through December: Paradise margarita, $6; Paradise chardonnay or syrah, $7; The Original Paradise Burger, $8.95; Cobb salad, $8.95; huevos Valenzuela, $7.95; MonsterNogs, $8. 702 Anacapa St.
Renegade Wines Informal tasting of the past year's favorite wines, with complimentary wine as you shop, Saturday, December 23 and 30, noon-6 p.m. Holiday Sparkling Wine Tasting with bubblies from around the world and cheese from C'est Cheese, Thursday, December 28, 5-7 p.m. 417 Santa Barbara St., Ste. A-6
Santa Barbara Cider Company Reopening after ash evacuation with $1 off glasses of seasonal gingerbread cider and $5 off the 32-ounce gingerbread cider growlers. Thursday-Friday, December 21 and 22, 5-9 p.m.; Saturday, December 23, 3-9 p.m. 325 Rutherford St., Ste. D, Goleta
Sevtap Winery Special 30 percent discount for Santa Barbarans on in-store purchases through December 31. 1622 Copenhagen Dr., Solvang
Experiential Fun
The Dance Network Through end of month, 15 percent off gift certificates for any combination of classes, private lessons, dance shoes, and dance apparel. Call 250-3261 or email thedancenetwork.sb@gmail.com.
Eat This, Shoot That! Gift certificates for food, wine, and photo tours are 10 percent off through December 25. Use code XMAS2017. eatthisshootthat.com
Fitness with Rachel A 10 percent bonus offered on gift certificates through Saturday, December 23. For anyone in a mandatory evacuation zone, free classes until the mandatory order is lifted. 160 N. Fairview Ave., Ste. 2, Goleta
The Painted Cabernet Gift-certificate specials on classes; 30 percent off gifts. 1229 State St.
Zen Diva Spa All mobile, in-home spa-service gift certificates offered at 30 percent off. zendivaspa.com
Benefits
The Jenny Schatzle Program Free classes this week to anyone in need of a great workout surrounded by a positive, supportive community. Schedule at jennyschatzle.com/train-in-person. 211 West Carrillo St.
Twin Lakes Golf Course Half of the green fees through Friday, December 22 go to Thomas Fire victims through the Ventura Sheriff's Office of Emergency Services' Thomas Fire Fund, of which 100 percent goes to those whose homes have been destroyed. 6034 Hollister Ave., Goleta
Funk the Fire Benefit Night Figueroa Mountain Brewing is hosting a New Year's night, 5 p.m.-close, of live music and comedy with a portion of the evening's proceeds going to those affected by the Thomas Fires. Bryan Titus Trio takes the stage 5-7 p.m., followed at 8 p.m. by L.A.'s Best Comedy Show presented by Eric Hahn. 137 Anacapa St., Suite F
Dylan Ortega Band Thomas Fire Fundraiser Saturday, January 13 event brings live entertainment from Santa Ynez Valley musicians and Nashville recording artist Carrie Marie at the Flying Flag RV Resort. Free family-friendly event includes food and drink vendors, silent and live auctions, and raffles sponsored by Valley businesses, with all proceeds to go to fire victims thorugh the United Way of Ventura County.
180 Avenue of the Flags, Buellton