Living
Combat Training for Fitness and Protection
Krav Maga Brings Real-World Technique to Santa Barbara
On a gloomy Thursday afternoon, a chorus of "yessir" rises above the heads of a dozen little kids. As part of their youth training at the Santa Barbara Krav Maga Family Self Defense Center, they're obediently practicing how to break a fall. The kids giggle as lead instructor Pedro Sanchez runs toward them with a giant padded cushion, about as wide as the kids are tall. As much fun as they're having, the youth program at S.B. Krav Maga is putting them to the test. A few feet away, a motto stamped on the front desk reads, "Train like your life depends on it … because it does!!!"
Krav Maga (Hebrew for "contact combat") is the training technique used by the Israeli Defense Forces and emphasizes real-world fighting scenarios. Instructors build both situational awareness and fear and stress inoculation in students. Newcomers pick up on the techniques quickly, Sanchez said, reaching a high level of proficiency in a short amount of time. More important, the programs teach people not to abuse the skills they learn. While the classes teach students how to respond quickly and aggressively to an attacker, Sanchez said that the real lesson is that they're in a place where they won't freak out and can easily get out of trouble. "Our philosophy is to take our students and give them tools to fight back in any situation," Sanchez said.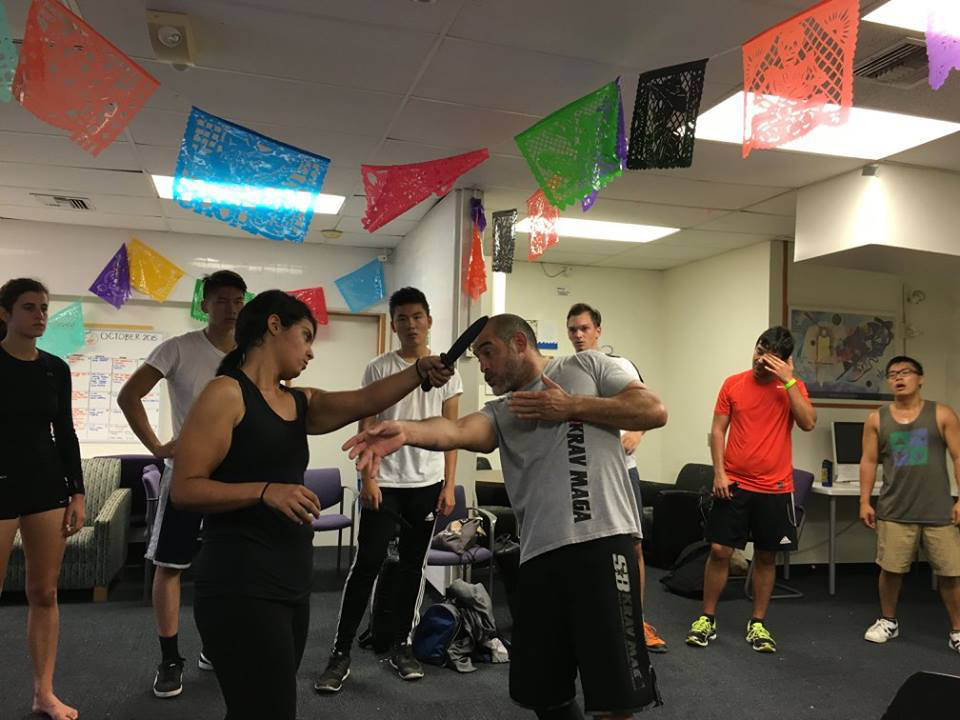 The studio's five full-time instructors foster much more than self-defense skills. After youth classes, they approach parents and ask about holidays, family vacations, and how their kids are doing in school. The same practice is applicable to the outside groups that instructors work with. In the last few years, the only Krav Maga–centered and internationally approved practice on the Central Coast has taught self-defense workshops to some Santa Barbara police officers and UCSB student groups.
Classes range from a cardio-fitness boot camp to women's self-defense, which has proved popular in recent years. Sanchez and another instructor, Elizabeth Turner, say that they've seen an increase in women coming to the center, numbering up to two-thirds of their clientele. Some come after being sexually assaulted, while others look for practical fitness training. Newcomers can join at any time.
"Anyone can do it," Turner said. "We get people who have been attacked, and there's no pressure or judgment. It's hard, but they work through it."