Anyone who knows me know that I love my daily walks on the beach with Scout. Feeling my toes in the sand and watching the waves crash and the birds soar past are all part of my daily routine. My favorite beaches include Hendry's, Leadbetter near the harbor, and, especially, East Beach. Stretching from Stearns Wharf and Chase Palm Park all the way south to the volleyball courts at the edge of Montecito, East Beach, with its lines of palm trees standing sentinel along Cabrillo Boulevard, is the iconic backdrop to many a Santa Barbara postcard and one of my favorite places to relax.
As much as I love East Beach, until last week I had never visited the luxury community of El Escorial Villas. Right across from the volleyball side of East Beach, next door to the oceanfront Hyatt Centric, and almost adjacent to the Santa Barbara Zoo, El Escorial offers 261 condominiums with an address as close to East Beach as one can possibly live.
After being ushered through the gated entrance by a pleasant security guard, I parked and walked in to what I later learned is the back entrance of El Escorial. A bubbling fountain sits in the middle of a green lawn with lush plantings and ferns, palms, and two huge coral trees. Walking through an impressive entrance to the tiled and columned clubhouse, I turned down a corridor and found my intended destination.
Unit #402 is a one-bedroom, one-bath groundfloor unit that has been lovingly decorated with quality finishes in a European flair. Through the front door, the kitchen is on the left, the bedroom and bathroom down a short hallway to the right, and the living room straight ahead.
The kitchen has sage-green wood cabinets and new stainless fixtures in a compact layout. One wall opens onto the living room, providing a pass-through bar and a spacious, open feeling. The living room offers enough space for a separate dining area, and plantation shuttered French doors open out onto a patio that takes full advantage of the greenery and view.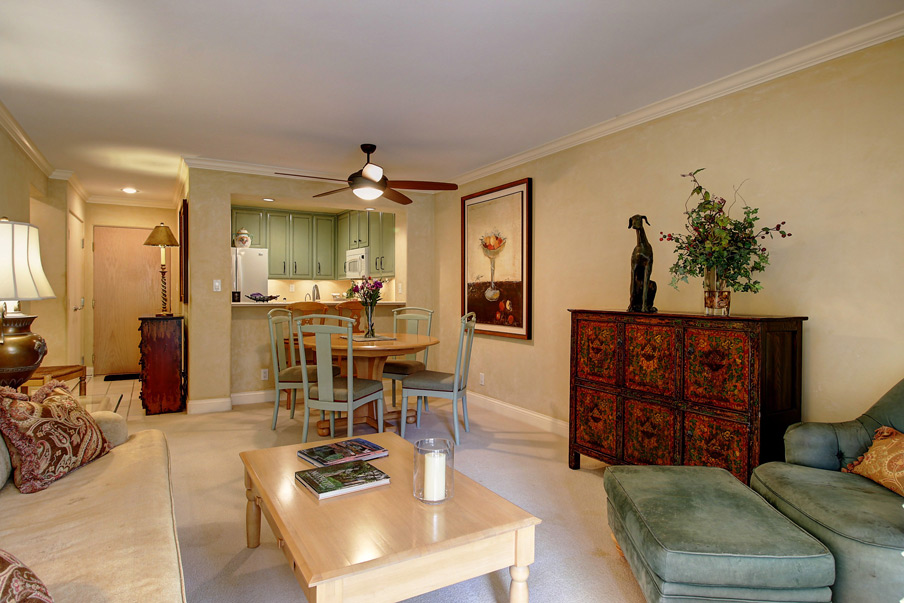 The patio is large enough for a table and chairs, just perfect for an al fresco breakfast or a glass of wine at the end of the day. Looking out from this direction, I realized that the coral trees that I had just walked past now framed the delightfully tropical view. A gate off the side of the patio allows residents to come and go directly through the front entrance without having to walk down the hallway and through the clubhouse, making this location practical as well as lovely.
Back inside, I admired the limestone wash on the walls as I walked through to the bedroom and bath. The bedroom also offers a view of the landscaping and contains a surprisingly large closet that has been further maximized with a shelving and drawer system for efficiency. A quick peek into the hall closet revealed a washer and dryer, to fulfill my personal checklist of must-haves.
El Escorial also offers the luxury amenities of tennis courts, a clubhouse, and 24-hour gated security, as well as a Jacuzzi and swimming pool that I'm told is heated above 80 degrees all year round. Those are tempting perks, of course, but if I lived at El Escorial, you'd find me and Scout hanging out across the street at East Beach every day.
402 Por la Mar Circle is currently for sale in Santa Barbara, listed by Billy Mandarino of Village Properties Realtors. Reach Billy at 570-4827or billy@villagesite.com.