News
Mapping the Destruction of the Montecito Mudslides, Starting at the Top
Home by Home, We're Building a Map of the Effect of the Mudslides on Montecito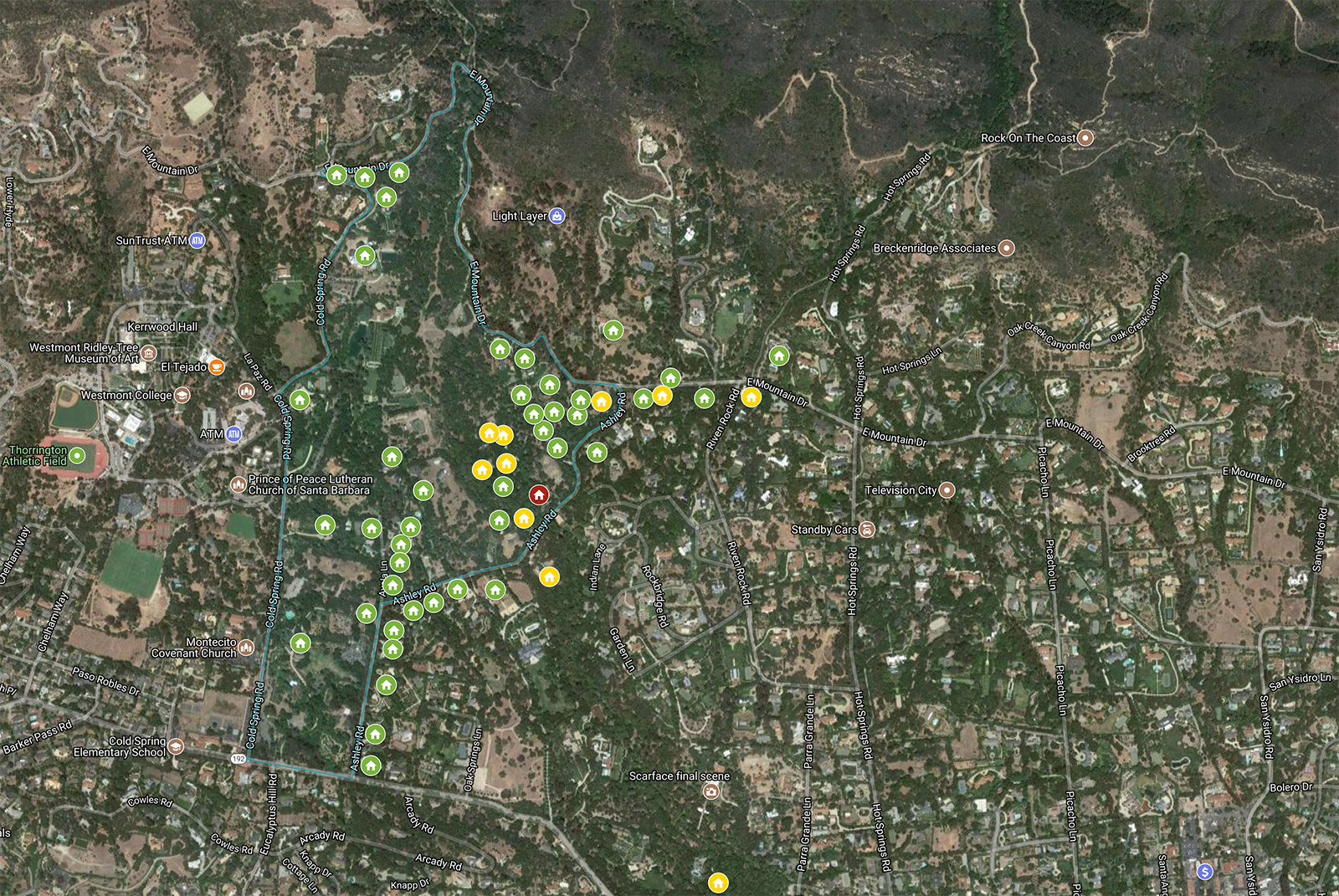 Rescue and recovery in the aftermath of the mudslides in Montecito will likely take weeks to months. As firefighters, paramedics, search and rescue teams, inmate crews, and law enforcement focus on lifesaving efforts, the Santa Barbara Independent is undertaking a mapping initiative to assess the impacted areas in Montecito. Working systematically in small areas at a time, our staff is hoping to provide a street-by-street look at which homes were damaged, destroyed, or spared by the disaster.
Mark Hudson lives under the shadow of Montecito Peak, near where Cold Spring Creek meets Hot Springs Creek and the two combine to flow together as Montecito Creek. He describes stepping out of his home sometime after 3 a.m. on Tuesday, January 9, to investigate what he says "sounded like a freight train."
That freight train — the river of mud, branches, boulders, and pieces of homes — eventually spared Hudson's home as it made its way down East Mountain Drive, charging down once-dry creek beds and building to a depth of 30 feet at some points during its plunge southward into Montecito. When evacuation orders were issued for his neighborhood in the days prior, Hudson decided to stay: "We stayed because during the Thomas Fire, if we evacuated, we couldn't get back in. We couldn't come home."
Retired professor Michael Zirolli and his wife, Dr. Barbara Mathews, elected to leave the neighborhood when the orders went into effect on Monday. The Thomas Fire had burned into their property but spared their home thanks to a wide fuel break — they wouldn't risk another disaster by staying during the season's first major winter storm.
Instead, Zirolli and his grounds assistant are the first pair of civilians to approach Chief Vince Capelle and his task force of 29 men as they comb the newly scoured creek bed below Cold Spring Canyon. Zirolli's home lies just a couple of thousand feet to the north, but the mounds of debris along the creek bed are impassable, not to mention the area is still legally off-limits to residents who have already left their homes.
Zirolli surrenders to the reality that he won't be going home today. He looks up the creek as a group of firefighters contemplate whether they're looking at the foundation of a yet-to-be constructed house or the foundation of one that once was. A quick check of Google Maps would later confirm that 809 Ashley Road had been torn out of sight.
Hudson and Zirolli are two sides of the same coin: residents of Montecito who are struggling to move into or out of the evacuations area, which as of Thursday evening covered virtually the entire community — some 30,000 people. At that time, at least 65 homes had been destroyed and 446 were damaged, many of them totally inaccessible.
As residents trapped both inside and outside of Montecito grapple with the uncertainty of a lost home, either their own or that of a friend or relative, the Independent is beginning to map out the damage, destruction, and sparing of homes in Montecito. With this undertaking, we ask that the community understand that:
Mapping will occur in small segments as access and resources permit.
Assessments are based on visual confirmation, at times from a distance, with homes being described to the best of our ability as "Appears OK" (in green), "Appears Damaged" (in yellow), or "Appears Destroyed or Majorly Damaged" (in red).
Only areas shaded in blue have been thoroughly assessed.
Homes without a colored symbol above them have not been assessed.
Homes designated as "Appears OK" (in green) should not be approached or entered unless declared safe and accessible by first responders.
As of Thursday, January 11, our disaster assessment map (below, or tap here if viewing on mobile) covers the area between Cold Spring Road, East Mountain Drive, and Ashley Road, with a handful of additional reports from farther down Montecito Creek.