Bottles & Barrels
The Pajama Palate of Marissa Ross
Author of 'Wine. All the Time.' Talks Trebbiano, #MeToo, and Air-Puffed Violets
In a wine industry whose celebrated superstars tend to be overeducated white males focused on unattainable bottles, Marissa Ross is a spunky splash of freezing-cold ice water to the face.
Ross is a former comedy writer and assistant to actor Mindy Kaling, and her humorous exploration of cheap wine through web videos became a career overnight, almost by accident. She's become a darling of the wine world, especially in millennial circles, by breaking down the pretentious walls of wine — among other strategies, she's been known to guzzle from the bottle, cuss like a sailor, and come off as, well, a little bit drunk at times.
Ross is now Bon Appétit's wine editor and continues to run her websites, which feature engaging, colorful, and often hilarious reviews of usually affordable wines. She recently published her first book, Wine. All the Time.: The Casual Guide to Confident Drinking, and is coming to Potek Winery on January 20 to share her passions with us. Ross answered a few of my questions last week.
Unlike many other connoisseurs, you embrace the fact that your entry to wine was by drinking cheap bottles, which is really how most Americans get into wine as well. How has that opened your eyes to wine in different ways than other "experts"? I think it opened my eyes to the fact I'll never be an "expert." When I first became interested in wine, there was always something to learn, something new to drink. And that never changes. No matter where you are in your wine drinking or education, there is always more to discover and more knowledge to gain.
It's impossible to know everything about wine, and I never would want to even if I could. That'd be like when you have finally listened to every Beatles song a hundred times over and are like, "Well, now what?" And then there's nothing else. That's a horrible feeling!
Wine is constantly evolving and growing, and it's very exciting, and I want to instill that in every wine lover, whether they are a beginner or an "expert."
When did you realize that you might be able to build a career on wine? I honestly did not think it was possible until February 3, 2015. I'd been writing about wine and doing videos for a while, but because I didn't have any formal training in, well, anything, really, I didn't think anyone would take me seriously. But then this Grub Street interview with me came out, and overnight it went from being my hobby and pipe dream to publishers asking me to write a book. Most days I still can't believe it's real.
What's your opinion on Santa Barbara County wine? Santa Barbara County is awesome. It's been exciting over the last few years to see great winemakers there start pushing the boundaries. Dave Potter of Municipal and Potek was one of the first winemakers I got to know up there years back, and he really showed me this other side of S.B. His Bright White Riesling just blew me away. It opened me up to other wineries like Lo-Fi, Solminer, and Stolpman Vineyards, who are also all doing great work.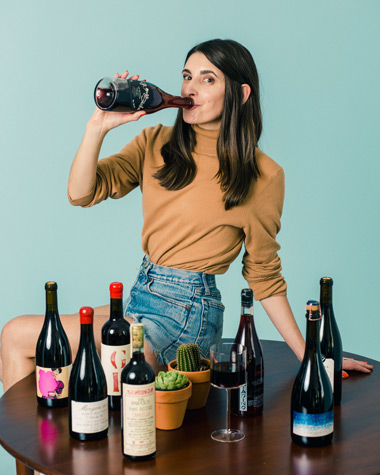 How did you develop your rich palette of words to describe how a wine tastes on your palate? How do you think people react to tasting notes these days? (I write about 200 a month myself, so am always wondering if they even get read.) My whole life I've wanted to be a writer, so starting as a kid, I was just always writing everything down — what I saw, what I felt. I wrote about music for a while, and was pursuing a career in comedy writing; both are very detail oriented and very experiential. And oddly enough, all of that, which has nothing to do with wine, is what makes up how I write about wine.
I can't speak to how people react to other people's tasting notes, but I can say I get a wide range of reactions to mine. People either love them or are like, what the hell are you talking about?! They're out there. I drive my editors at Bon Appétit bananas. They're like, "You can't talk about grapefruits 'feeling up' tangerines! And what is an air-puffed violet?!"
On a more serious front, the #MeToo movement has hit many industries right now, and the world of wine is ripe with perpetrators on that front, yet no one has really been called out (not counting a few chefs). Do you think the wine world's #MeToo moment is coming? It's hard for me to say, mostly because I am still fairly new to the wine industry and have spent most of my short career writing at home alone, but also, I'm sure it's coming. It's an industry that revolves around alcohol and it's run primarily by men.
Even as someone new to the game who spends 75 percent of her life at home in pajamas, I've still encountered an incredible amount of sexism, and definitely some inappropriate behavior. It's interesting, and disheartening, because I came from the entertainment industry to wine, and the behavior is pretty much the same.
As a survivor of sexual assault myself, I genuinely hope that women in the wine industry that have been abused do come forward and know they have my support.
What's your go-to red right now and why? I've been on a huge Italian wine kick since visiting and harvesting there last summer. Really anything from importer Matt Mollo (SelectioNaturel), but I've been enjoying deep diving into sangiovese and exploring more trebbiano. Also, always, forever, gamay!
What can attendees expect at the Potek event? Drink awesome wines, sign books, kiss babies. I can sing and dance too, if you want? Not very well, but the option is there! I'm just so excited to come up and support Potek and Santa Barbara wines.
4·1·1
Marissa Ross will sign copies of her new book, Wine. All the Time.: The Casual Guide to Confident Drinking at Potek Winery (406 E. Haley St.) on Saturday, January 20, 5-8 p.m. The $35 ticket includes a copy of the book and a glass of Potek bubbly. Go here for tickets and here for more on the book.