Film & TV
Producers Get Real at SBIFF
Panel Relates War Stories and Notes Some Progress in Diversity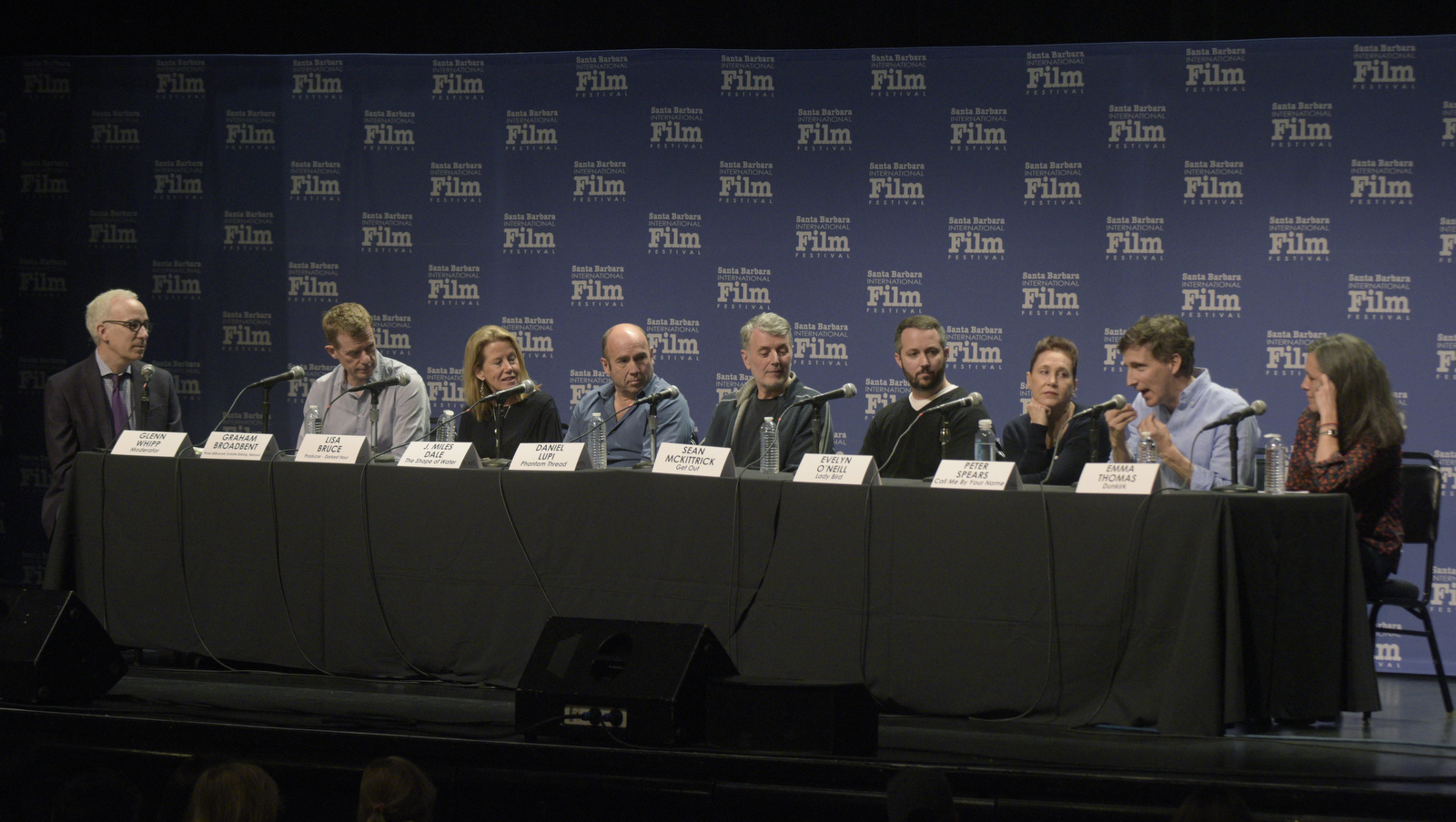 The Producer's Panel on Saturday morning was redolent with dark humor. The Santa Barbara International Film Festival brings Oscar contenders annually to town, and every year the audience is treated to the insiders' insights into an unforgiving and immensely difficult task (because of actors, directors, and studios) and also a creative and immensely rewarding task (because of actors, directors, and studios).
For The Shape of Water, a film directed and co-written by Guillermo del Toro that has received 13 Oscar nominations, producer J. Miles Dale asked, "How do you pitch a story about a meek cleaning woman who falls in love with a fish?" when considering funding it for $19 million versus, say, $100 million. "The budget is a state of mind," the director had told him. "Bullshit," Dale thought, until he realized that del Toro, a filmmaking pro of 25 years, made choices that kept the project within budget. Del Toro also squeezed it into the 58 days between seasons of the television series The Strain, with which both are involved.
The war stories continued as Peter Spears recalled that the summer of 2016 in Italy, where Call Me By Your Name was filmed, was the "wettest, coldest, rainiest in 200 years." The actors wore wetsuits while appearing to bask in lakes and rivers, and kept ice cubes in their mouths to keep their breath from steaming when they spoke their lines. The balmy summer on view was all due to cinematographer Sayombhu Mukdeeprom, he said.
The English crew on Phantom Thread, was different for director Paul Thomas Anderson, said producer Daniel Lupi, as he's filmed all his previous movies in the San Fernando Valley [a slight exaggeration]. In America, filmmaking notoriously goes on for hours and hours. When the Phantom Thread crew was asked to hold on through midnight, Lupi said, a gaffer simply looked at them and said, "No." 
"Funders will roll the dice if at least they can get out alive," noted Lisa Bruce, bringing the conversation back to the cost of filmmaking. Darkest Hour, she said, was "set in a room full of men talking." What made it work was director Joe Wright's tick-tock pace of a thriller and also Gary Oldman's turn as Winston Churchill, the only actor they'd considered for the part, she said. Looking at it from the studio's perspective, when they proposed Dunkirk, said producer Emma Thomas, who is married to director Christopher Nolan, are they going to say no to the man who made Interstellar and Inception for what is essentially a silent film with very little dialogue? 
Graham Broadbent, who produced Three Billboards outside Ebbing, Missouri, itself nominated for seven Oscars and the winner of the Golden Globe for best dramatic film, described the budget process as a land grab: "Ask for as much as you can, then they push back and you push back." The last bit of money can be a matter of tax credits, the Englishman added, saying he had a map of the United States in his office that showed each state based on its tax credits to production companies: "New Mexico here, then Louisiana, Mississippi, Georgia over here, North Carolina … " as his cohorts onstage cracked up.
Moderator Glenn Whipp of the Los Angeles Times raised the question of women in film, which constitutes a panel on Sunday at this year's Film Fest and is a large question for this year's award season. Three of the eight on the producers' panel were women, a proportion Emma Thomas (Dunkirk) thought not unusual in a role that was for self-starters, more so than a person who was often hired on, like a director, for instance. Evelyn O'Neill noted that the popularity of films like Lady Bird, which she produced, and Wonder Woman were showing that female-focused films could be box-office draws. "Things are changing," said Broadbent, pointing out how a film like Three Billboards could easily have had a male in Frances McDormand's role, a protagonist not unlike the hero of a western. 
All the films represented by the panelists were hard to get made, observed Sean McKittrick. The film he produced, director and writer Jordan Peele's Get Out, was shopped as a horror film — more in the classic vein of Rosemary's Baby, he said, not bloody slasher porn. But the theme is racism, McKittrick said bluntly, which even after a black president, is still everywhere. Asked to star, Peele, half of the comic duo Key & Peele, said no, he didn't want it mistaken for a comedy.
Peter Spears was encouraging. When he started as an actor — "living in a closet," literally and metaphorically — 20 years ago, that Moonlight could win an Oscar last year or Call Me By Your Name be nominated this year was unimaginable. "As a gay man," he said, "I never dreamed we would get here."