Film & TV
SBIFF 2018 Day Seven
Directors as Cultural Superheroes
SBIFF domo Roger Durling wasn't just whistling hyperbole when he told Tuesday night's Arlington Theatre crowd that the talent culled onstage was the most artistically powerful club in the Outstanding Directors Awards nights at the fest. "Forget the fucking Avengers," quipped Durling. "These are the true superheroes." True that. On that stage was genuinely an all-star collection of uniquely creative voices, whose work this year — all deserving their Oscar nominations — amounted to a new, rejuvenated reason to believe in the sometimes depressing state of artistic affairs in American film (American in the larger sense, in the case of Mexican-bred master Guillermo del Toro, who wooed the world with The Shape of Water).
We had newcomers of huge promise — Jordan Peele's ingenious genre film meets social commentary jewel Get Out, and Greta Gerwig's calmly brilliant Ladybird — and grizzled veteran greats Paul Thomas Anderson (Phantom Thread, my pick for best American film of 2017), Christopher Nolan (the mesmerizing Dunkirk), and the aforementioned del Toro.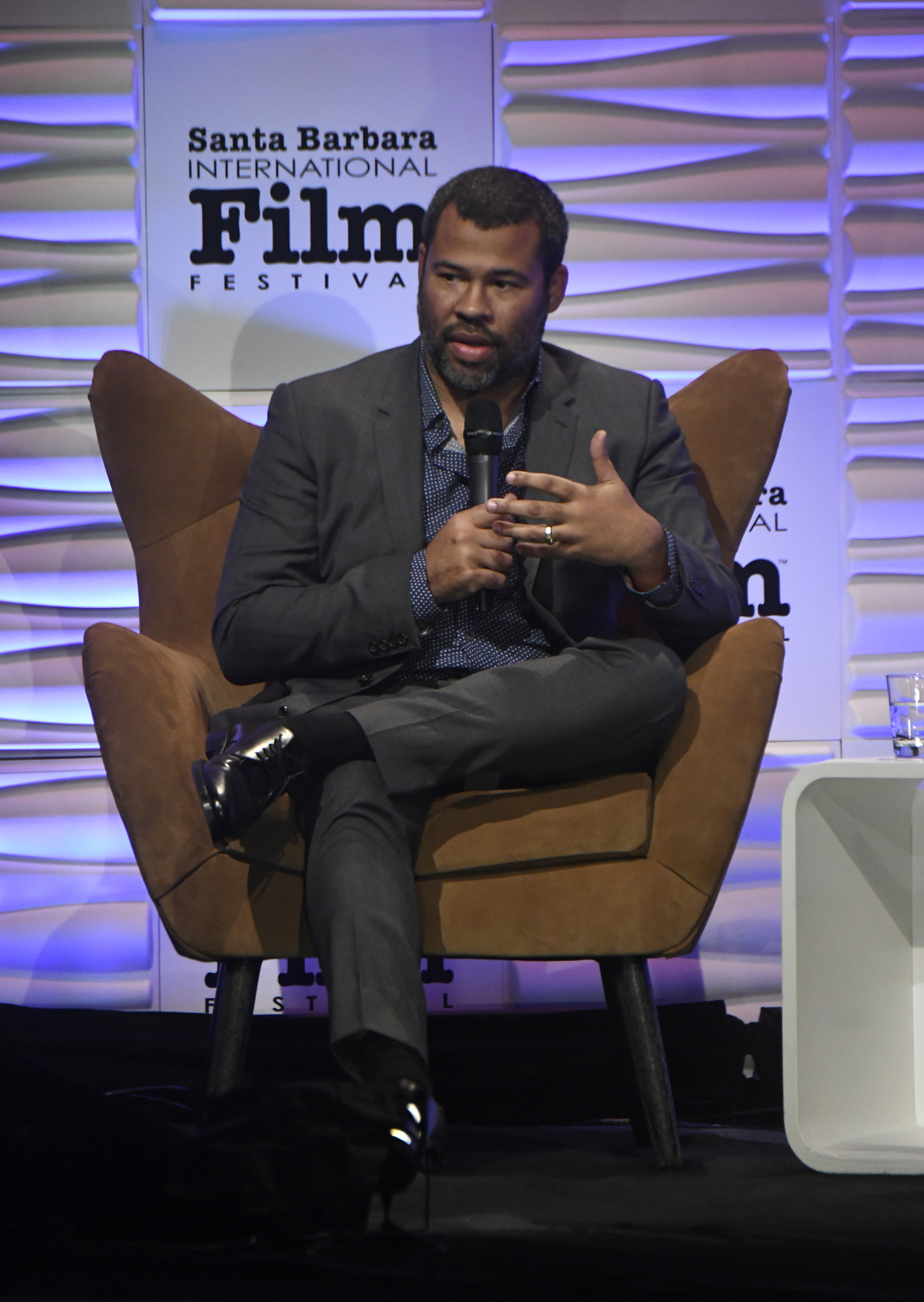 Some of the fuzzy, buzzing chemistry in this elite company emerged at the end of the evening in when they were asked to speak about each others' films — a clearly mutual admiration society. Gerwig was effusive and poetic in her assessment of her colleagues, saying that, for instance, The Shape of Water "made me fall in love with love," and that through the introduction to Dunkirk "you're instantly in the confusion of war. They're children and they don't understand the chaos around them." Peele pinpointed a moving scene in Phantom Thread in which he had the epiphany "this is cinema."
Speaking more broadly, Anderson addressed the elusive "magic trick" aspect of the medium, especially as a director who knows how it is done, yet is still subject to wonder in a darkened theater (and Anderson is a stickler for the time-honored tradition of experiencing cinema in darkened theaters, even going 70 mm if possible). "As many times as you've done this (made movies)," he said, "it is a pleasure to sit in a theater and say 'How the fuck did he do that?'"
Tuesday, the first day of the second half of the festival, served as a prime example of the ways in which SBIFF can engulf and connect the cultural scenery of Santa Barbara. I had spilled by the Outstanding Directors wingding after spilling by SOhO to catch part of a set by the ear-pleasing, harmony-enriched folk-rock band The Sweet Remains, who many of us had just seen as the shambling and hopeful protagonists of the unassuming indie film The Independents a couple of hours prior. In other words, reel life kept slipping into real life, one of the beauties of a good film festival, such as ours. Long may it run.
Films to see: By far the best film I caught yesterday was Sally Potter's sly, modest yet loaded The Party. A killer cast — Kirsten Scott Thomas, Timothy Spall, and Patricia Clarkson — is embroiled in Potter's play-like tale of a party gone very south, shot in starkly glorious black and white. Parallels spring to mind, including Mike Leigh's Abigail's Party, Who's Afraid of Virginia Woolf, and Polanski's Carnage, sagas in which a cozy-turned-claustrophobic social setting runs amok and goes to assorted dark sides. Count The Party as another substantial entry in the genre, a piece bristling with cynical fun, crisscrossing tensions, and clever plot-mapping.
For the obsessive SBIFF-goer, certain films in the blur of multiple screenings stand out for the magnetic power of a certain actor on screen. In female director Narges Abyar's long-ish but strong Iranian film Breath (Iran's Oscar submission), that source of undeniable magnetism comes from the compact form of child actress Sareh Nour Mousavi, through whose eyes we observe the horrors and repressive regimes and social norms of Iran in the late 1970s, but also the accepting sense of wonder about the world, of a child's eye view. The lingering shot of the self-assured Mousavi blissfully swinging, amidst the turbulence literally all around her, is an image of resiliency and innocence not easily shaken from the memory — even after a barrage of films consumed in a short duration.
Final thumbs-up: Walking out after Daybreak the other morning, in a semi-daze after experiencing both the hypnotic pace and visual bath of the film — Albania's Oscar bid — and the sly innovations of its distinctly cinematic, elliptically-told story, my thought was "I've just seen best film of the fest." That elation has been tempered some by now, but suffice to say, writer-director Gentian Koçi has created a remarkable piece of film-making, one that sneaks up on you without resorting to brash trickery (one of the charms of Ozon's The Double Lover, for instance).
Here we might assume is a slow, quiet (no music, but for a hushed snippet during the end credits), and existential account of a woman with an infant son in dire straits, moving in with an ailing elderly woman she is caring for. But beyond that Eastern European cinematic darkness and poise, there are some time-massaging, Hitchcock-ian traits at work beneath the placid surface. Among other virtues, the star — Ornela Kapetani — captivates with the extreme subtlety of her expression, and her capacity to adapt to extreme measures for the sake of survival, right down to the film's virtuoso long take of a finale. Beware, it may cause dizziness and that delicious sensation of awe and the cinematic question "How the fuck did he do that?"