Visual Arts
'Cecily Brown: Rehearsal'
Drawings at MCASB Invite Multiple Visits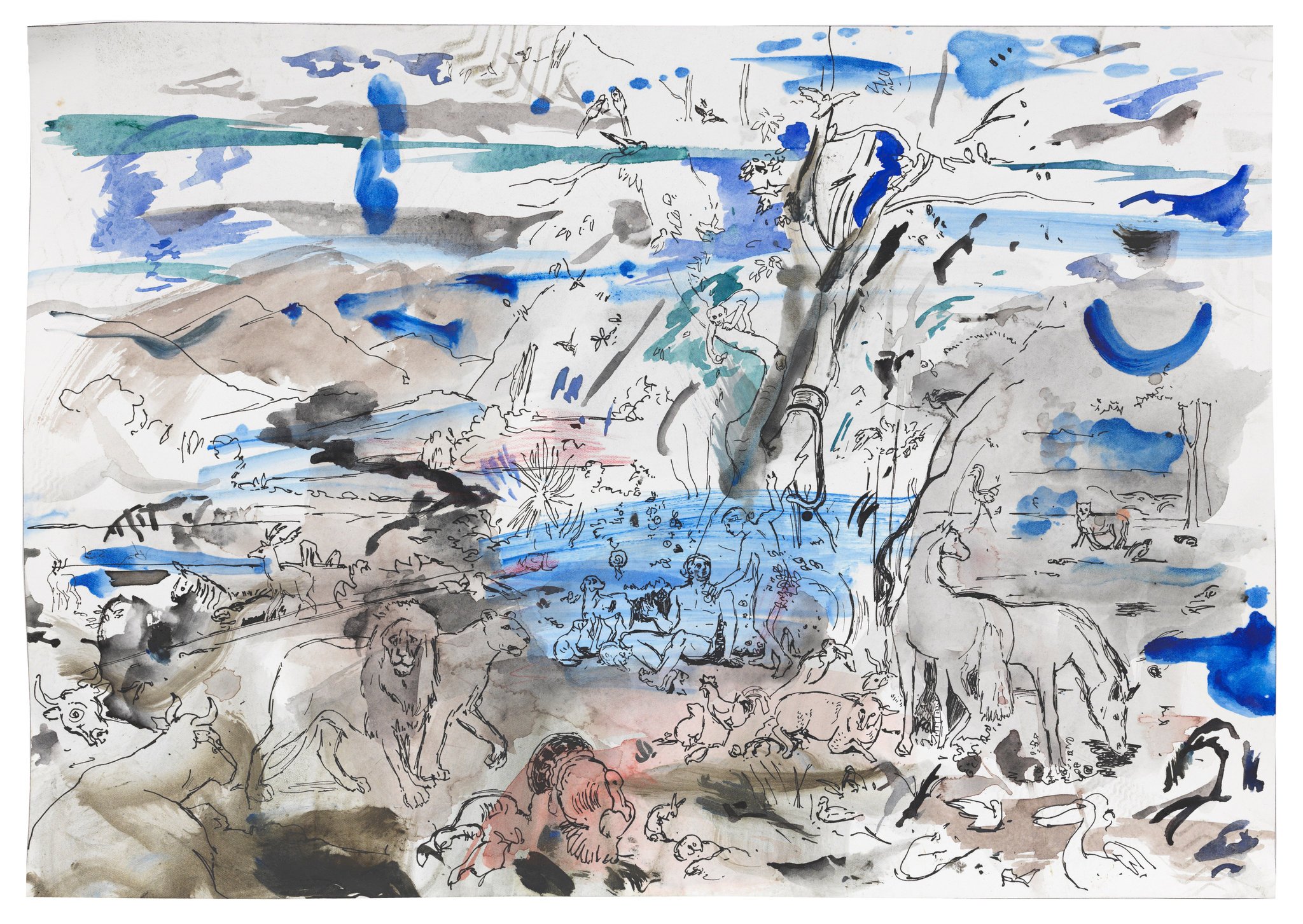 The Museum of Contemporary Art's walls are currently painted a delicate hue of light pink —an invigorating backdrop to Cecily Brown's magnificent drawings. Curated by Claire Gilman of the Drawing Center in New York (where the show premiered), Cecily Brown: Rehearsalis the first exhibition dedicated to the artist's drawings. The works on paper illuminate Brown's examinations of source material: images by the likes of Goya, Bosch, and Bruegel; Jimi Hendrix's album covers; or even animal clip-art books. While she captures and reinterprets images from the history of painting and popular culture, the artist's concern with looking is really what is on view.
Born in London, the New York-based Brown is celebrated for her large abstract paintings, which are filled with colorful and expressive gestures and in which figures emerge out of bold brushstrokes. While many of Brown's drawings offer the same exceptional effect in pastel or ink, these works more importantly reveal the artist's process of discovery. Brown often returns to the same work of art multiple times —such as Degas's"Combing the Hair"or Hogarth's "Strolling ActressesDressing in a Barn"—investigating their choices of line, form, and space through her own hand. She describes her method as the process of internalizing an image, feeling like she hasn't really understood it until she's drawn it.
The results are drawings in which intuition meets precision. Fresh gestures merge with recognizable forms —offering something different than what was previously expressed —both by the original artist or by Brown herself. From large-scale works on paper to pages of the artist's sketchbooks, the drawings are not mere studies. They are a continuation of conversations on form and style,on how to capture a crowd or a woman's silhouette,on expressing the act of sex,or on how to manifest the mythological. By examining the familiar, Brown creates something new —reminding us that by looking again, something revelatory can be found.
It's in the interplay between different media and drawing methods that Brown succeeds best. In her 2014 "Untitled (Paradise),"watercolor, ink,and ballpoint pen come together to create a landscape of frolicking animals in the Garden of Eden. Washes of watercolor imbue the composition with texture and motion —some forming the peak of a mountaintop, others existing as dots or lines sprinkled across the paper. Despite the drawing's fixed arrangement, the scene is full of movement, inviting viewers to finish the narrative as if it is a still from an animation. In another untitled work from 2015, Brown combines watercolor and pastel to create a large abstract composition in bluish-gray. The arresting synthesis of the watercolor's fluidity with the assertiveness of the pastel lines makes you wonder why the combination isn't taught in Drawing 101.
Rehearsalis also an exploration of line —the dance that is created as you follow one stroke from start to end.Some lines outline the body of a bird; others never form a complete shape. In "Untitled (After Bosch and Boldini),"lines overlap in the center of the composition to create a collage of forms that feels like a whirlwind of color and brushstrokes. Legs emerge, as do wings, a hand, faces, and beaks. Where Brown chooses to draw on the paper is just as important as where it remains blank. Indeed, the longer one takes the entire composition in, the more one is able to see.
Cecily Brown: Rehearsal is about the act of looking —the process of returning to an image over and over to fully grasp it. Lucky for Santa Barbara, the exhibition is on view through June 3 —giving us plenty of time to visit again and again.
4·1·1
Cecily Brown: Rehearsal shows at the Museum of Contemporary Art Santa Barbara (653 Paseo Nuevo) through June 3. Call (805) 966-5373 or visit mcasantabarbara.org.