Voices
Santa Barbara Approves Oil Pipeline Despite Climate Concerns
Board of Supervisors: What Happened to Standing Up to Big Oil?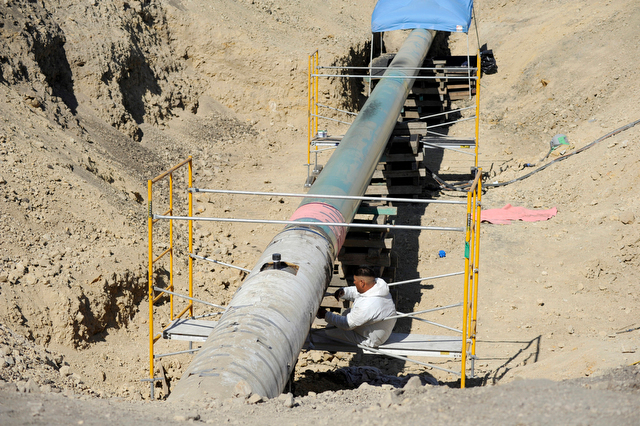 On February 6, the Santa Barbara Board of Supervisors voted unanimously to green-light further expansion of the county's oil infrastructure. At a time when we desperately need to invest instead in sustainable infrastructure and a just transition away from fossil fuels, at a time when our county has been ravaged by the consequences of extreme weather events and climate-induced fires and mudslides, at a time when the federal government is hell-bent upon opening up our precious coastlines to oil spills, our pristine national parks to drilling, indigenous communities to more violent imposition of resource extraction on their land, and our communities right here to the dual threats of deteriorating air quality and accelerating climate disruption, the last thing this county deserves is more oil infrastructure.
Yet the signal our elected board members have just communicated is one that seems to align squarely with the reckless greed of California's oil industry and the climate denial of the Trump administration. This comes despite the supposedly environmentalist credentials of supervisors Joan Hartmann, Janet Wolf, and Das Williams, credentials that all three touted as unassailable during their election campaigns.
Joan Hartmann, in particular, ran on a platform of standing up to Big Oil's influence, a platform that resonated deeply with her Isla Vista constituency and won her the seat. It would be a great disservice and a betrayal of all those who voted for these supervisors believing in their claims that they would resist pressure from the oil industry if, now that they are in office, they feel they can ignore the very people with whose mandate they govern.
The board approved a pipeline that they argue will take 7,000 trucks off the road to pump oil out of Cat Canyon to be refined in San Louis Obispo. But they have taken the oil industry at its word and presented us, the county, with a false binary: Either we can have oil transported by pipeline or we can have oil transported by truck. This is a classic industry strategy that provides the illusion of choice but deliberately distorts the nature of the problem.
Oil — whether by rail, road, or pipeline — poses egregious threats to our climate, our environment, and the health and prosperity of our community. The real choice, therefore, is not over how we transport oil; it is over whether or not we as a county are serious about our commitments to combating climate change, to protecting our homes, and to a just transition away from fossil fuels that leaves no one behind and hands control over our energy back to our communities.
Santa Barbara is the fifth-largest oil-producing county in California, and there are currently proposals under consideration to build another 768 oil wells here in the coming years. Meanwhile, the Environmental Impact Report for this particular pipeline states that it would intersect five rivers or streams, that it would be in operation for 20 years, and that it will increase capacity for the transportation of oil resulting from the further development of more oil wells in the county. Knowing as we all do, that we must transition away from fossil fuels on a much faster timeline than 20 years, it seems that the construction of this pipeline has been proposed based on faulty economics or in bad faith.
The pipeline is presented as an alternative to the pollution and congestion of oil-by-truck when in actual fact it will entrench our county's economic dependency on fossil fuel infrastructure and facilitate the development of these 768 new wells in our county while the era of fossil fuels draws to a close. The Board of Supervisors must reassure us that the construction of this pipeline is not a prelude to further fossil fuel development in the region and must commit to approving no new oil infrastructure in Santa Barbara.
The science, the ethics, and the economics of this question are clear: If we are to avoid catastrophic climate disruption, and if we are to do so in a way that ensures all of us benefit from the transition away from fossil fuels, then we need to be taking measures to prevent the development of any new fossil fuel infrastructure now, while simultaneously investing in the expansion of renewable and democratized energy production. And we need to do it fast.
I am writing here to urge my friends, colleagues, and community to demand a just transition, to call on our representatives to pledge that they will not support more oil development in this county, to email, phone, and write letters to the Board of Supervisors, to use your vote, to attend public hearings, and if necessary to take direct action to hold oil companies and our elected officials accountable — and to do all this as though the world depends upon it, because it does.