Arts & Entertainment
Muppets in the House for PuppetPalooza
Puppeteer Peter Linz Talks Animating the Beloved Characters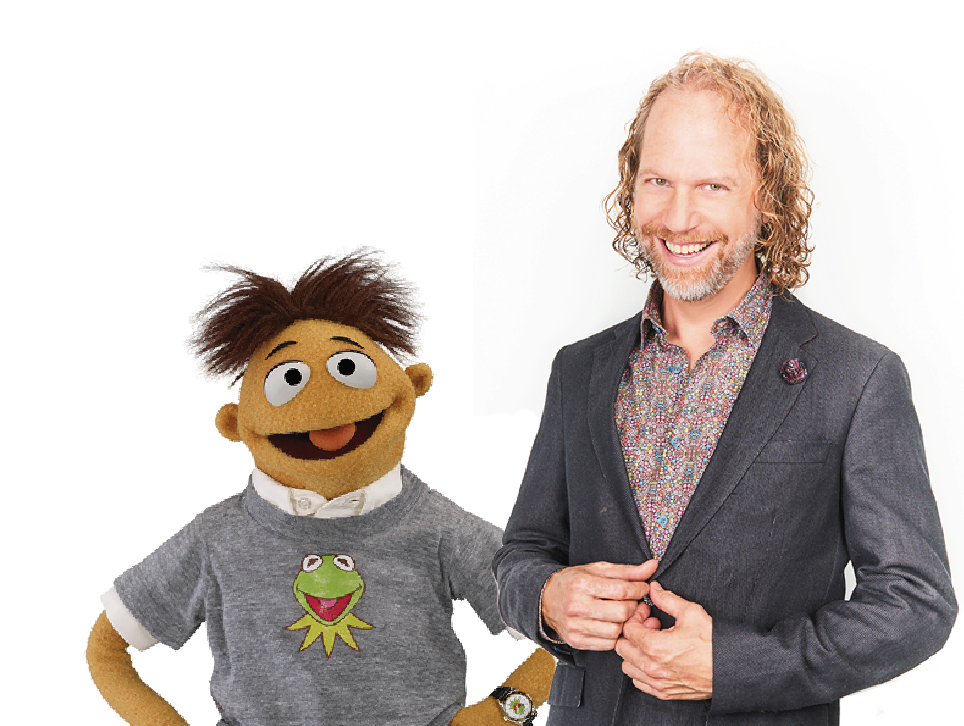 "I'm the luckiest person, that I get to do this. It is such a fun career and so rewarding, and I love it," said Peter Linz, a Muppeteer who will be bringing several of his characters to PuppetPalooza this weekend. Linz's fascination with the felt-covered creatures started when he was just a boy. "I was exactly the right age to grow up with Sesame Street and The Muppet Show," he said during a recent phone conversation from his home in New York City. "My earliest memories are playing with a little squirrel puppet in preschool and actually entertaining the other kids. I just loved that feeling." Linz went to college to study psychology but dropped out to follow his dream. "Halfway through my junior year, I was like, 'No, I just want to play with dolls on television," he said with a chuckle. "I attended a couple of workshops with the Jim Henson Company and eventually got hired at the Muppets."
Since then, Linz has made his living playing various well-known Muppets, including Statler (of Waldorf and Statler, the grumpy old men in the balcony); Robin, Kermit's nephew; Link Hogthrob, from the recurring sketch "Pigs in Space"; and Walter, who was introduced in the 2011 film starring Jason Segel and Amy Adams. ("I'm a movie star from the elbow up," Linz joked.) The following is an edited version of our conversation, which ranged in topic from Linz's TV roles to performing on Broadway to what to expect at PuppetPalooza.
So you are a movie star. I'm a movie star from the elbow up.
How was it taking over an iconic Muppet character such as Statler? It's interesting … You're doing a voice, and you are trying to match the vocal quality of the performer who created the character, but also, you've got to get inside the head of the character and know where they come from and their thoughts and feelings. It's just like any character — how the character will react in any given situation, their relationship to the other characters as a troupe. It's a huge responsibility, a tremendous honor, and absolutely thrilling.
How did you become a puppet master? A "puppet master"? Oh dear. [Laughs.] Well, you know what, I have no other skills. This is my only skill set; this is the only thing that I'm qualified to do. … I was just exactly the right age to grow up with Sesame Street and The Muppet Show. … My earliest memories are playing with a little squirrel puppet in preschool and actually entertaining the other kids. I don't know what I was doing with this puppet, but it was making the other kids laugh, and I just loved that feeling. It was a hobby throughout grade school, high school … Since I was a very young child I wanted to work on Sesame Street or work with the Muppets. I went to college, got a degree in psychology, but halfway through my junior year, I was like, "No, I just want to play with dolls on television." I attended a couple of workshops with the Jim Henson Company and eventually got hired at the Muppets.
Being a Muppet is more than just a voice, it seems to me. You have to be able to act and think, to improvise and also perform — basically, make a ball of fabric look like a living, breathing, emotive thing that people actually care about.
I'd say you are an actor, with a puppet. We definitely all are actors, but instead of using my own body, I'm just using a puppet. But I don't know, there's something about puppetry that's a magic trick, getting people to believe. If you think about Kermit the Frog, people are believing in this bag of green fleece material and a couple of ping-pong balls — the original Kermit was ping-pong balls; it's a little more sophisticated than that now. I love that these puppeteers are just one DNA strand removed from magicians. It's just thrilling; I'm not sure how else to describe it.
Watching the Muppets, it's hard to realize that there is a human behind the character. Well, that's good! That means we're doing our job right. We don't usually have studio audiences when we are making movies or television shows, but we do have people come visit the set, and they'll bring their children, or we'll do appearances on morning shows or news programs, and people often say, "Oh gosh, I don't want the kids to see you, because it is going to totally ruin it for them." [Laughs.] But it doesn't ruin the truth for anybody. Whenever you are standing there with one of the characters on your hand and you talk to them, all that they see is the puppet. We just disappear. The characters are so much more interesting to look at than us.
Are there going to be more Muppet movies? Well I certainly hope so! I don't know of any plans at the moment. One thing we do have coming up, we are going to be performing two nights at the O2 in London …. And at PuppetPalooza, people will get the chance to see [Muppets]. I think the four of us will be there, with the characters, and showing some exclusive footage.
Are the characters very heavy? They are all relatively light. However, after having your arm up in the air for a few minutes, they start to get heavy fast. Actually, the performance in itself is the workout. And each puppet exercises a different muscle, depending on how they are built, how the mouths work. They are basically fairly light. Except for Miss Piggy, but don't tell her I said that. She is one of the heavier ones.
How many characters are you? With the classic Disney Muppets, I perform Walter, Statler, Link Hogthrob … [from] "Pigs in Space". He's the captain. He's a very handsome, very smart pig. And [I play] the trumpet player who occasionally plays with Electric Mayhem, and Kermit's nephew Robin. Walter and Link will be with me at PuppetPalooza.
I read that you also performed in Avenue Q. How was that? I was part of the original Broadway company. It was really unique for me because Broadway was never a goal of mine. I always wanted to work with the Muppets and Sesame Street and be in the films and TV shows … Broadway was a real departure, but what a treat and what an honor to be associated with a show that was so incredibly successful and won three Tony awards …. That was very possibly the hardest I ever worked.
Are there a lot of puppeteers? It seems like a niche profession. [In] film and television, it's definitely a niche career. You can picture it — I'm holding out my hand like I'm cupping some water — and there are like this many of us that do this for a living. However, there are, I don't know, hundreds and hundreds, if not thousands of people in this country who are puppeteers who do things other than film and television. And actually, they'll be a lot of, a great many of them … people who do marionettes and hand puppets and shadow puppets, who do huge enormous parade puppets, body puppets where the person is actually inside, rod puppets … so, yes, there are very, very few of us who do the film and television thing but a great many more who do puppetry in general.
Are you participating in any other PuppetPalooza events? I actually will be. In addition to appearing with the Muppets, [I'll be playing] the character I left Broadway for, Snook the Eco Sloth, who was on the PBS show called It's a Big Big World. Other people have been performing the character since the series ended, but for PuppetPalooza, I'll be back inside of him for the first time in probably about 10 years.
You created Snook? Well, Mitchell Kriegman created the series, but I was the original performer of that character. You know, the difference between a costume character and a puppet is that … you're not just a street performer dancing around and trying to communicate through how you move his head and body. I'll be doing all that, of course, but also talking. And you have a moving mouth and blinking eyes.
Do you have a favorite Muppet character? Growing up, I just loved Cookie Monster. Cookie Monster is my spirit animal. [Laughs.] … Cookie Monster was, of course, originated by Frank Oz. And David Rudman actually performs Cookie Monster and does such a phenomenal job, not just recreating what Frank created, but also growing the character. … The other thing about inheriting one of these legacy characters is that they can't be a museum piece; you can't just put them in a Plexi glass case and keep them exactly how they were. They still have to live and breathe and grow, and you have to stay true to the original character. That is something that David has done brilliantly.
Why should we love puppets? Puppets are just symbolic … you see them and they look sad; they look happy; they are telling a joke; but that's actually you projecting onto that character. I'll use the example of the Muppets — [they] don't really have an expression on their face. They've got two eyes — usually it's a black dot on a white field for the eyes, and there's a flap that can open and close that can represent the mouth. But it's the puppeteers … projecting their own experiences and their own feelings and emotions onto these characters … People talk about Miss Piggy batting her eyelashes. Well, she doesn't do that; they don't move.
Her eyelashes don't move? That's part of the magic of these characters … they represent all of humanity, our [good points] and our shortcomings … People always see so much of themselves and people they know in these characters. That makes them timeless and fun.