Bottles & Barrels
Women Who Crush & Progressive Pinot
Celebrating Female Vintners, Tasting Fresh Pinot Noir Ahead of World of Pinot Noir, and Hoppy Sauv Blanc
Though hard evidence is elusive, anecdotally, it does seem that Santa Barbara County boasts more women winemakers per capita than anywhere else in the state, if not the world. It's a long tradition here, harking way back to Doña Marcelina Dominguez and her 1800s La Parra Grande grapevine in Montecito, and then reenergizing in the modern movement with Lane Tanner, Kris Curran, Kathy Joseph, and so forth.
One of the newer faces on that scene in Gretchen Voelcker, who grew up on a family farm in Philadelphia but found wine while living in Brussels during high school. School at Georgetown and then UC Santa Cruz delivered her into the wine business. "I really saw wine as an opportunity to express my creative side and still be in touch with the sciences," said Voelcker, who started at Rideau in 2012 and is now assistant winemaker.
She also worked with Ryan Roark, who taught her the garagiste side of small-batch winemaking and encouraged her to start her own brand. First called Moon Unit Wines (a childhood nickname) ​— ​until Moon Unit Zappa sent a cease-and-desist letter ​— ​the brand is now called Luna Hart, a reference to both the moon and a stag. "I wanted something that was both masculine and feminine representing the energy that I put into my work," explained Voelcker, who's now making about 250 cases a year with hopes to grow to 1,000.
She's making cabernet franc, sauvignon blanc, and a white blend. "I like to tinker a lot, so that was an opportunity to tinker with white wines and challenge to see what would pair well with spicy and Asian foods," she explained. She's also excited to be adding gruner veltliner from Kathy Joseph's Fiddlestix Vineyard.
Voelcker knows that young women winemakers often face unfair challenges but believes it's different here. "Luckily, in Santa Barbara County, we have such a great support network of women winemakers," she said. "I've always been very fortunate to never feel those pressures."
Along with Joseph and nearly two dozen other female vintners, Voelcker is taking part in the second annual Women Winemakers Dinner on Thursday, March 8, 5:30-9 p.m., at K'Syrah Catering & Events in Solvang. The event, which coincides with International Women's Day, is a fundraiser for the Women's Fund of Northern Santa Barbara County. Tix are $50 for wine and apps, or $125 for the four-course sit-down dinner. See womenswine makerdinner.eventbrite.com.
Pushing Proper Pinot
A few Mondays ago, South African–raised winemaker Ernst Storm of Storm Wines gathered a group of "progressive" pinot noir makers to Presqu'ile Winery east of Orcutt to taste wines and talk shop. By "progressive," Storm meant colleagues who focused on the less-extracted, fresher side of the grape, usually without much new oak usage (which could mask the fruit flavors) but with a certain amount of whole-cluster fermentation (which can add earthy spice) in the mix.
Each winemaker brought two single-vineyard wines from their brands, which included Tatomer, Presqu'ile, LaBarge, Piro, Chanin/Lutum, Scar of the Sea, Whitcraft, Bien Nacido/Solomon Hills, Dragonette, Dierberg, and Storm. I'd blind-tasted almost all of the wines before, and scored them all quite highly ​— ​the combination of bright fruit, zesty acidity, and herbal intrigue is fascinating and refreshing, so much that I have a hard time keeping these brands in my cellar.
Though these guys share a lot of similar thinking with the controversial In Pursuit of Balance movement that rose up a few years back, they aren't so dogmatic about keeping alcohol exceedingly low. Rather, they're letting the land do the talking and using a soft touch to showcase what the climate, soils, and farming techniques deliver. "I get the cleanest fruit coming in and the cleanest wines going out," said Drake Whitcraft, who makes wine just like his pioneering dad, Chris, but picks slightly less ripe. "I'm not an enologist, so I don't know how to manipulate the wines."
Our county's cool climate allows a convergence of positive traits to accumulate at the same time, whereas other celebrated regions sometimes must sacrifice certain elements. "To get the concentration and color, I had to pick much riper at Donelan," said Tyler Thomas of Dierberg, referring to a past Sonoma job. Explained Gavin Chanin, who makes his eponymous brand as well as Lutum, which sources from Sonoma as well, "That's what's amazing about the area: We're so cold, yet there's so much sunshine."
Search out these wines and more at World of Pinot Noir this weekend at The Ritz-Carlton Bacara. I'm hosting a panel of some Central Coast favorites on Friday, including Dierberg along with Big Basin from the Santa Cruz Mountains, Stephen Ross from Edna Valley, and our own legend Ken Brown, among others. See wopn.com for tickets, including the truly iconic dinners.
Bottle to Buy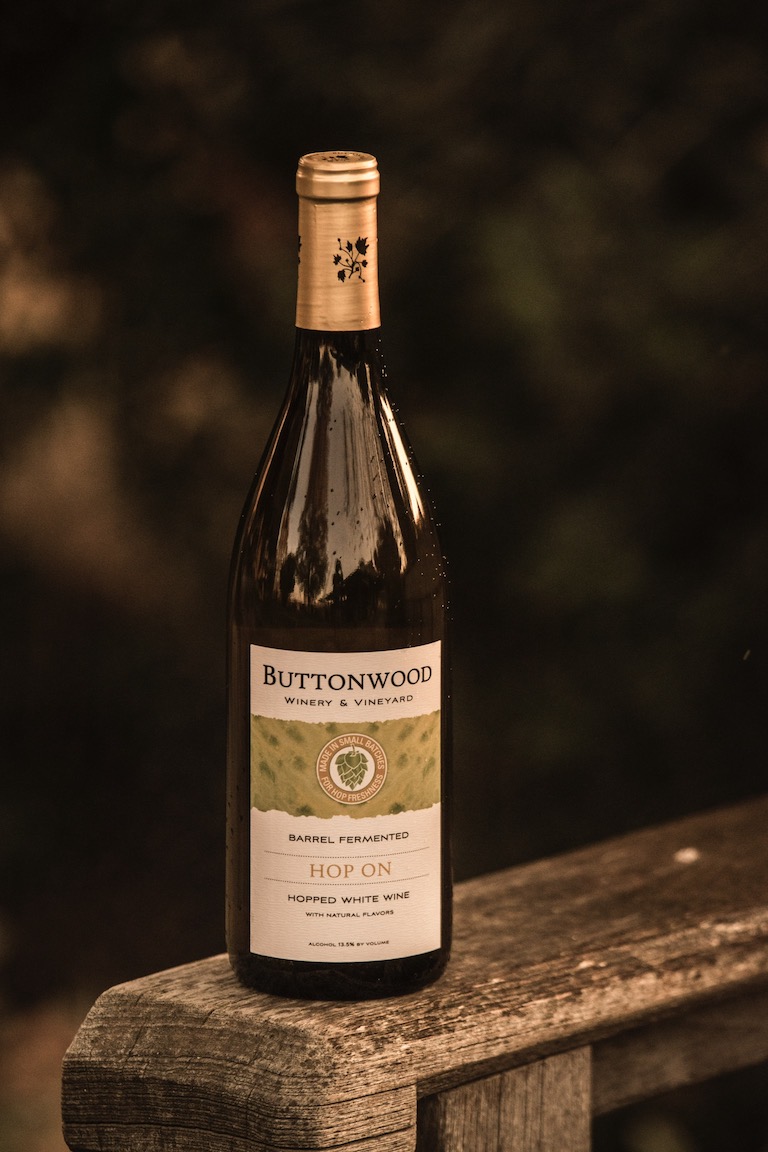 Coming back to women winemakers with vision, Karen Steinwachs at Buttonwood broke new enological ground in 2016 when she combined pungent hops with her zesty sauvignon blanc to create Hop On. The latest vintage is out now, and this one features hops grown by Pacific Valley Hops near Lompoc. It's even more hoppy than the last and even hoppier than most beers, as the still-white-wine base really captures the purity of the piney buds while also conveying their tropical, pineapple-ish characteristics. So it's perfect for hopheads who crave that bite but maybe just worth a sip for those who prefer their wines straight. See buttonwoodwinery.com.