Sports
January Sadness to March Madness
How Santa Barbara Teams Progressed with Poise and Purpose This Season
In the wake of destructive flames and deadly debris flows, the resiliency of the greater Santa Barbara community has been manifest in many ways. One of the most delightful developments has been a triumphant sports season. College and high school teams progressed with poise and purpose from January sadness to March Madness.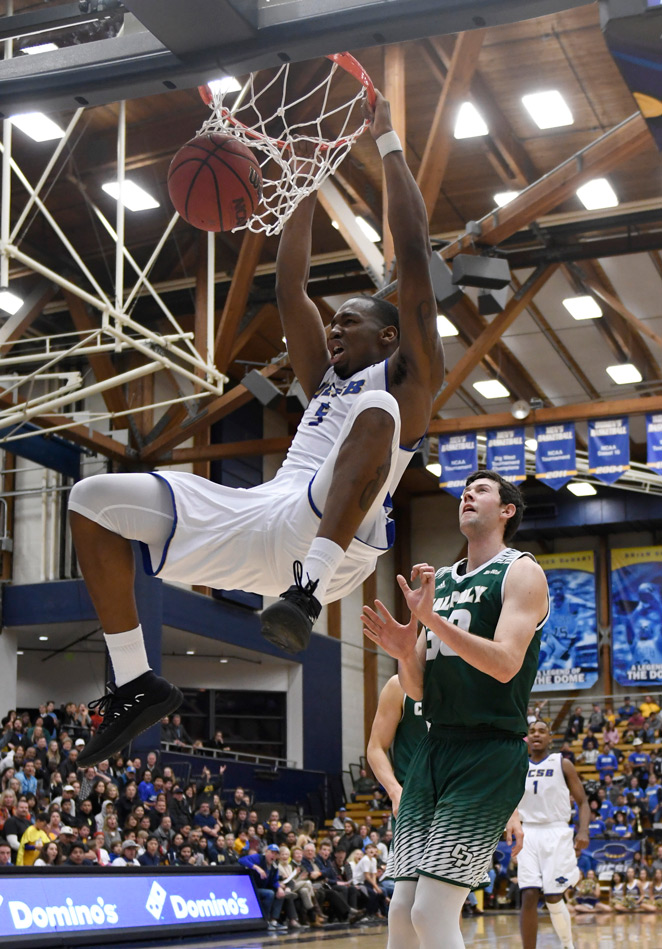 UCSB'S HOOP HOPES: The Gaucho men's basketball team produced the greatest turnaround in the nation, from six wins last season to a 22-8 record entering this week's Big West Tournament in Anaheim. They are seeded No. 2 among the eight teams who hope to win three games in the next three days and claim a berth in the NCAA tournament. UCSB's opener is against Cal Poly at 8:30 p.m. today (Thu., Mar. 8) at the Honda Center.
Persistently urged to "honor the process" by their new head coach, Joe Pasternack, the Gauchos concluded the regular season by hammering Cal Poly last Saturday night, 86-61, before an exuberant crowd of 4,823 at the Thunderdome. Leading the way with 23 points each were sophomore guard Max Heidegger and graduate forward Leland King II, both of whom were named to the All-Big West First team on Monday. Heidegger tied for the conference scoring lead (19.4 points per game) and set a new school record by making 90 three-point baskets. King was the Big West's leading rebounder, averaging a double-double of 15.9 points and 10.5 rebounds.
Senior guard Gabe Vincent is a second-team selection, and he is perhaps the key ingredient in UCSB's recipe to reach a peak this week. Vincent began the season with a brace to protect his surgically repaired knee. Last week, playing with abandon and without the brace, he scored a career-high 28 points against Long Beach State.
Long Beach won the game on a last-second bucket, 70-69, in an illustration of the razor-thin margins that test the nerves of every team. It was the third time the Gauchos, 11-5 in the conference, lost a game by one point. They can muster some confidence by having defeated every team in the Big West, including regular-season champion UC Davis.
The Gaucho women's team took a No. 4 seed into the Big West Tournament, earning a berth in Wednesday's quarterfinals. In a similar position last year, they advanced all the way to the championship game after upsetting UC Davis in the semifinals. Senior post player Drew Edelman received first-team recognition from the conference, and first-year guard Sarah Bates was accorded honorable mention.
POSTSEASON WARRIORS: Westmont College will be dancing with the stars in both NAIA national basketball tournaments next week: the women's team at Billings, Montana, and the men's at Kansas City. Coach Kirsten Moore's Warrior women (22-6) assured themselves a high seeding among the 32 teams by winning the Golden State Athletic Conference Tournament in Phoenix on Monday night, edging Vanguard 48-46. They got 17 points from senior Lauren McCoy, the GSAC player of the year. Westmont's men (24-7) made it to the conference final for the first time since 2000 and put up a fight against the nation's No. 1 team, The Master's, before falling 88-73. They expect an at-large bid to the nationals.

CIF TRIFECTA: San Marcos High will not be known as the Buffalo Bills of CIF basketball. In their fourth appearance in a Southern Section final, the Royals won their first title, clobbering Riverside Poly last Saturday, 67-47.
The all-senior starting lineup was at its unselfish best. The Royals rarely forced shots because they consistently found teammates with better looks. Point guard Stef Korfas was leading scorer this time with 19 points, and he had six assists. Also scoring in double figures were Jackson Stormo (17), Ryan Godges (14), and David Frohling (11), while Nate Fay was a terror on defense. San Marcos, 26-6, was riding a 16-game winning streak as it moved into the State Division 2 Regionals this week.
The area's two other CIF finalists, the boys' soccer teams of Santa Barbara High and Carpinteria, also brought home the trophies Saturday. In Division 1, the Dons polished their proud tradition by winning their seventh title. It was decided by a 3-2 score in the penalty-kick shootout after they played Cathedral to a 0-0 deadlock through regulation play and two overtimes. Jackson Wright struck the winning PK after goalie Ben Roach stopped three of Cathedral's five attempts.
Carpinteria won the Division 6 soccer final in overtime, 3-2 over Rubidoux. A goal by Vincent Gonzalez in the second minute got the Warriors going. It was the fifth playoff game in which they scored three goals.
Both Santa Barbara and Carpinteria were seeded No. 1 in their respective State Regional divisions and were hoping to host semifinal games this Thursday.
SUPER SOPHS: Amber Melgoza and Bolden Brace, who were brilliant basketball seniors at Santa Barbara High two years ago, have hit their stride in college. Melgoza made the All-Pac-12 women's team for the Washington Huskies after she averaged 20.6 points in conference games, including a 40-point outburst against Stanford. Brace was named the Colonial Athletic Association Sixth Man of the Year, coming off the bench to spark the Northeastern Huskies to a regular-season co-championship and seeking an NCAA tournament bid.