News
Santa Barbara County Sheriff Bill Brown Challenged in Spring Election
Two Lieutenants Say "It's Time for a Change."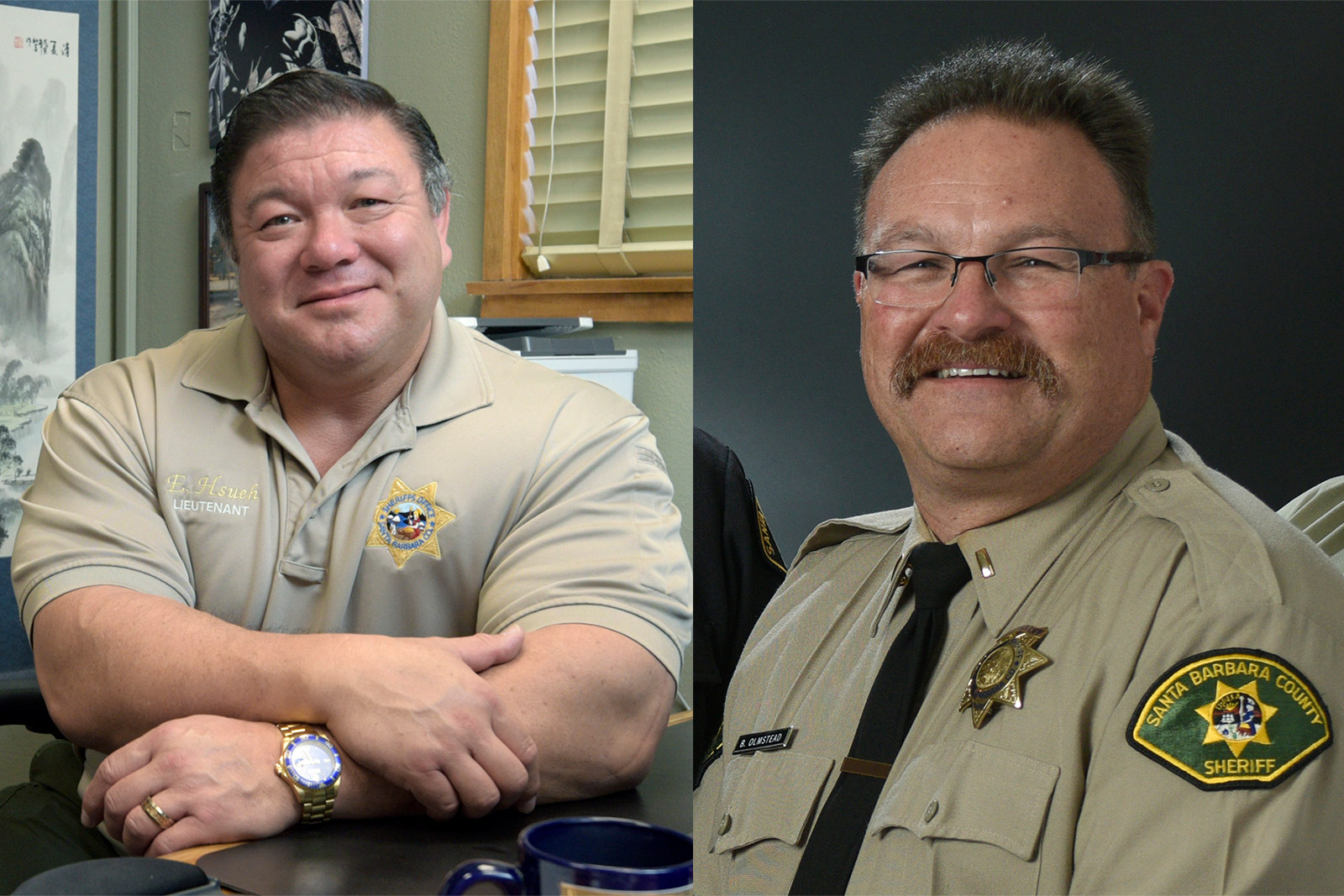 The two lieutenants challenging Sheriff Bill Brown in this spring's election do not exactly sound like rabble-rousers poised to undermine their boss. In the race for Santa Barbara County Sheriff, candidates Lt. Brian Olmstead and Lt. Eddie Hsueh said simply, "It's time for a change."
With the election just three months away, the two lieutenants face an uphill battle. The race for sheriff traditionally requires hundreds of thousands of dollars and campaigning in the northern and southern parts of the county ​— ​home to 202,000 total voters. One strategy for the challengers could be to push the race to November; if none of the candidates receive a simple majority, there will be a runoff election.
Brown has served as county sheriff-coroner for 12 years. Before that he had top roles in several police departments, including Lompoc, Inglewood, and Pacifica. He has a presence in state politics, serving as president of the State Sheriffs' Association. He is known to spend time in Sacramento and is political friends with California Governor Jerry Brown.
Sheriff Brown said Tuesday of the race he suddenly finds himself in: "If I am contested in the election, I am very confident in my ability to mount a very strong campaign." He added he has a "tremendous support base."
There is a history of ranking members in the Sheriff's Office taking on their boss. Four years ago, Sergeant Sandra Brown (no relation) ran to unseat the sheriff. She lost by 13 percentage points, but it was not exactly a landslide. Sheriff Brown received 57 percent of the vote.
The Deputy Sheriffs' Association (DSA) has never endorsed Brown, and it recently solicited potential contenders to oppose him. As of press time, Olmstead and Hsueh were the only two who filed papers to run. (Hsueh said he has not decided for sure if he will run; however, he did pay the $1,300 filing fee.) The deadline to get in the race is Friday, March 9. The DSA, which is made up of about 450 deputies, will hold an endorsement meeting next week.
The Santa Barbara Independent spoke to Olmstead and Hsueh about their candidacies.
Brian Olmstead
Brian Olmstead is one of few people who can say they were raised in the remote town of New Cuyama. His father was a county fire captain, a path Brian's brother followed. Olmstead was hired by the Sheriff's Office in 1990, and he has played a lead role in a range of units, including gangs, narcotics, Isla Vista Foot Patrol, training, and the investigations bureau.
Olmstead said he is challenging his boss because he believes Brown's relationships with the county supervisors and fire officials "have eroded" over the years. That tension has hurt the Sheriff's Office's ability to secure funding, he argued.
It was difficult, though, to find larger policy matters where Olmstead ​and Brown, both Republicans, disagreed. He supported Brown's decision to come out against the so-called sanctuary state Senate bill, SB 54. He agreed with Brown's decision to shut down the small Santa Maria Jail. He believed Brown made the right choices about evacuations prior to the January 9 storm.
"It's the right time to run," he said, adding he had entertained the idea for several months but that the Thomas Fire and 1/9 Debris Flow "took three months out of our lives."
Eddie Hsueh
Also a Santa Barbara County native, Eddie Hsueh has worked for the county for 31 years. His expertise is in working closely with populations experiencing mental illness. He believes he has spent more time on the street engaging with the community than either Olmstead or Brown. He said he has been disheartened by the fact that funding for mental-health programs has been denied multiple times in recent years. "These programs are very time-consuming for the personnel involved, but they pay in multitudes down the road," he said.
As for larger policy disagreements, Hsueh said the sheriff should revisit the possibility of having the jail's medical services run by the county rather than a private company. He disagreed with Brown's decision to close the small Santa Maria Jail because it takes patrol deputies off the street while they transport arrestees to the Main Jail.
As did Olmstead, Hsueh ​— ​a Democrat ​— ​argued Brown's relationship with other county leaders has deteriorated. "People need to play nice together," he said. That could translate to sharing resources, such as for a computer-science technician to revamp the department's records system. Asked if he thought he could win, Hsueh was not sure. "I get to bring up a few issues that I want to bring up before I go off into the sunset," he said.
For his part, Brown did not mince words. He said the idea that anyone who has no executive leadership experience or has never operated in the political world could come in and do a better job was a "false assumption."
At the time of the February 22 cover story on Eddie Hsueh, he had not informed the Independent of his decision to run.