Sports
Gaucho Baseball Is Struggling
Plus March Madness Report, Exodus of UCSB Women's Basketballers, Surfing, and Rugby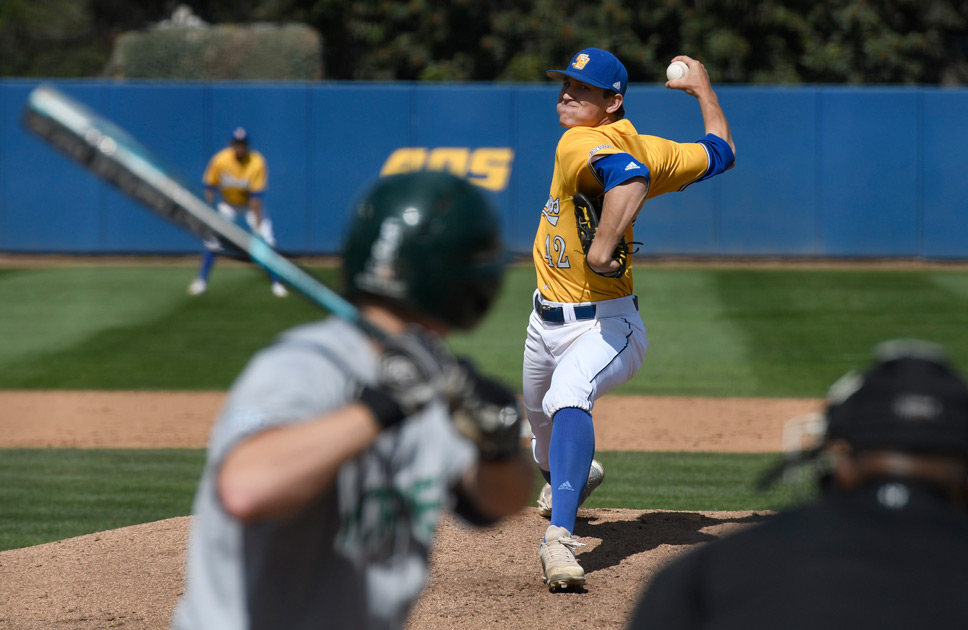 Since their exhilarating romp in the NCAA's Big Dance Around the Bases two years ago, the UCSB Gauchos have not been favored by the baseball gods. Injuries to key players, compounded by the breaks of the game, have pushed their winning percentage under .500.
A week before they open their 2018 Big West Conference schedule with a three-game series against Cal State Fullerton (Mar. 29-31), the Gauchos are 6-11-1. Their pitching and defense were superb last Sunday, but in a 2-0 loss to visiting Sacramento State, their bats were silent. Well, not exactly silent, as they hit some loud outs.
"That's baseball," said junior Sam Cohen, whose screaming liner in the ninth inning collided with the center fielder's glove. As a first-year, Cohen launched a walk-off grand slam in the 2016 NCAA Regionals at Louisville. It may not rank with UMBC-beats-Virginia in basketball, but it was extremely high on the shocker scale.
There is only one way for the Gauchos to return to the NCAA tournament this year. "We've got to win the conference," Coach Andrew Checketts said. "We haven't played well enough to get an at-large bid."
Pitching depth is a major concern since injuries put two of UCSB's best prospects, Noah Davis and Chris Clements, on the shelf. Checketts gave Steve Ledesma his first start on Sunday, and the senior right-hander shut out the Hornets for six innings. A two-run homer off relief pitcher Alex Patterson in the seventh was the difference in the game. Shea Barry retired all six batters he faced in the last two innings.
Sacramento State right-hander Austin Root kept the Gauchos off balance, and Tommy Jew's single in the seventh inning was UCSB's only hit. It was a famine after a Gaucho feast four days earlier, when Jew, Cohen, and Armani Smith hit back-to-back-to-back homers in a 15-5 victory over Dartmouth.
This week finds the Gauchos cramming for their winter quarter final exams, and then they'll be cramming on the diamond with four games to prepare for the Big West: a home series against San Jose State this weekend and a game at Pepperdine next Tuesday.
DIVINE MADNESS: Of all the commentaries and sound bites I heard during the opening two rounds of the NCAA men's basketball tournament, my favorite was the pre-game prayer offered by Sister Jean Dolores-Schmidt, the 98-year-old nun who is Loyola-Chicago's team chaplain.
"Oh, good and gracious God," she said, "we have come here to beat Miami."
It was a refreshing approach. Sister Jean might welcome God's presence as a fan, but she put the responsibility on the Ramblers to go out and win. Not only did they upset Miami, they also stunned Tennessee to reach the Sweet 16.
It makes me cringe slightly whenever I hear a player give all the credit to the Lord following a victory. Does God really take sides in a game?
A New Yorker cartoon a few years ago exposed the problem with that expression of faith. A football player stands in front of a TV interviewer and says: "First, I'd like to blame the Lord for causing us to lose today."
MARKSMEN AND WOMEN: Paul Westphal, who played and coached basketball at a high level in college and the NBA, gave an entertaining talk last week at the Santa Barbara Athletic Round Table's Prelude to March Madness. As a coach of the Phoenix Suns, he had stories to tell about Charles Barkley that were laced with fondness. Barkley once told him, "Coach, I can play defense; I just don't."
Westphal also remembered these words from his predecessor, Cotton Fitzsimmons: "You can never have enough shooters."
Just ask Virginia. The top-seeded Cavaliers relied heavily on their defensive philosophy, but when they ran into a hot-shooting UMBC team, they did not have any shooters of their own to bail them out.
Defense carried Westmont College into the NAIA women's tournament, but the Warriors also made shots when they needed them. Most notably, against Loyola of Louisiana in the second round, point guard Lauren Tsuneishi made all seven of her shots, including six-for-six from three-point range, in a 77-65 Westmont victory.
EXODUS: Coach Bonnie Henrickson said there was "no drama, no dysfunction" that led to four players deciding to transfer out of the UCSB women's basketball program last week. Each of the four — first-year players Sarah Bates and Nina Radford and juniors Sarah Porter and Akilah Jennings — had her individual reason for leaving, Henrickson said.
"The perception is the number — 'Oh, my gosh, it's four' — but the reality is they are separate," she said. "In our business, it's not much of a surprise." UCSB has received its share of transfers from other schools. But Henrickson would rather not lose those players, especially Bates, a peppery guard who made the All-Big West freshman team.
Henrickson came to UCSB from Kansas three years ago when the Gaucho women were coming off a two-win season. She got them to 16-16 last year, but they dipped to 12-17 this season. She's out recruiting this week, and she said all the other returning players and the four incoming recruits have assured her they're committed to the program.
SURFER WOMAN: Santa Barbara's Lakey Peterson was a model surfer girl. But now she's all grown-up and, at 23, has charged to the top of the professional ranks. Peterson claimed her first victory on the Women's Championship Tour last week, outscoring Australia's Keely Andrew in the final of the Roxy Pro event at Kirra Point, Australia.
RUGGERS YOUNG AND OLD: The Santa Barbara Grunion Rugby Club celebrates its 40th anniversary Saturday, March 24, with a 1:30 p.m. game against the Fossils, an old-timers' club, at Elings Park. The Santa Barbara Stingrays youth rugby teams will play several preliminary games starting at 9 a.m., and their under-19 side will take on San Luis Obispo at 3:30 p.m.