Arts & Entertainment
Peter Harper's Cycles of Song and Soul
Songwriter/Sculptor/Teacher Preaches Peace at SOhO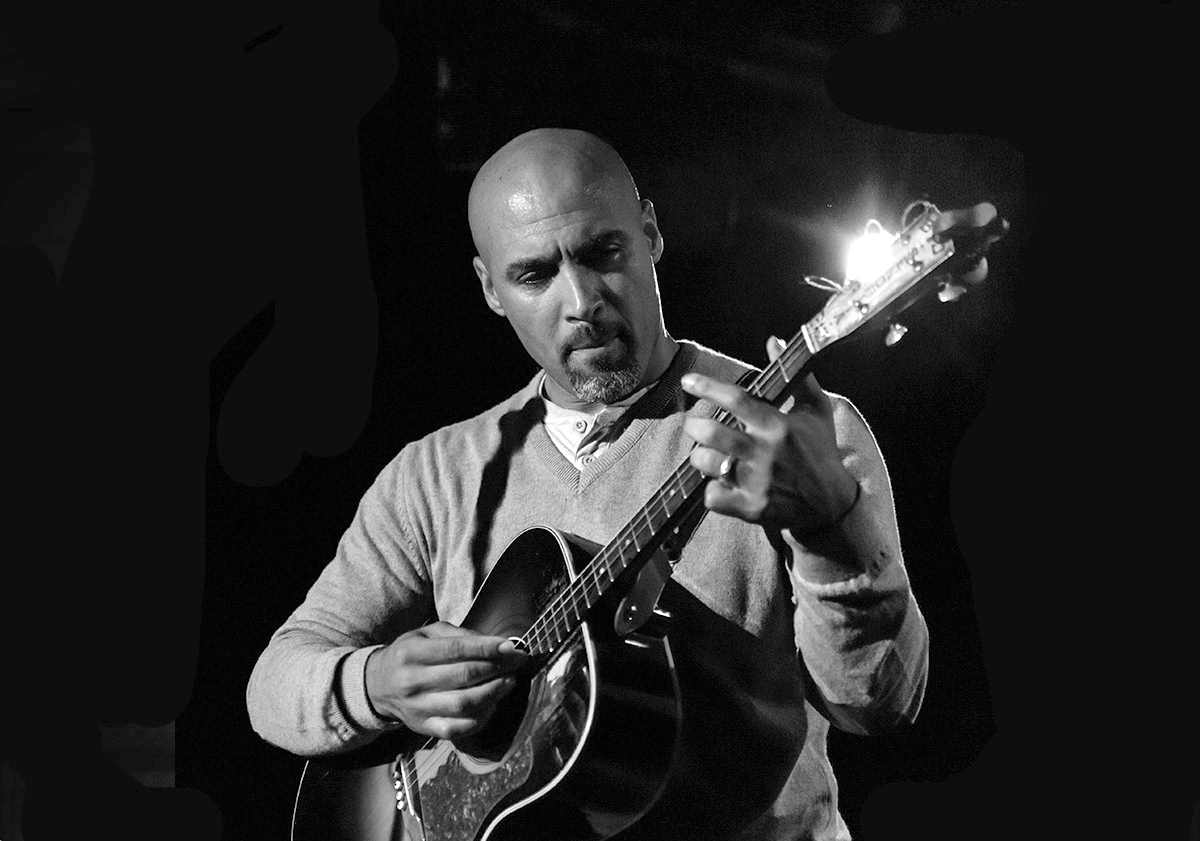 With tenor guitar in hand, Peter Harper — the bountifully soulful singer/songwriter/sculptor/teacher who plays SOhO Restaurant & Music Club on Thursday, April 26 — wants to help us break old cycles and grow anew.
On his newest album, Break the Cycle, the peaceful poet advocates that we "recognize the shared humanity in one another" to break seemingly endless "cycles of violence." "One of the things I'm trying to get across to people is that even a small amount of patience and a small ability to listen can go such an incredibly long way," Harper said. "It takes a lot to love somebody. If you could simply tolerate, in this day and age, that's enormous."
His tone, warm and deep, blankets you; his message inspires you. It's one he's carried all his life. Harper, who is also a sculptor and a teacher at CSU Channel Islands, has been a lifelong listener of the world, but it wasn't until his thirties that he began to write and share his songs. Growing up in and around the musical wonderland of his grandparents' Folk Music Center in Claremont, California, he helped repair instruments for the family business, with ears pricked to the comers and goers and the sound of their music.
For the Folk Music Center was more than a store: Theirs was a home for many all over Claremont. "Every possible holiday, you'd show up to the table, and there would just be strangers in the music store, people who didn't have anywhere to go. My grandmother would say, 'Come to my house and let me feed you,' and there'd be a jam session." All around him beat and strummed a picture of wide-ranging harmony.
A friend of his stepfather's, a former SS soldier named Willy, was one of his great sculpture teachers. "I was an African-American Jew, but this guy who grew up as a Hitler youth, he didn't care. We'd be right in the middle of a mold, and every week he'd stop and say: You need to know this. There's never an excuse to go to war. Do you have that lesson?" Harper said.
While Harper's tall bronze sculptures occupy some esteemed collections (Meg Ryan is a fan), he realized some messages couldn't be said visually. Harper plays with a freely untrained hand, and he first learned by carrying a ukulele everywhere, finding unusual tunings while idling at red lights. "There's no 'correct'; it's just about feel and sound," he said. His mother, Ellen Harper, a recording artist herself, was one of his firmest coaches and advisors.
Onstage and on record, Peter Harper is all about breaking the barrier between the musician and the audience: stepping down from the pedestal, knocking down the fourth wall with an extended hand. In person, his radiance is infectious. "I try to connect with people in a very human way," he said. He sees himself as one player among many, answering to music's call. "There's no distinction between myself and another talent. It doesn't matter what they do for a living; they've got a skill set I don't have, and that skill set is valuable to humanity."
So much has grown from his grandparents' shop, the Harper family tree now a wide-ranging, wide-loving cultural canopy: Ellen has a new album; brother Joel published a children's book, Frankie Finds the Blues; and brother Ben recently joined Jack Johnson for a Montecito benefit concert. "It's not about a competition; it's more about spreading the amount of love in the world," Harper said. "Everybody's putting their love into one space for the world to grab at it, and the more the family puts into the bowl, the more there is to give to the world."
4·1·1
Peter Harper plays with Jason Mandell from The Coals Thursday, April 26, at 6 p.m. at SOhO Restaurant & Music Club (1221 State St.). See sohosb.com.