Living
Boucher Trail in San Simeon Is a Treasure Trove of Marine Mammals
Seals, Otters, and Whales, Oh My!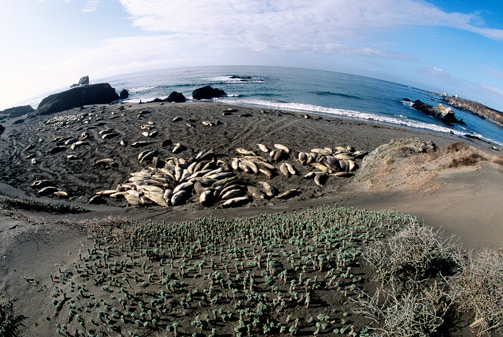 It was a cacophony of marine mammal sounds, the steep contrast of loud bellows delivered by one of the world's largest seals against the short, fanning bursts of seawater spewing from the heart-shaped spouts of migrating gray whales. We were hugging a muddy track along the craggy bluffs of San Simeon in Central California, hastily shifting between binoculars and a 300mm lens. It was a challenge to focus on just one species of animal, but that's precisely what you get on the newly constructed Boucher Trail along Highway 1.
To find these throngs of gray whale spouts and the biggest elephant seal rookery in the mainland U.S., take the boardwalk from the large interpretive area at the southern end of the rookery and follow the Boucher Trail (pronounced "boo-shay") north, where you'll also get scenic vistas of the historic 1875 Piedras Blancas lighthouse. Along the way, be sure to scan the dense canopies of giant bladder kelp for sea otters rafting up just beyond the breaking waves.
Named after Jim Boucher, a former Piedras Blancas Light Station manager, the 3.8-mile out-and-back track was constructed with a focus on public access and an eye on protecting the craggy coast's abundance of natural resources. The route crosses the paved road leading to the lighthouse and finally ends a half mile north of Piedras Blancas. From there, look south for views of the oddly shaped rock outcropping caked in seabird guano that sits just offshore.
The Boucher Trail, a fairly easy hike with several convenient outlooks, is part of California State Parks and was completed during the summer of 2017. There are several convenient overlooks, with the main attraction being the rotund elephant seals. They appear lazy, wallowing on beaches protected from northwest winds, but these massive seals hold the record for the deepest, longest dives of any marine mammal.
The trail also passes through grassland and wetland habitats and past wave-battered rock outcroppings that offer convenient haul-out sites for barking California sea lions and sunbathing harbor seals. The waters surrounding these breathtaking coastal bluffs are also part of the Monterey Bay National Marine Sanctuary.