Make Myself at Home
Make Myself at Home: Wooded Zen Sanctuary
Take a Look Inside 1825 Stanwood Drive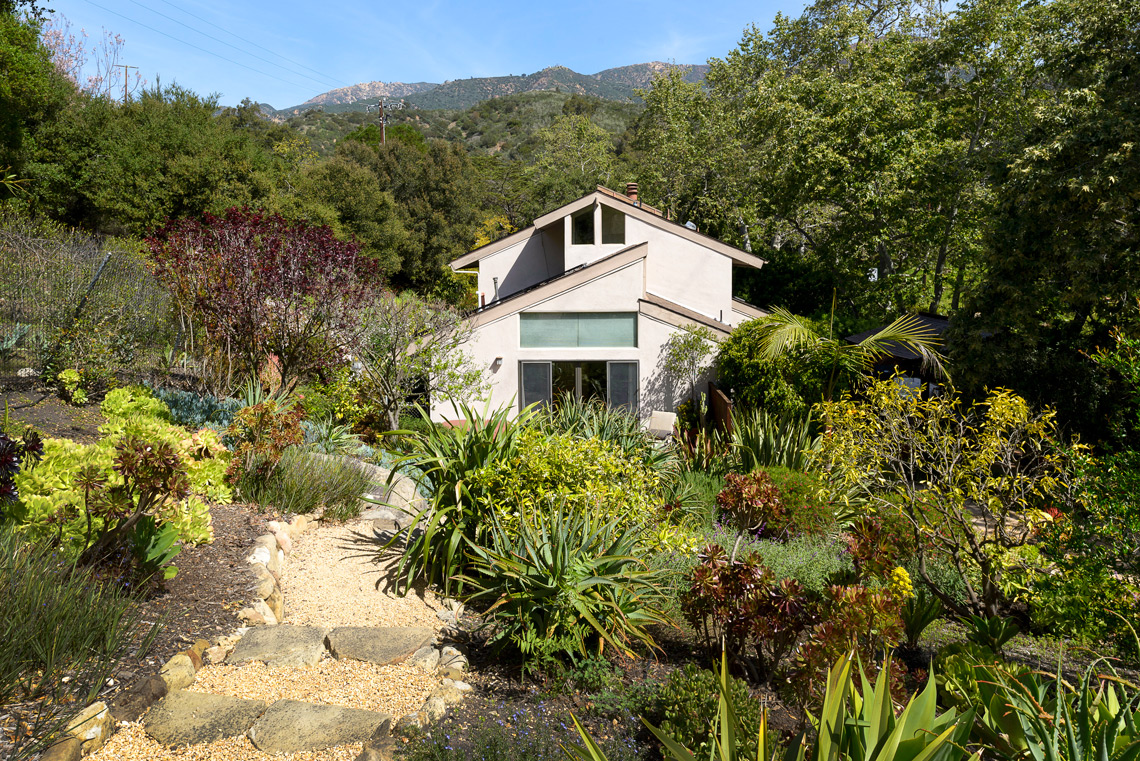 Dave Wheaton and Melodee Meyer are the founders of Martial Arts Family Fitness, a gym and martial arts studio in downtown Santa Barbara that offers kickboxing and fitness classes, self-defense workshops, summer camps, and martial arts in a discipline called dynamic circle hapkido. Woven through all of the curriculum is a spirit of camaraderie, caring, and respect. No one stays a stranger at Martial Arts Family Fitness for long. I haven't trained at the dojo since back surgery five years ago, but every time I interact with anyone there, I'm still treated like family. When I learned that the house for sale at 1825 Stanwood Drive is Mel and Dave's home, I knew I wanted to visit. Before I even stepped through the front door, I could tell that this tranquil oasis had their trademark style written all over it.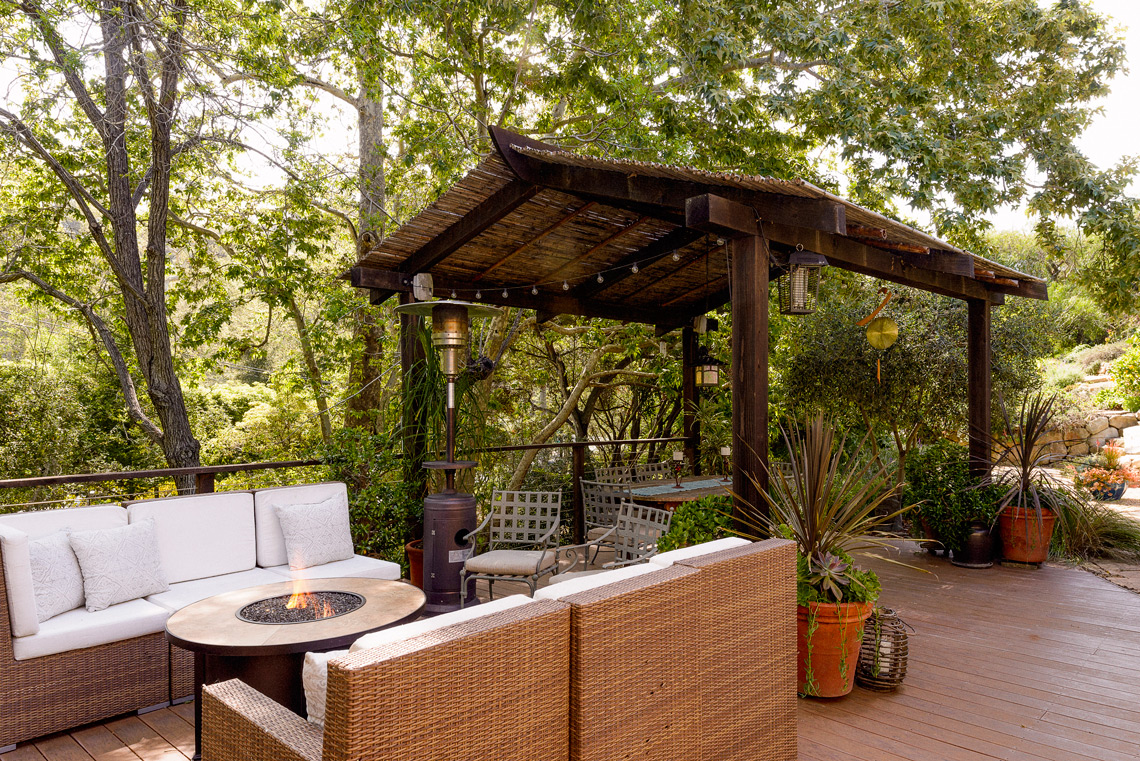 Dynamic circle hapkido is all about flow, and this property flows magically from the outside in and from one area to another. The house sits on an acre of beautiful grounds. It has one entrance on Stanwood, where a bridge leads over a stream and up to the front door. It has another entrance off neighboring Conejo Road, with a wooden gate set into a bamboo fence and flanked by Chinese dragon statues. Through that gate lies a lush courtyard surrounding a bubbling stone fountain in the center of a flagstone walkway winding toward the front door.
I had the pleasure of being guided around the house and grounds by Mel herself, making this behind-the-scenes tour even more personal. Mel confided that when she and Dave moved to Santa Barbara from Hawai'i, she wanted one spot in their surroundings that felt tropical, so this fern-filled front courtyard is her small slice of the tropics. Mel points out a stone statue tucked off the side of the path. It's a mother image with children peeking from below and around her, all wrapped protectively in her arms. The statue is one of many that Mel and Dave fell in love with in Bali and brought home to enjoy forever. These treasures are dotted throughout the grounds, making their outdoor space a unique sanctuary. Before exploring the rest of the outside, we toured inside the house itself.
The soaring, double-high glass front door has an original light fixture from The Biltmore hotel hanging high above it. The door opens to a foyer that emphasizes both the home's contemporary lines and the eastern influences showcased throughout. The red-walled entryway leads down three steps into the stunning living room that is at once cozy yet spacious, with dramatic vaulted ceilings, skylights, an elegant gray fireplace, and floor-to-ceiling windows.
Mel shows me some of the personalized touches: A painting of the red hapkido circle slides away to reveal the television screen hidden behind. An unassuming closet door houses a wine cellar, fully climate-controlled and convenient to both the living and dining rooms.
Walking into the kitchen, it's obvious that this room, plus its adjacent dining area, is made to entertain. Bamboo floors continue from the living room into the kitchen and combine with stainless-steel appliances, soapstone countertops, a long breakfast bar, and a big island for plenty of prep space. Subway-tiled backsplash plus dramatic lighting and one red wall to echo the front entryway are touches that emphasize style as well as function of this room.
The other wing on the first floor houses the master bedroom suite. Mel's private guided tour lets me hear the before-and-after details of this room. His and hers closets plus a luxurious bathroom with Jacuzzi tub, a cozy window seat, and a redwood sauna are luxuries that they have added. Step just outside to a completely private deck, which offers a hot tub perfect for stargazing.
Upstairs, two more bedrooms and baths provide more options for family space, offices, or both. A total of three bedrooms and three and a half baths, with efficient upgrades like solar power and radiant floor heating, along with practical touches like the laundry room situated right near the master suite, make this home easy to enjoy.
When finally it was time to explore outside, I was rewarded by outdoor spaces that are perfectly magical. Paths wind through succulent gardens, past boulders and all sorts of fruit trees, including persimmon, pomegranate, avocado, and more. The many levels of the grounds plus the winding landscaped walls and pathways provide nooks and hideaways with plenty of spaces to relax.
There are several gazebos and a pergola, as well as a stairway down to a secluded spot by the creek. A large, terraced outdoor dining area sits conveniently near the kitchen on a big deck that's likely to be used nine or ten months of the year. One favorite spot is a walled alcove with seating around a gas fire pit. I imagine all sorts of stories and ideas shared by firelight under the stars, both for Mel and Dave, and for the lucky future owners of this amazing sanctuary on Stanwood Drive.
1825 Stanwood Drive is currently for sale in Santa Barbara, listed by Bartron Real Estate Group of Berkshire Hathaway HomeServices California Properties. Reach Bartron Real Estate Group at (805) 563-4054 or team@bartrongroup.com.