Sports
Santa Barbara Shines in Western States 100-Miler
Endurance Runners Kris Brown, Nick Presniakov, Dave Odell, and Kate Elliott Tackle the Sierras
Everything about the Western States 100-Mile Endurance Run sounds absolutely daunting. From the starting line in Squaw Valley, the first few miles ascend steeply to a lung-heaving elevation of 8,713 feet. Then there is a long, grueling, uneven descent in rugged, remote terrain. Along the way, temperatures usually soar above 100 degrees. There are creek and river crossings (wet feet = blisters). If it takes you more than 30 hours to reach the finish line in the town of Auburn, you will not be recognized in the race results.
Yet in the growing population of runners who want to try distances beyond the marathon, thousands of them covet the opportunity to be one of the 369 people allowed to enter the Western States Run each year.
Its lore goes back to 1974, when one Gordy Ainsleigh decided to assay the Western States Trail Ride on foot rather than riding a horse. That led to the establishment of the first official Western States Run, the world's oldest 100-mile trail race, in 1977.
"It's the number-one bucket list item for ultra-runners," said Kris Brown.
Nick Presniakov described it as "our Super Bowl, our Wimbledon."
"For us, it's like Boston for marathoners," said Dave Odell.
Brown, Presniakov, and Odell — men of Santa Barbara's devoted ultra-running community — all beat the odds to get into this year's June 23-24 race. Their names were picked in a lottery of almost 5,000 qualified runners.
Then there's Kate Elliott, who took up trail running here three years ago. "It sounded like a cool race," she said when she heard about the Western States. She went out and entered a 100k (62-mile) race in Malibu last February. By finishing as the second woman, she won a "Golden Ticket" to the Western States.
The race started in the Sierra at 5 a.m. on Saturday. The four Santa Barbara runners streamed over the passes and into the canyons with some 75 international entries and elite ultra-runners from high-altitude training grounds in Colorado and northern Arizona.
When they finished on the Placer High School track that night and the following morning, their achievements were startling:
• Brown came in 10th in a time of 17 hours, 20 minutes, 9 seconds.
• Elliott was the 10th female finisher and 33rd overall in 20:04:38.
• Presniakov was 39th in 20:36:22. He, Brown, and Elliott were awarded silver buckles for breaking 24 hours.
• Odell, one of the older runners at 51, beat the deadline by almost three hours in 27:14:23 to earn a bronze buckle. He was 182nd of 299 finishers.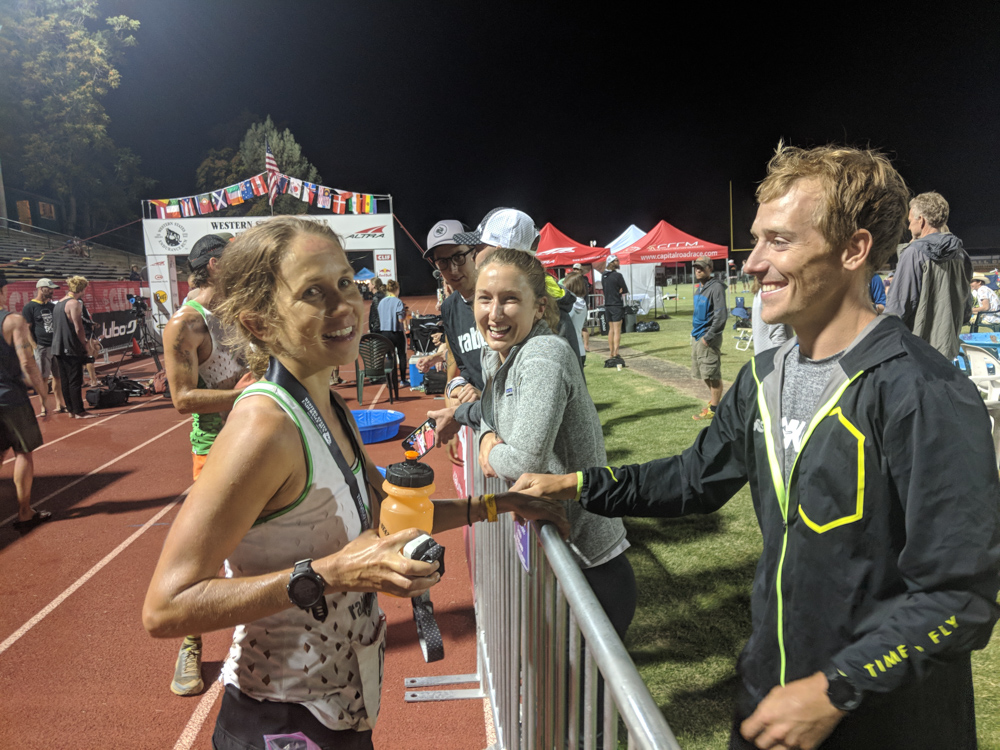 By virtue of their top-10 performances, Brown and Elliott both earned spots in next year's Western States race. Both said they'd do it again.
They all suffered to some degree. "I absolutely had dark moments," said Brown, a 29-year-old restaurateur who, as a track runner at Claremont McKenna College, was "just slow enough not to do interviews."
Brown was a runaway winner of the Santa Barbara 35-Mile Nine Trails Endurance Run when it was last contested in March 2017 (much of the route was devastated by fire and flood last December and January). Elliott finished third in that race.
In a 100-mile race, Brown said, "The hardest part is staying within yourself. Most people push themselves too hard. It's about managing your speed and your effort relative to what your body can handle. You have highs where you think you'll never feel bad again, and lows where you feel there's no way you can get out of it."
Elliott, 32, was laid up by the tear of an ankle tendon a couple of months before the Western States race. "Maybe the rest was what I needed, what my head needed," she said. "I wanted to run even more. I was grateful. Whatever happened, I was going to be happy."
Declaring that "running has been my therapy since I was a child," the Connecticut native found her bliss in Santa Barbara after making what she thought would be a temporary move in 2015. She got a job with S.B. Running. Both she and Brown are sponsored by rabbit, a running apparel company.
Elliott said her experience two weeks ago went beyond the basics. "Besides how to run, how to pace yourself, how to eat, it brought meaning to life: how to persevere and stay optimistic," she said. "Longer and harder doesn't mean it's impossible. It's much clearer to me that if I want to do something, there's nothing to be afraid of."
Presniakov, 38, is a commercial photographer who "used to surf a lot" but was discouraged by the crowds. The UCSB grad took up ultra-running three years ago. "You can go for hours without seeing other people," he said.
Odell, the athletic director at Westmont College, is becoming legendary for his long runs. He has done four 100-milers in the past four years, all the more remarkable because his colon was removed two decades ago.
"I'm so proud of Kris, Kate, and Nick," Odell said. "Santa Barbara has become a place of significance in trail running." He remembered the time he and his wife, DeAnna Odell, took Elliott on a 20-mile run two years ago. "It was the first time she'd run that far," he said. "She's the nicest, sweetest girl you'd ever meet, but she has a competitive streak. She's calm and professional in the way she goes about racing."
Elliott had to pick off three other women late in last week's race to finish in the top 10. Brown also improved his position in the latter stages of the race. "If you finish at all, you're going to find yourself moving up," Brown said. "Historically, there's a lot of carnage."