News
Beachwalk Tenants Allege Intimidation Tactics
Longtime Residents to Be Replaced by College Students, They Say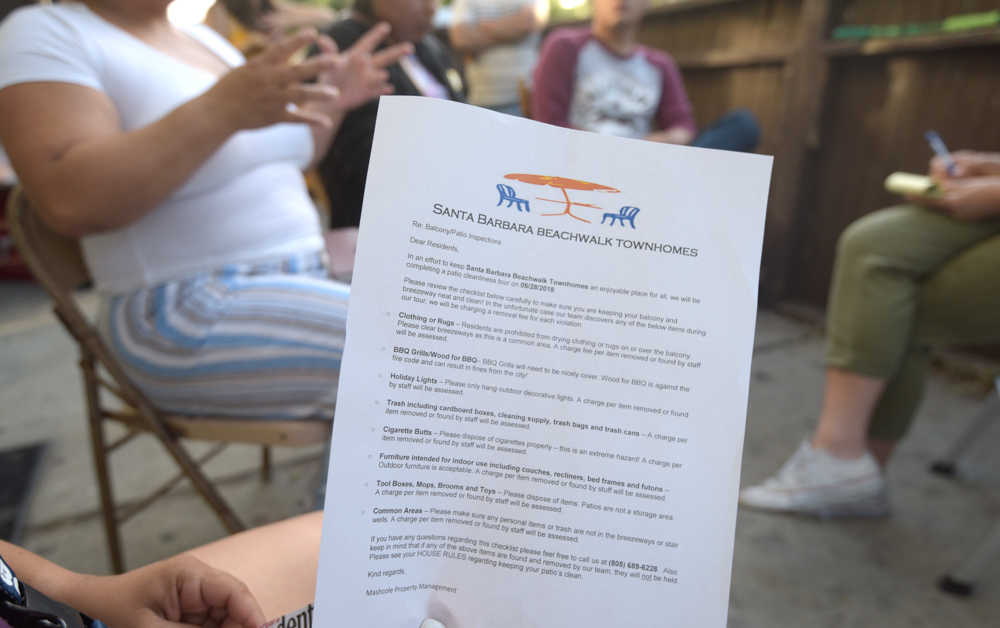 Tenants at the Beachwalk Townhomes on the Lower Eastside are claiming intimidation and discrimination at the hands of on-site manager Aileen Velasquez and Mashcole Property Management. Beachwalk, formerly Voluntario Apartments, switched over to Mashcole roughly three years ago, said tenants. Since then, they've seen rents increase, and now Mashcole is looking to replace families with college students, they said.
Jenin Monterroso, a resident there for six years, said Velasquez told tenants that the goal is to get existing residents — who are mostly Latino — to move out. "Mashcole manages more properties in Isla Vista, and it's all students," Monterroso said, "so I believe them."
Velasquez also allegedly called Immigration and Customs Enforcement (ICE) on residents who have fallen behind on rent, according to tenants. Those residents left before ICE agents showed up the following day, knocking on doors.
According to tenant Nora Ineria, Velasquez also brought up ICE with Ineria's mother, who's lived there for 10 years. "She was asking my mom where she worked, where her kids went to school, then she made a comment about ICE," Ineria said. "But the kids are U.S. citizens and [my mom] is a resident. She was trying to intimidate us."
Velasquez refused to be interviewed; several calls for comment were not returned by Mashcole representatives.
Many people are scared of Valesquez, said tenant Hector Perez. "She's very good at intimidating people."
Rents went up from $1,650 to $2,490 for the two-bedroom, one-and-a-half-bath apartments, and they're going to keep increasing, said the residents. They've been told rents will reach $3,200. The rent is surprisingly high, said Ed St. George, who owns neighboring apartments. He said, "$2,100 is pushing it for the condition they're in."
Tenants agree, and they have complained of rats, cockroaches, and deferred maintenance. Some tenants even had bedbugs, said the group. In her six years there, Monterroso has had to deal with five floods. She always pays out of pocket. There are a lot of maintenance issues, said the tenants who called on the city to conduct an inspection. When Velasquez got word of the inspection, she allegedly threatened the tenants, saying they were digging their own grave.
Recently, tenants received a cleanliness notice advising them to remove items from their patios including toys, tool boxes, and cleaning supplies. If tenants do not comply, the items will be removed by staff and tenants will be charged per item, they said.
Perez, who works as a gardener, had his gardening tools on his balcony. He has since moved them inside. Jennifer Juarez, also a tenant, has three kids, and some of their larger toys are stored outside. "I have kids," she said. "I can't even put their toys outside."
Tenants also report being charged unnecessary fees by Velasquez. When the tenants were switched over from a yearlong lease to a month-by-month lease, Velasquez requested an additional $100 every month from Perez. Perez complained, and she stopped asking for the money. His neighbors did not receive any such request. Velasquez also charges tenants a $50 fee for yard sales that are set up on city sidewalks. Inconsistencies and discrepancies in such requests have left tenants suspicious of her.
Tenants are struggling to pay higher rents. Juarez, a single mother of three, is now working three jobs. "I have one full-time and two part-times," she said, "and it's still not enough." Monterroso, who lost her job at the Montecito Inn after the January 9 disaster, said all of her husband's paycheck goes to the rent. Her son, a student at SBCC, had to take up a part-time job to help out. Ineria, who pays the rent with her sister, said it's a lot of pressure. "We're thinking about moving out to Lompoc or Santa Maria."