Visual Arts
Sullivan Goss Gallery Presents 'L.A. in S.B.'
Works by Masters of Los Angeles Modern Art Scene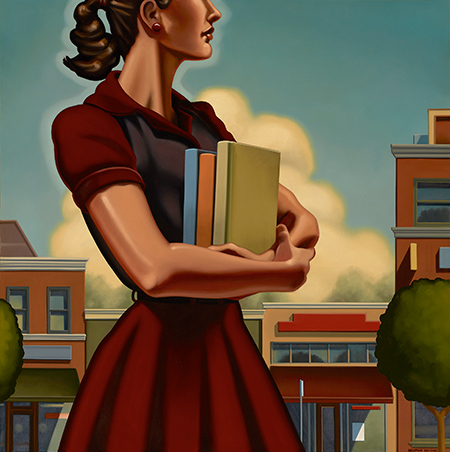 Works of art by masters of the Los Angeles modern art scene are currently on view at Sullivan Goss Gallery (11 E. Anapamu St.) in the second installment of L.A. in S.B.. The showing features more than 15 artists from the contemporary and postwar period, including Ed Ruscha, David Hockney, Patssi Valdez, and Ken Price.
Betye Saar's 1976 lithograph "Keep for Old Memoirs" is an intimate gem. The black-and-white work depicts an assemblage of torn photographs, a feather, and a stuffed bird placed on top of various textiles. Known for her exploration of African-American culture in politically charged works of art, Saar turned her focus during this period to more nostalgic creations that pulled from her own family history. Reflective and ethereal, the work also integrates Saar's fascination with African-American folk and shamanistic traditions.
Contemporary artist Dave Lefner's linocut playfully explores Spam's iconic food can. Depicting a colorful rendition of the tin underneath a riff of its logo featuring a neon sign, the work is an example of Lefner's conflation of pop art and advertising. Influenced by sign painting, Southern California's urban landscape, and car culture, Lefner's work harks back to early paintings by Ed Ruscha and John Baldessari — continuing the conversation about pop art across generations of Los Angeles artists.
While some works are surprises from the likes of Ynez Johnston, Leonard Edmondson, and Kenton Nelson, others, such as a Frank Gehry chair drawing, are instantly recognizable. Together, the pieces are a modest but fine grouping of important artists from Los Angeles who helped define the region's history.
L.A. in S.B. II is on view through August 19.