Make Myself at Home
Make Myself at Home: Vista Constantia on San Marcos Pass
Take a Look Inside This Luxurious View Estate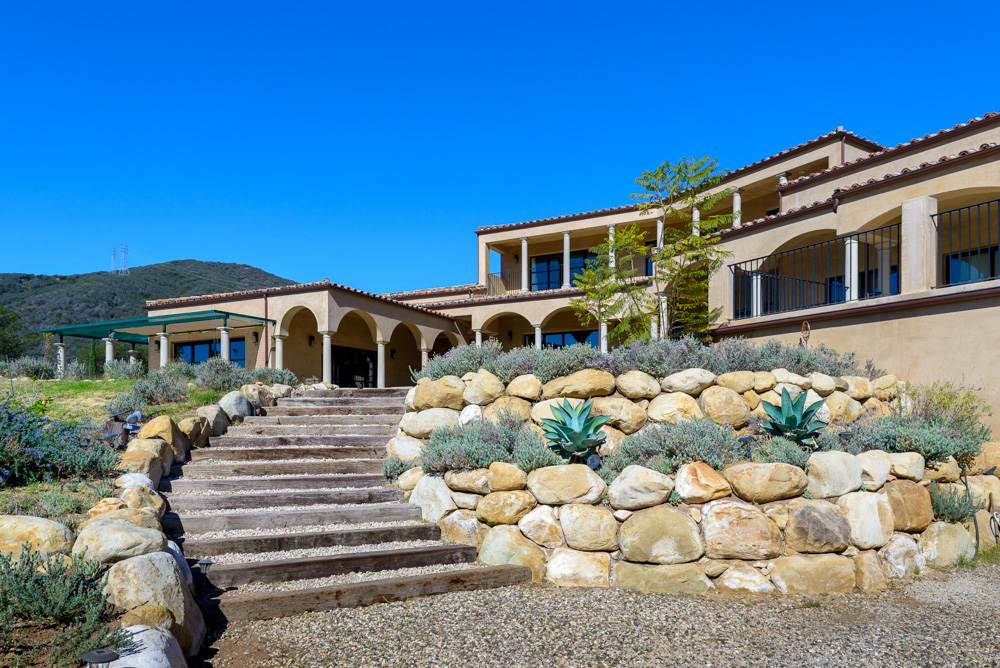 Address: 1747 San Marcos Pass Road
Status: On the market

Price: $7,950,000
Just one week back home after a big family vacation to England and Wales, I was invited up into the Santa Barbara foothills to visit a very special estate. With jet lag still confusing my body clock and visions of the idyllic Welsh countryside's historic stone dwellings lingering in my daydreams, little did I know that the quick trip up San Marcos Pass Road would be an introduction to a castle of a different kind, the perfect bridge between vacation and reality. 
The residence at 1747 San Marcos Pass Road is only five minutes from La Cumbre Plaza, up Highway 154 and around the first bend, immediately past the sign announcing the entrance to Los Padres National Forest. A small private road leads to an enclave of five houses. They aren't related but for sharing this road, which offers breathtaking views of the foothills, open space, the city spread out below, and the glittering ocean beyond. 
The brief drive includes a view of trails and pathways that I later learn are part of the 160 acres that make up this property known as Vista Constantia. The land, part of which is currently planted in avocados and coffee, is part of what makes this estate so special.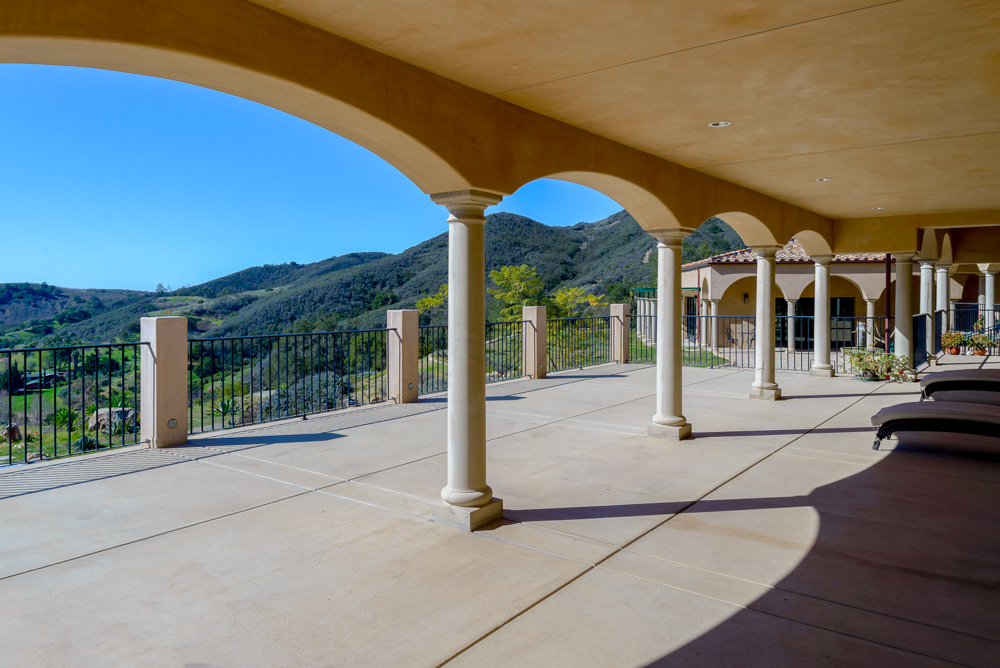 As we get closer, the house itself literally rises into view, sitting above us on a small knoll surrounded by native terraced gardens in the front and the gorgeous backdrop of the foothills behind and all around. 
The home has a long, low Mediterranean silhouette, composed of arches and columns under a tiled roof and surrounded by nature. A wide, curving staircase leads up to the house itself. As the impressive mullioned double doorway comes into full view, the gurgling of a small fountain welcomes us to this contemporary oasis.
Walking into the house itself, I'm immediately struck by the vast, airy feeling of calm that pervades the residence. Twenty-foot ceilings, concrete flooring, and super-spacious rooms combine for a serene, contemporary ambience. An entry foyer leads to two en suite bedrooms on the right or to the great room on the left: a living and dining room combo that leads into the kitchen.
The bedrooms are large and self-contained. One of the full bathrooms features a shower and the other a bathtub. Both rooms have French doors that lead out onto a spacious covered patio.
Heading back through the foyer, I take a second look at the interior doors. Both a full laundry room and a half bath off the entry room sit behind custom doors of a dark-colored wood that I learn is called wenge. As I move through into the other rooms, I notice that wenge is used extensively in the kitchen as well, with a lovely, detailed grain on the dark wood adding striking, rich details.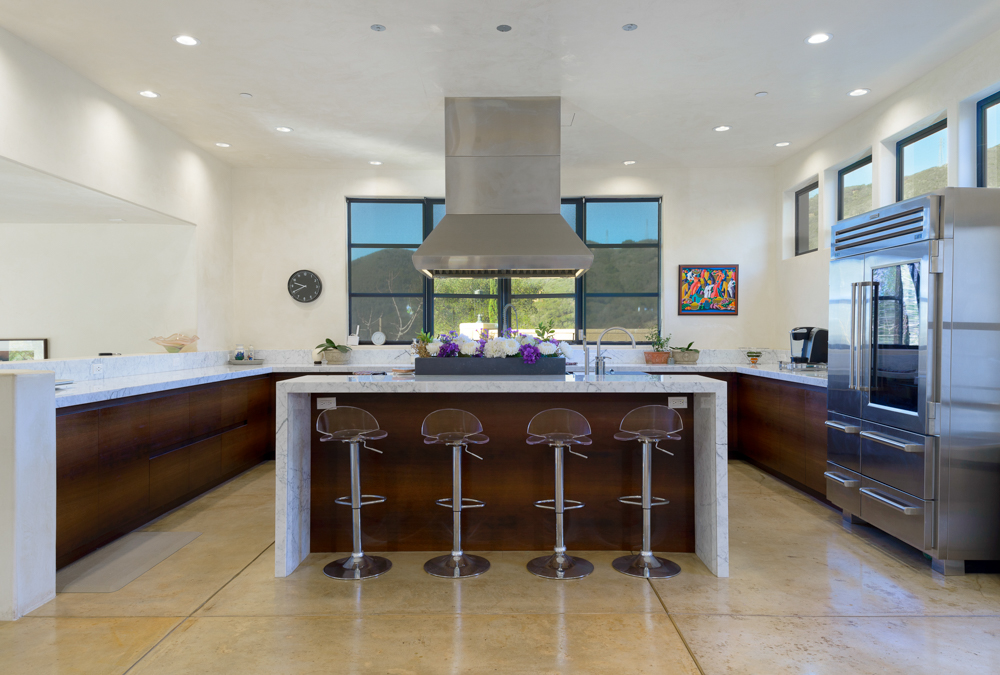 The kitchen is a classy gourmet haven, with a huge marble, horseshoe-shaped counter surrounding a marble-topped island, and commercial-grade stainless-steel appliances, including a built-in wine cooler. Down a short flight of stairs is the family room. At almost 500 square feet, this room is the only room in the house that feels cozy. Surrounded by a trellised patio, and with accordion doors letting the outside in, this is one of my favorite spaces in the house.
Not to be outdone, the master suite occupies the entire second story of the house. It is composed of a landing plus an office or sitting room, a luxurious bathroom, and an enviable walk-in closet. The master bedroom itself enjoys a covered balcony that runs the length of the room, plus a Juliet balcony on one side. This self-contained sanctuary was obviously designed to take full advantage of the incredible views that this property affords.
In addition to this home's visible style, I learn that much of its appeal is not apparent to the casual observer. Vista Constantia has been specifically engineered to endure the elements. The 6,000-square-foot home features commercial-grade construction with fireproof, insulated flexible concrete, steel framing, and a seismically reinforced foundation. I learn that two artesian wells on the property provide plenty of water for its agricultural projects, residents' use, and fire protection as well, amazing features in a water-hungry region such as ours.
Water is usually the biggest expense for an agricultural operation. The wells at Vista Constantia fulfill the current needs and provide enough water for plentiful growth as well. Only about four acres of the estate have been planted, with 560 avocado trees interplanted with 400 maturing coffee bushes. I'm told that these young plants will take a few more years to reach full maturity, but that if properly nurtured they should be able to produce fruit for 150 years. The remaining acreage is all certified organic, so there is plenty of opportunity for the future.
As I drive away from this estate and back down into the city, the magic of Vista Constantia mingles with my vacation memories. Whether among Welsh sheep on the hillsides or California avocado trees, a castle in the foothills is the stuff dreams are made of.
1747 San Marcos Pass Road is currently for sale or lease in Santa Barbara, listed by Steve Epstein or Brooke Williams and Holly Honarvar of The Epstein Partners of Keller Williams Realty. Reach Steve at (805) 689-9339 or steve@theepsteinpartners.com. Reach Brooke at (805) 335-0660 or brooke@theepsteinpartners.com. For leasing information, reach Holly at holly@theepsteinpartners.com.