Arts & Entertainment
Jackson Browne's Career-Spanning Show
Legendary Singer Played Hits and New Songs at Santa Barbara Bowl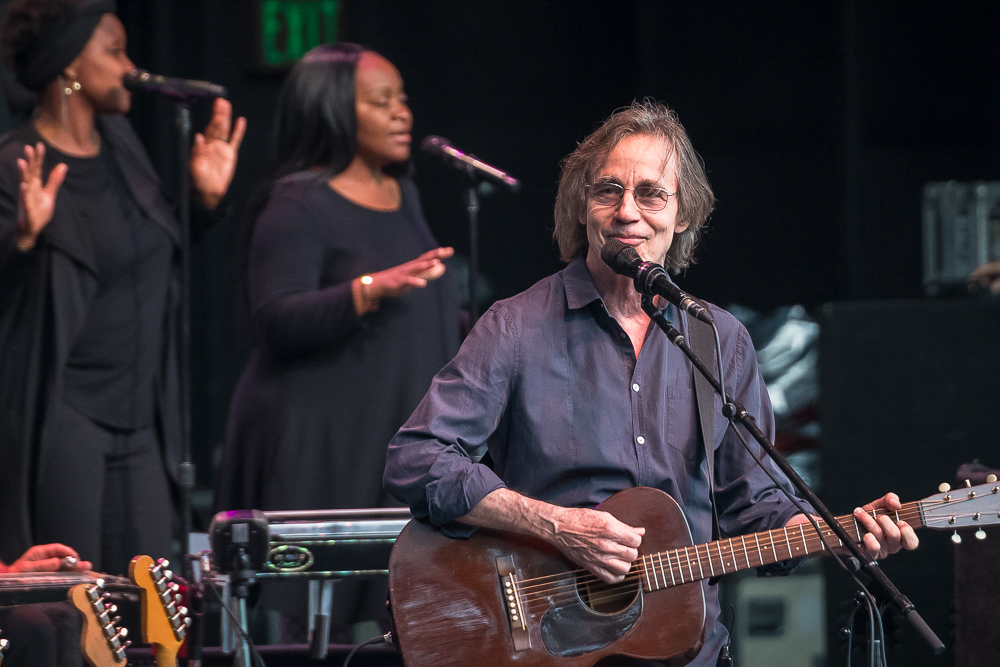 At the S.B. Bowl, Fri., Aug. 3.
Finding parking in the hills surrounding the Santa Barbara Bowl was nearly insurmountable last Friday, August 3, with every possible spot filled by everyone and their mother coming to see Jackson Browne play. The quintessential '70s introspective rock star, joined by a masterful band and crew, ushered in Fiesta weekend with a round of legendary music.
Browne took front stage, and he and his band played for three hours split in half by a 15-minute intermission. Their 24-song set list spanned the breadth of the singer/songwriter's musical career. It included hits like "These Days" and "Doctor, My Eyes," as well as a new single, "The Dreamer," which tells the story of an immigrant woman and the injustices that she — and many — face, especially during this past year.
The stage backdrop was brick wall, decorated with floor-to-ceiling vibrating ropes, reminiscent of guitar strings and resonating with the band's rhythms. The lighting was vibrant and focused. It switched between musicians, highlighting their solos and riffs, picking them out and then returning them to be a part of the band once again. The whole atmosphere of the show was tinged by the motif of togetherness. Each member of the band played an essential part in their music. The audience played their part, too, standing and dancing in their seats during "Somebody's Baby" and "Running on Empty" when the lights illuminated the rows and rows of attendees filling the Bowl.
"I'm from here, too," Browne said before the band broke into "Redneck Friend." Browne's had a long history with Santa Barbara, having played benefit concerts here for decades and owning a house in Hollister Ranch. It's obvious how much the people of Santa Barbara love Browne and his music, but his recent Bowl show made Browne's affinity for this city clear as day.