Visual Arts
Mike Nava at The Basic Premise
Neo-Expressionism in Ojai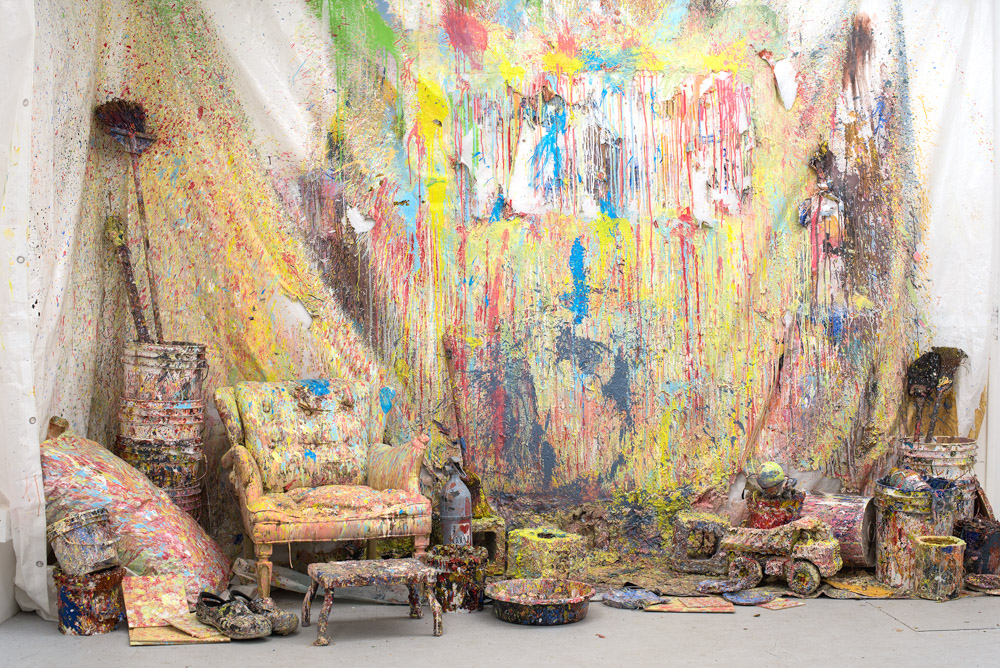 Ojai pops to life with Mike Nava's exhibition Studio Visit at new gallery in town The Basic Premise. His paintings recall Jackson Pollock's drip paintings, brought to a third dimension atop layers of found objects and base materiality. The highlight of the show is a studio wall from Nava's working space replicated in the white-cube environment of the gallery. This studio tableau includes the drop cloth that Nava used to paint his Naïveté of Flowers series, as well as a video of the process. This video transformed Nava's work into a multimedia expression when it was displayed on July 28 at the Luckman Fine Arts Complex in Los Angeles as a 50-foot projection backdrop for the premiere of Joshua Tree Symphony by Raiford Rogers Modern Ballet.
A new fixture in the Ojai arts rotation, The Basic Premise opened in late 2017 and has featured shows by talents such as recent UCSB MFA Tom Pazderka. Gallerists Ted Nava (Mike's brother and painter John Nava's son) and business partner Matt Henriksen curated the show, which emphasizes both process and form.
Mike Nava's frothing masses of polystyrene beads dripping with layers of paralyzed resin create a sense of bodily tissue. Manic layers of canary yellow amassed atop girlish pinks and purples in "Sudden Glimpse" (2017) create a sense of feminine intrigue that immediately draws in the eye. The organic qualities of the works' material are interrupted by unexpected objects such as tinsel and paintbrushes; meanwhile, each piece retains its keen sense of optimism with a prism of powdery hues.
Nava's process is exceptional in its complex yet blasé nature. The artist uses such oddities as ketchup bottles and cake-decorating bags to build up the forms, and then blasts paint over his creations with squirt guns and fire extinguishers to draw in the element of chaos so prevalent in the finished works. "Red Child" (2018) and "Blue Child" (2018) are particularly painterly, recalling abstract expressionism gesturally, but done with a post-pop palette of fluorescents and brights.
While the artworks all display a physical depth, "The Madonna" (2017) lights up with a greater sense of spirituality. The substance is at once biotic and otherworldly, with rich plum tones spackled against a coral-like surface whose topography appears as if it could start heaving with breaths of life at any moment. Reflective in nature, this painting/sculpture is particularly easy to get lost in.
Studio space is naturally sacred and private to an artist, but Nava and the curatorial team made an apt decision to re-create the environment in its entirety inside the otherwise minimalist cube of The Basic Premise's space. The effect is both shocking and humanizing, as we are brought into the inner workings of Nava's mind's eye. Buckets of tossed paint drooling down the walls of the studio reflect a sensibility similar to that displayed in the paintings themselves. Rectangular shapes on the walls where the paintings in the Naïveté series hung while they were created are clearly visible even amid the later splatters, thus lending a greater transparency to the process behind the paintings turned multimedia ballet experience. The inclusion of a paint-laden chaise allows us to peer across the artist's creative boundaries into his personal space, thus bringing his artistic expression to new heights of decadence.
Fluid in nature, the gallery is not consistently open. While Studio Visit closed on July 14, Mike Nava's paintings can still be viewed by appointment by contacting thebasicpremisegallery@gmail.com.
4·1·1
Mike Nava's Studio Visit is viewable by appointment only at The Basic Premise (918 E. Ojai Ave., Ojai). The gallery will open to the public Saturday, August 11, 8:30 p.m., for Fire, Flood and Freeway, a program of films hosted by the Echo Park Film Center. The next exhibit, Jane Handel's Unrepentant Sensualist, opens September 15.