Visual Arts
'Phoenix Rising': Mud and Ash as Art
James and Linda Haggerty's Ceramics at Sullivan Goss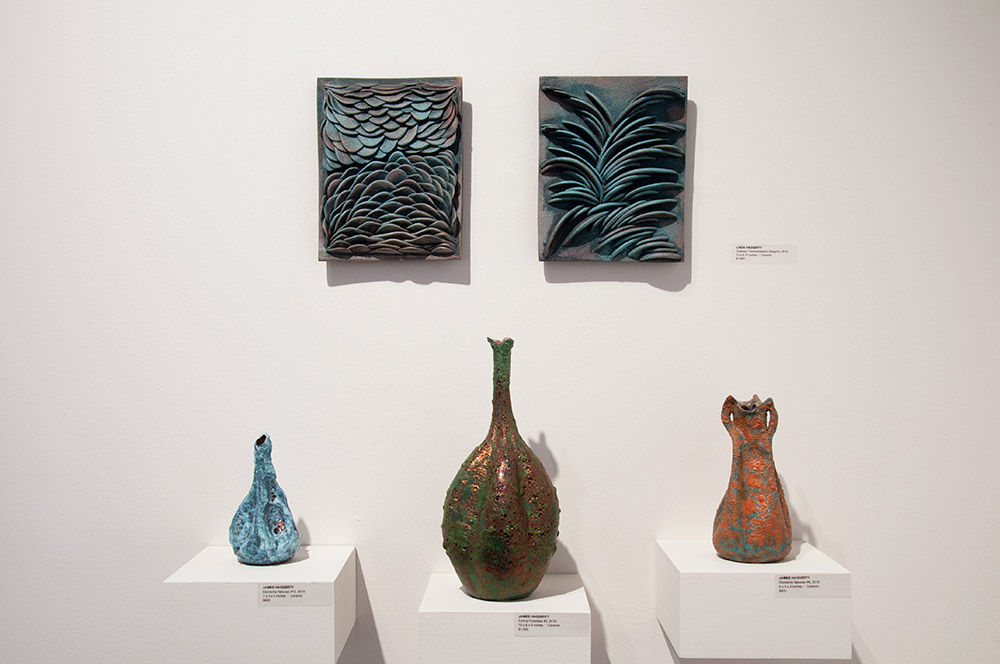 Ask any witness about the devastation wrought by the Montecito mudslides, and there's a strong likelihood that you'll hear a description of the mud itself: the "big stewing soup of it," as T.C. Boyle memorably put in his short story "I Walk Between the Raindrops" in the July 30 issue of the New Yorker. In Phoenix Rising, the new exhibit at Sullivan Goss, An American Gallery (11 E. Anapamu St.), ceramic artists James and Linda Haggerty are asking us all to take another look at the mud and ash distributed by January's debris flow, but not because they want to take us back to the scene of the disaster; instead, they want to imagine a way forward. In the months since then, they've taken mud and ash from the various sites and alchemized what they've gathered into exquisite and brilliantly colored works of art. It's as though they meant to make a declaration: There's nothing we can't fix with a kiln, some glaze, and our imagination.
From James Haggerty, the material called forth a new way of working, one in which the thrown pot is attached to an armature while still wet and flipped upside down, allowing the artist to create a vigorously flowing shape that bears the mark of his hands working with, rather than against, gravity. "Caeruleum Mare Legumen" shows this technique in full effect, the shiny interior glaze in sparkling contrast to the lighter green of the outside. All of the Haggerty's pieces display a sophistication with color and texture that rivals that of California Clay Movement legend Ken Price.
Linda Haggerty's poetic bowls and reliefs merge geometric forms with natural patterns derived from botanical and other organic shapes. The copper-hued tile called "Paradigm Shift" is a small marvel of post-disaster reflection and solace, exemplary of the way that through art we can continue to build a future even after unexpected changes arrive to knock us down.