News
Electricity Bailout?
Sen. Jackson Squares Off Against Gov. Brown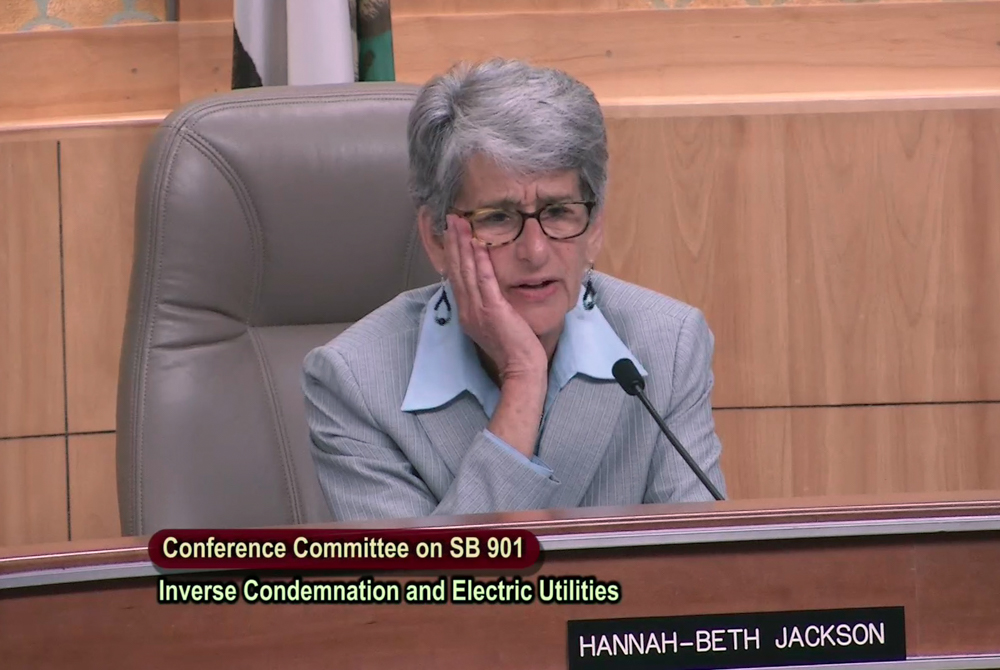 In the name of climate change, Governor Jerry Brown has asked California's Legislature to give electric utilities a pass on the strict liability they face when their equipment causes a fire. Fighting against what some call a bailout for electricity providers are legislators — State Senator Hannah-Beth Jackson among them — consumer groups, and cities and counties. At issue is whether strict liability — which dispenses with fault and goes straight to compensation for victims — should be set aside in favor of a negligence standard, which could take years for a court to decide.
"The utilities have spent millions of dollars hiring just about every law firm to come in and lobby on their behalf," Jackson said of the intense pressure legislators are under to arrive at a bill for the governor to sign before the session ends August 31.
Many Sacramento participants at the "Conference Committee on Wildfires" on August 9 argued that they should be working on preventing the next fire, not wasting time on an issue the Legislature's attorney believes is unconstitutional. Included in the fire bills this year is Jackson's SB 1260, which allows federal, state, and local agencies and private landowners to work together on prescribed burns to thin forests and form fire breaks. "It brings experts together to thin the forest against this curse of climate change, drought, bark beetles, and the other things destroying our forest," she described at a meeting held in Montecito in July.
Another frequently heard argument in the state capitol was that the threat of strict liability is what kept a utility striving to improve its grid. Proponents pointed to San Diego Gas & Electric, which after the 2007 firestorms, was not allowed to pass to customers its remaining liability costs after insurance and other payouts, according to the San Diego Union Tribune. SDG&E power lines were found responsible for several of the fires, including the Witch Fire, and the power company owes $379 million out of $2 billion in overall settlements — $1.1 billion was insured, and other entities paid some liability costs. SDG&E has since hardened its system, and according to San Diego's State Sen. Ben Hueso, there hasn't been another large-scale fire in the county. SDG&E is fighting the California Public Utilities Commission's decision.
The energy providers were about the only supporters of the governor's plan. Henry Weissman, speaking for SoCal Edison, said that it wasn't fair, if a utility had followed all the rules, that it would be blamed and have to pay for a fire that spread due to wind and weather worsened by climate change. He also stated that it was part of the governor's plan for the utilities to improve their systems and reduce risks; Sen. Jackson disagreed, demanding to know how improvements could be expected under the looser standard of negligence when they were already inadequate under strict liability. As to whether the proposal was constitutional or not, Weissman put it to the committee that a legislature could enact laws that would direct the Supreme Court's interpretation of California's Constitution in this matter.
Part of Brown's argument has been that utility companies could face bankruptcy if 2018 presents an electricity-caused disaster like the Thomas Fire, for which something like 1,500 plaintiffs have filed suit against Southern California Edison. The hearing testimony indicated strict-liability-imposed lawsuit costs could be backstopped by the Public Utilities Commission. "The PUC gets to make the decision," Jackson explained. "If they say, 'yes, you acted prudently,' [an electric company] can increase rates and the users end up paying" for the fire costs, she said. "If you didn't act prudently, your shareholders pay by not getting the profits generated by the company."
As for the governor's argument that climate change has made electricity providers unfairly liable for more-easily sparked fires, Jackson said, "That's the $64,000 question."