Visual Arts
'Contemporary Bear Area Artists' at Sullivan Goss
Five Artists' Expressions of Extraordinary Animals
This delightful show of five artists sharing a common interest is the product of curator Susan Bush's observation that when it comes to eco-consciousness among contemporary artists, there's something special about bears. Adonna Khare, Beth Van Hoesen, Susan McDonnell, Pamela Kendall Schiffer, and Nicole Strasburg may all have started out expressing their fascination with these extraordinary animals independently, but encountering the work together, the viewer is left with no choice but to accept that there's now a distinct bear area in art.
Whether one approaches the exhibit from the perspective of Strasburg's small gouache paintings of brown bears that she observed on the bear cams at Katmai National Park, Alaska, or through the fantastic and monumental "Bear with Baby" drawing of Khare, the impact always includes a certain sense of the uncanny, as bears, once one's initial association of them with terror of bodily harm has been neutralized, are among the most humanlike of animals. Maybe it's just the position of their eyes in relation to their snouts and foreheads that triggers a sympathetic response, or perhaps they really are thinking in a way that gives them readable facial expressions, but there's no question that the adage "smarter than the average bear" implies an empathic intelligence that's a step beyond that of other forest creatures. Ample scientific evidence suggests that bears, with their sophisticated kinship structures and remarkable memories, come nearly as close to embodying humanlike traits as our evolutionary ancestors among the apes.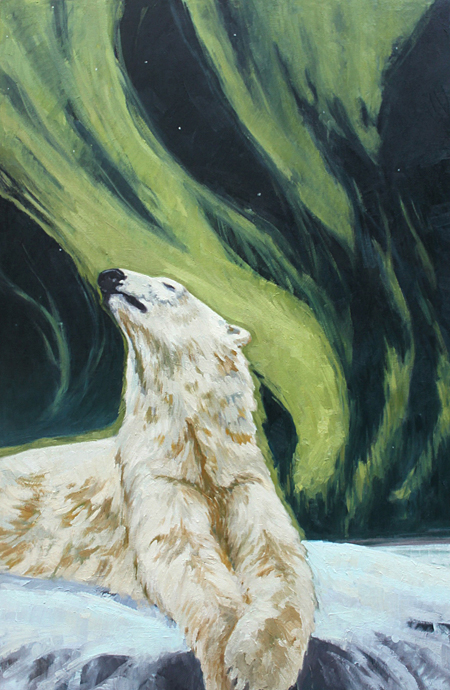 To see what that means, go no further than McDonnell's vivid portrait of "Mr. Handsome," a bear with a face that could easily go on a $20 bill. Compare Mr. H to the nearby 1985 lithograph "Black Bear" by Van Hoesen, and you will begin to see why these artists have been so drawn to depict the soulful gazes of these naturally dignified figures. Of course, no exhibition of work portraying these animals at this time would be complete without recognizing the degree to which they are imperiled, not only by hunting but also by habitat loss due to climate change and human impact. Schiffer's exquisite landscapes depicting bear territory in the Hayden Valley along the Yellowstone River are often poignantly empty. When, as in the 2018 image "Early Morning, Hayden Valley," a pair of bears does show up, it comes as a visceral relief.
Strasburg's fanciful yet tragic painting "Freefall" juxtaposes a posture she observed while watching polar bears underwater through a glass window at the zoo with a background of the melting polar ice cap. The image of a polar bear tumbling through space toward an uncertain landing recalls on a subliminal level the vulnerability of human astronauts in space suits venturing into an enormous vacuum, perhaps intending to repair the spacecraft.
As passengers on Spaceship Earth, bears are among the most threatened of species, serving as a signpost warning of more widespread potential extinctions. The success of this lighthearted yet thoughtful show lies in its ability to sustain both interpretations — the apocalyptic and the celebratory. They may not be as free as they once were to roam vast areas of pristine woodland, but the bears of the world nevertheless continue to exist as a potent reminder of what nature can be and do. In the show's most overtly silly image, the drawing "Grizzly Rider" by Khare, a bear takes a circus-style standing pose on the back of another animal, at once mocking the way in which these creatures have at times been enslaved by humans and indicating some other plane of pleasure on which only bears and their friends count. It's a fitting emblem for the uneasy place these animals occupy in our collective imagination.