News
Police Suspend Public Sleeping Laws
Non-Enforcement Comes in Response to Court Ruling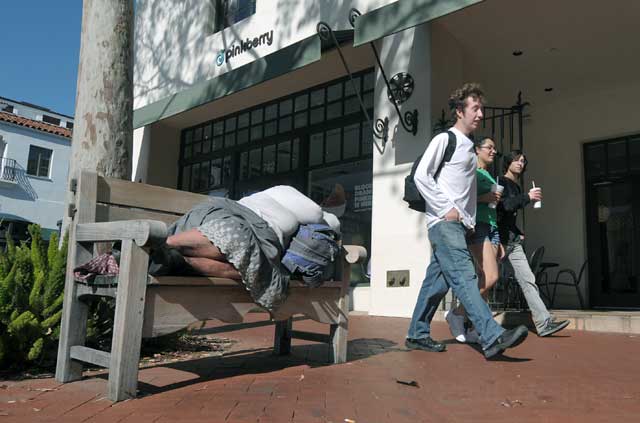 Santa Barbara city cops, according to Police Chief Lori Luhnow, will temporarily cease enforcing no-sleeping sections of public ordinances in response to a recent Ninth Circuit Court of Appeals ruling that found such laws constituted cruel and unusual punishment if there were not sufficient shelter beds available. Assistant City Attorney John Doimas said police issue very few public sleeping citations, but City Hall will check its shelter bed inventory to determine if there is a bed gap.
The Ninth Circuit ruling would also apply when shelters limit the number of consecutive nights guests can stay or require attendance at religious services or instruction. "As long as there is no option of sleeping indoors, the government cannot criminalize indigent homeless people for sleeping outdoors, on public property, on the false premise they had a choice in the matter," wrote Justice Marsha Berzon. Berzon also found sitting and lying on sidewalks "an unavoidable consequence of homelessness."
The City Council had recently extended an ordinance against sitting and lying on sidewalks to the first two blocks of East Haley Street, where people congregate on the sidewalks near Mac's Grog N Groc. In the meantime, the Santa Barbara City Council and county supervisors have declared that the region is experiencing a "shelter crisis," a necessary step to qualify for a share of the $500 million Homeless Emergency Aid Program (HEAP), intended to fund shelters, housing, and rental vouchers, as well as mental-health and addiction treatment. A census of people experiencing homelessness showed that Santa Barbara County is entitled to as much as $9.4 million of HEAP funds, as there are roughly two homeless people for every shelter bed available. In the City of Santa Barbara, 363 of the 790 homeless people tabulated are not sheltered.