Society Matters
Youth Interactive and Hutton Parker Foundation Host Soirée
New Venue Will House Teen Arts Entrepreneurial Program and Collaborative Workspace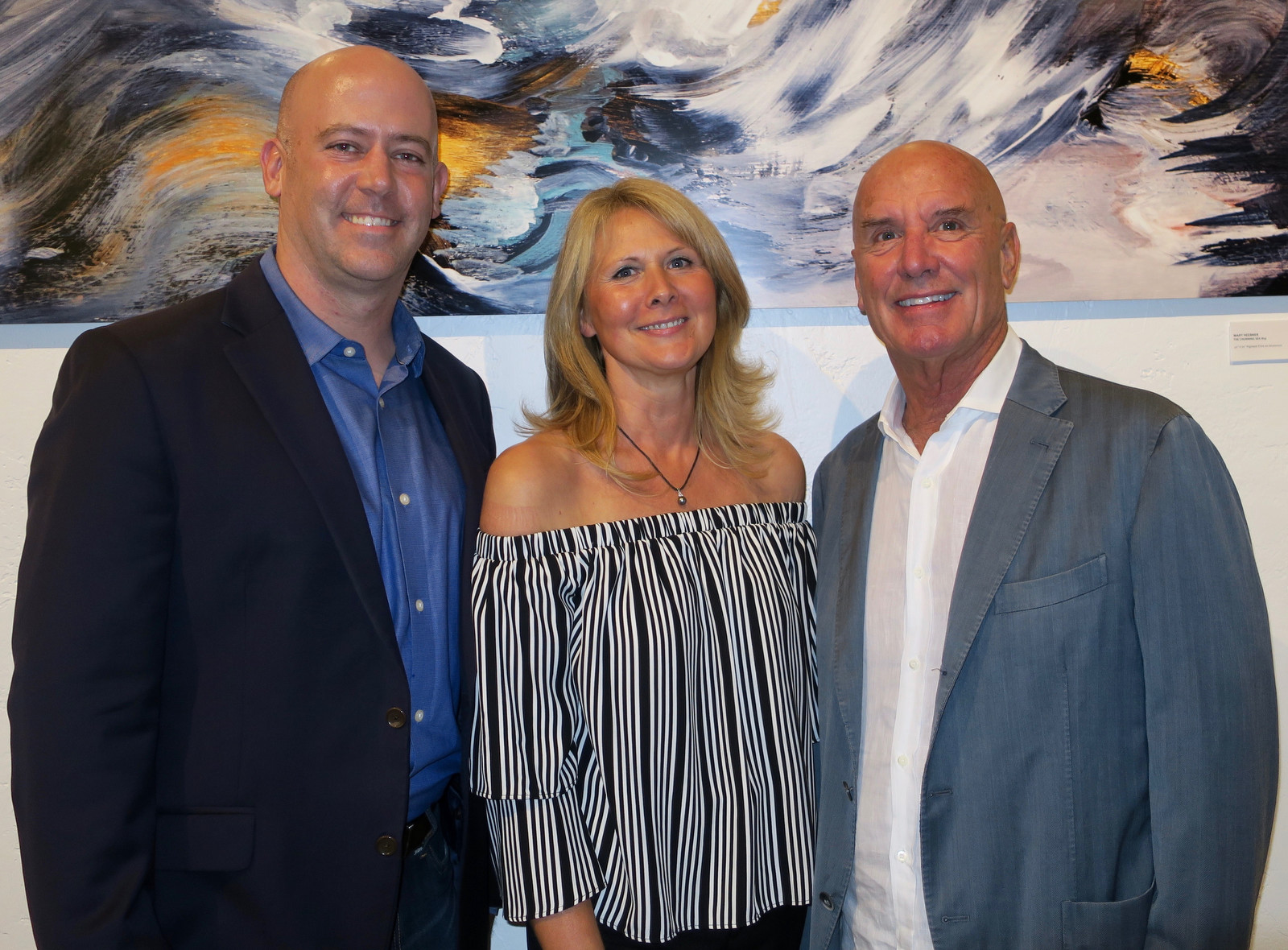 A spectacular new venture has arrived: The old State Theater at 1219 State Street is now the home of Youth Interactive's teen arts entrepreneurship program and a collaborative workspace for other nonprofits focused on youth and/or the arts. On September 11, Youth Interactive (YI) and the Hutton Parker Foundation held a soirée in the magnificent 13,000 sf space to introduce potential donors to the new venture.
After a cocktail and mocktail hour, founder and CEO Nathalie Gensac, a French woman schooled in England, shared with guests how after a career as a media professional, she traveled the world for two years, meeting with leaders of exceptional grassroots organizations to learn how to get people out of poverty. This led her to focus on education as a means to earning a living. After establishing organizations in India and Jamaica, in 2012 she founded one here. YI focuses on the arts because after listening to students here, she discovered this is what most interests them and therefore, what will most engage them. She stressed how the businesses are youth-led, with staff and volunteers providing guidance. Mentoring is crucial, especially when parental support is lacking.
Thanks to the Hutton Parker Foundation, YI was able to move out of its small Funk Zone facility into its new location. In explaining his support, Tom Parker praised Gensac for her talent, passion and energy. He declared unequivocally that because of Gensac, this will be a success. Parker referred to her, with a smile, as "the woman you can't say no to." This sentiment seems widespread. When people meet Gensac, hear her vision, and observe her passion, they want to be a part of the venture.
During dinner, Roll & Rock Productions' musicians entertained and SBCC Foundation CEO Geoff Green, who has been an advisor to Youth Interactive, addressed the group. He lauded Gensac for her ability to enter a community full of nonprofits serving youth and successfully build relationships with them.
Each semester, 75 to 90 teens attend YI's after-school program twice per week, once for business instruction, with small-group courses on budgeting, marketing, and other business skills, and once for vocational skills. Students choose from four programs: art, jewelry, T-shirt design, and sewing. A fifth program, carpentry, is run on-site at Los Prietos Boys Camp, a facility for juvenile males on probation, where students turn donated wine barrels and pallets into products.
A vital component of Youth Interactive is the volunteer-driven Get It Done program, which provides a wide range of assistance, including homework help and assistance with practical matters like applying for college or opening a bank account. Volunteers connect students with people in their desired occupation and take them on cultural excursions.
The results of the program have been astounding. Last year, all students in the semester program graduated from high school and went on to college. Given that the students come primarily from low income families and struggle academically, this is truly remarkable. About half of the students have a criminal background, and for those who have been in the program for at least a year, the recidivism rate is a remarkable two percent. Students enter the program with very low attendance rates at their schools, but average attendance rates at YI have averaged 95 percent. Students want to come to YI and want to learn.
Gensac gave a tour of the new space, starting with the large retail area where the students' work is attractively displayed alongside the work of other community members. This area will be open seven days a week to the public and staffed by students, with most of the proceeds from the students' work going directly back to them. In a 2,000 sf adjacent space, the public will be able to interact with the students at work creating products. This space will also be available for rent for educational events.
Next year, a vibrant addition to the retail space will be a Mocktail Bar, which is being co-designed by architect Jeffrey Berkus, Sherry Villanueva from the Lark and Loquita fame, and Marc Fialip from Belmond El Encanto. Students will gain job skills and earn income for themselves and for YI's programs.
The facility will house the YI Co-Lab, a collaborative office space for other nonprofits serving youth and/or the arts. Gensac noted the value in having multiple programs available to youth under one roof because many of the students' parents work multiple jobs so are not available to shuttle students between activities. One of the more important partnerships she has formed is with the Mental Wellness Center, which will have counselors on site for the students. Gensac has met with about 70 nonprofits and about 45 have expressed serious interest in collaborating.
Businesses are stepping up with assistance, including SONOS, which made its largest donation ever: 28 speakers to equip the entire facility with a SONOS sound system.
The Grand Opening for the public will be on October's 1st Thursday. The spot is destined to be a top attraction each 1st Thursday, with the Artist in Residence being the focus each month and Roll & Rock Productions, funded by the Santa Barbara Bowl, providing youth musician performers.
For more info about Youth Interactive, go to youthinteractive.us.
If viewing from a mobile device, click on "Desktop site" in top right for more pics. Send invites to gail@independent.com.