Best Of
Best of Santa Barbara® 2018: Romance
Place to Buy Intimate Apparel
A Tropical Affair Lingerie & Bikinis
12 E. Cota St.; 730-1625; atropicalaffair.com
Since Heather Taylor opened A Tropical Affair in December 2000, the lingerie and bikini shop has become a favorite among discerning Santa Barbara shoppers. In addition to designer swimwear and ladies' undergarments, the store offers shoes and accessories, all delightfully displayed in the sunlight-strewn, bamboo-furnished, inviting space. Its interior design also feels more like a resort than a boudoir, making it appealing to those with demure sensibilities. Add to that a knowledgeable, friendly staff, and it's no wonder A Tropical Affair was voted the best by our readers.
Runner-Up: Victoria's Secret
Caterer
Pure Joy Catering
111 E. Haley St., 963-5766, purejoycatering.com
For the past nine years, Pure Joy Catering has been deemed this town's favorite by Indy readers. That may lead some to rest on their laurels, but not Lynee Gonsalves and her staff. "Having won this award nine years now is just the best feeling," she said. "I think it's important to show our employees and our clients that we shoot for perfection every single event. This award shows we aren't slacking, and we aren't getting too comfortable year after year." Gonsalves's favorite part of the job? "When you're helping a couple plan the biggest dinner party they've ever thrown and see their expressions during the event when everything around them has exceeded their expectations, that's a beautiful feeling."
Runner-Up: Events by Rincon
Florist
Riley's Flowers
1106 Chapala St.; 965-1187; rileysflowers.com
Begun as a street flower stand by Maureen Riley in 1976, Riley's Flowers now not only occupies a brick-and-mortar space but is Santa Barbara's go-to place for floral arrangements and bouquets. Despite moving her operation indoors, Riley's has maintained a "European bucket-shop" format, with its myriad blooms gathered in colorful bunches for shoppers to peruse. What keeps customers coming back time and again — and voting Riley's best florist; this is their third win in this category in as many years — is their massive selection of cut roses, their reasonable prices, their customer service, and, of course, their beautiful flowers.
Runner-Up: Kaleidoscope Flowers
Photographer
Ashleigh Taylor Portrait
(310) 404-1613; ashleightaylorportrait.com
For some, having their picture taken can be a daunting prospect. That's why it's so important to have a pro behind the camera, someone who can make their subject feel at ease while getting the best possible shot for posterity. Ashleigh Taylor clearly has those talents in spades — just take a peek at the "Before and After" section of her website. Specializing in fashion-magazine-style photos, Taylor promises to "capture your beauty in a way that will leave you breathless … and more confident than you've ever felt before." Where do I sign up?
Runner-Up: Kacie Jean Photography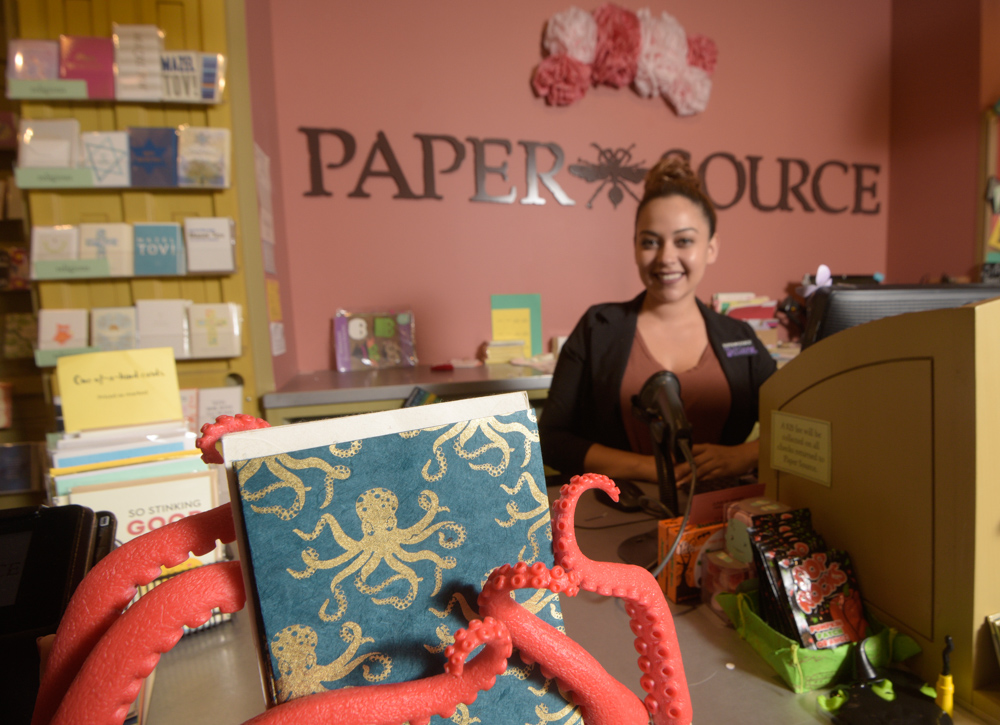 Stationery Store
Paper Source
1125 State St.; 845-0114; papersource.com
"That's supercool!" said Diliana Carranza, the store manager of Paper Source, of winning the Best Of. The shop sits on the block of State Street that also holds Santa Barbara's Museum of Art and the nicely decorated windows of several swanky clothiers. But Paper Source holds its own amid an attractively piled assortment of gifts of every kind and color, party hats and banners, multipliferous arts-and-crafts supplies, cards for every occasion, wedding invitations, and stationery. The store also holds DIY workshops, and Carranza had made some nifty 3D holiday cards that begged to be played with. We'd call that supercool, too.
Runner-Up: Letter Perfect
Wedding Planner
Jill & Co. Events
110 W. Mission St.; 455-0722; jillandcoevents.com
Planning nuptials can send even the most poised people into fits. That's where Jill Remy comes in. As owner of Jill & Co. Events, Remy is a pro at wrangling the massive amount of details that go into coordinating a couple's big day — just ask our readers who voted Jill & Co. the best wedding planner. Marriages are just one of the many types of festivities Remy arranges, and "getting to work with such a diverse client base" is her favorite thing about her job. As for the future? "I see my company as having created many more memories for our amazing clients and having a blast along the way. Hopefully getting to work at some new amazing venues and on new and fun concepts and designs."
Runner-Up: Amy Collins, Amy Grace Events
Wedding Venue
Santa Barbara Historical Museum
136 E. De la Guerra St.; 966-1601; sbhistorical.org
Location, location, location. That slogan may be associated with real estate, but it also applies to wedding venues, as the site where one's nuptials are held won't soon be forgotten. Fortunately for Santa Barbarans, there are many choices when it comes to where to walk down the aisle, but the best place — according to Indy readers — is the Santa Barbara Historical Museum. It's tough to beat the setting: "The museum itself actually was built around our two preserved adobes," said Dacia Harwood, the museum's interim deputy director of marketing, events, and PR. "They are lovely and charming examples of Santa Barbara architecture and are absolutely stunning lit up at night for events. We love providing this amazing, quintessential Santa Barbara space for historic and happy events in people's lives," said Harwood.
Runner-Up: Elings Park
Event DJ
DJ Darla Bea
895-3400; djdarlabea.com
There is nothing better than having just the right soundtrack for an event, and DJ Darla Bea is a master at supplying that. Voted the best by our readers, DJ Darla Bea believes that her versatility is why she is so popular. "[Being the best] means having the flexibility to play music for a wide range of audiences, whether it's the VIP tent at the Santa Barbara International Film Festival or the Casa Cantina opening night of Fiesta or Pacific Pride Foundation's monthly sunset mixers or Movie Night at the Sunken Gardens," she said. As for what the award means to her: "As a local Santa Barbaran, it means that my community can put their trust with me as an ambassador of fun! The smiling faces and thumbs-up I see at events while I deejay keeps me spinning the tunes!"
Runner-Up: DJ Hecktik
Wedding Cake Shop
Lilac Pâtisserie
1017 State St., 845-7400, lilacpatisserie.com
It's the Berry Patch Cake that has shot Lilac Pâtisserie to the top of the wedding tier, and justifiably. Just hearing the orange-infused yellow butter cake described is nothing compared to seeing its three layers of whipped cream, much less tasting the blueberries, raspberries, and strawberries floating in the sweet interstices. And that's just one of the 22 flavors the shop offers, as well as gluten-free versions. The fresh flowers, buds, and leaves, or swirls of interlaced piping, are literally just the icing on top. For co-owner Gillian Muralles, being named best by Indy readers "means that we have the support of locals and the wedding community and that we are on the right track, bringing the best cakes to our clients. Santa Barbara is such a wedding destination, and people from all over the world plan their weddings here. Being awarded this honor helps us stand out from our colleagues, a group of very talented professionals."
Runner-Up: Crushcakes & Café
Tuxedo Rental
Mission Tuxedos
135 W. Mission St.; 569-3334; missiontuxedos.com
"Being voted the best tuxedo shop in S.B. means the community recognizes us for our commitment to providing outstanding service and quality garments since 1984," said Mission Tuxedos owner John Murray regarding their Best Of win. Working in the fancy threads industry, Murray has dressed loads of couples tying the knot. One duo left an impression. "Many years ago, a man planned a destination wedding on the beach, guests came from all over the country, and his bride was his dog," Murray said. Voted the best for several years running, Mission Tuxedos' future looks bright. As for where he sees himself in the next five years, Murray said, "Doing the same thing and loving it."
Runner-Up: Men's Wearhouse
Limo Service
A and J Limousine
683-7772; aandjlimousine.com
It's hard not to feel like a star when riding in a shiny stretch limo fitted with glitzy indoor lights, tinted windows, TV screens, enough seats for your favorite friends, and a personal driver. Making their clients feel special is no problem for A and J Limousine, voted our readers' favorite fancy car service. "After 15 years in the community, we are so honored to receive this award! It means our hard work has paid off," said owner Andrea Plackett, who started the business with husband Justin in 2002. "Santa Barbara is such a tight-knit community, and we love that all the small businesses support each other. It's also just a nice place to live, hang out in, and enjoy, so to also be able to own/operate a business here is just an added bonus!"
Runner-Up: Sammy's Limos & Tours
Event Rentals
The Tent Merchant
436 E. Gutierrez St.; 963-6064; thetentmerchant.com
When throwing a party, it's important to have a bit of flair. Thankfully, there's the Tent Merchant to help with that. From props to lighting to furnishings to tents and canopies, the event rentals company has anything and everything a person needs to add flourish to their function. Indy readers agree, as The Tent Merchant was voted Best Event Rentals this year. It's an honor owners John and Sherine Leenhouwers appreciate, saying, "To us it means we are loved and people like what we do." As for what the future holds, the duo recently opened a home store on State Street, so "given our imagination, who knows what we will be up to," they said, adding, "We enjoy every moment of what we do."
Runner-Up: Bright Event Rentals
Restaurant with a View
Bed & Breakfast/Inn
The Upham
1404 De la Vina St.; 962-0058; uphamhotel.com
"The Upham staff is very proud to be considered the 'best,' [and] we don't take the compliment lightly," said the gang at the nearly 150-year-old inn regarding their win. With verdant gardens, wraparound verandas, and a rich history — Aldous Huxley stayed there for a long stint in the 1950s — it's no wonder the Victorian-era hotel is a multiyear winner in this category. Another reason? "We know that we work together with our Santa Barbara community/family to bring the most memorable experiences to our guests from around the world and right here at home."
Runner-Up: Cheshire Cat Inn
Hotel
Four Seasons Resort The Biltmore Santa Barbara
1260 Channel Dr., 969-2261, fourseasons.com/santabarbara
In a land of fancy hotels, the Biltmore, as everyone around here calls this Four Seasons resort, remains a world apart. Located between the lapping waves of Butterfly Beach and the leafy estates of Montecito, the Biltmore — with its Bella Vista and Tydes restaurants, Ty Lounge, and on-site spa — epitomize classic hospitality. Allowing guests access to the Coral Casino Beach and Cabana Club across the street is simply one more luxurious cherry on top. "With over 90 years of history, the Biltmore has stood the test of time as the locals' home away from home," said Rachel Rock, the Four Seasons' digital marketing manager. "We are so honored to have been part of the community and recognized as a local favorite."
Runner-Up: The Ritz-Carlton Bacara, Santa Barbara