Film & TV
'The Hate U Give' Feels Newly Impactful
Characters Participate in Conversations About Difference, Identity, Action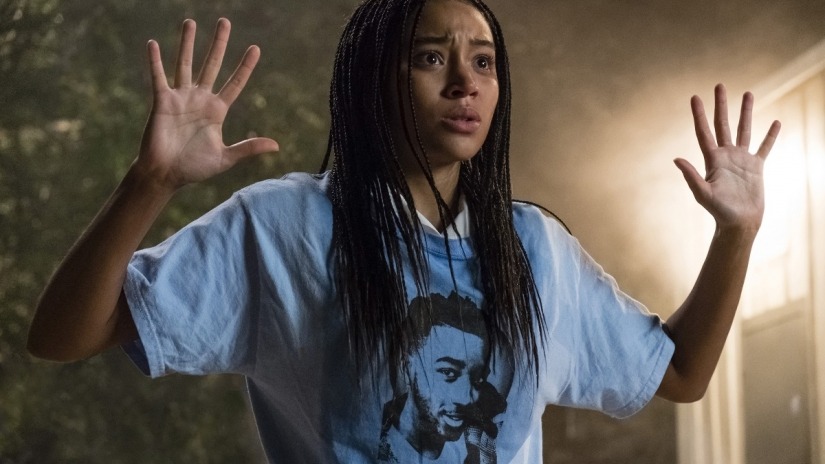 It's difficult to imagine a more gripping protest film than The Hate U Give, director George Tillman Jr.'s adaptation of Angie Thomas's bestselling young adult novel. Both the award-winning novel and the film take on the all-too-familiar narrative of the murder of a black male at the hands of a white police officer, the failures of justice in the aftermath of the event, as well as the emotional burden of those forced against their will to grieve publicly. This cycle of shock, outrage, and only sometimes action has become a painful American ritual, with plenty of representation in the cinema (Do the Right Thing (1989), Crash (2004)). The Hate U Give clearly nods to these predecessors, offering the same urgent questions Spike Lee presents in Do the Right Thing.
In the aftermath of painful, traumatic events, for instance, what is the threshold where protest and violence performed in self-defense become the necessary response? And how do those traumatized by such violence attain the composure and courage to bear the further burden of publicity? Yet here the narrative, because it is based on a young-adult novel and designed with a young adult audience in mind, feels newly impactful. Part of this emerges, paradoxically, from the film's PG-13 rating, which was necessary to make it accessible to the younger demographic it represents. As many viewers have observed, this impacts its dialogue significantly. While it feels a little strange to see a film largely set in an American high school without pervasive profanity, however, the rating also allows the film to convey its message by different, and perhaps subtler means. If DTRT and Crash provide raw encounters with the language of hatred and violence, here — where much of that language is off limits — major and minor characters participate in a sequence of intimate, extremely intense conversations about difference, identity, and action.
In The Hate U Give, the viewer is invited to watch in slow motion how young people live up to urgent political responsibilities amid public trauma. Amandla Stenberg gives an often heart-wrenching performance as Starr Carter, the film's principle character, as she transforms from tragic witness into potent political force (in Starr, one cannot help but hear echoes of the Parkland-shooting survivor and anti-gun activist Emma González, although the crimes each witnessed obviously vary in nature). Starr is the only witness to the shooting of her lifelong friend Khalil (Algee Smith), whose charisma rivals that of his counterpart Radio Raheem in DTRT. After the tragedy, which occurs early in this film, Starr's suspended trauma — and her eventual reckoning with her political responsibility — comes into relief against the backdrop of her double-identity. Because of crime and poor schools in the Garden Heights neighborhood of the fictional city Freemont — Freemont stands in for a number of possible mid-sized cities in the South — Starr attends school at the predominately white Williamson Prep. There, she has a rich, white boyfriend and rich, white girlfriends, and a social situation that seems a world away from her home community, her "people." While Starr's home life is supporting and loving, her father Maverick (Russell Hornsby) has a history of involvement with the local drug-peddling gang, led by the vindictive King (Anthony Mackie). King's persistent vengeance and the "no snitch" culture he enforces perpetuates black-on-black violence in Garden Heights, creating a further layer to this narrative. This escalates after Starr begins to go public with Khalil's story; Khalil found himself entangled with King when his family became hard-pressed for money.
The diverse personalities who constitute the rest of the cast in The Hate U Give represent the range of perspectives that emerge whenever a new instance of police brutality against people of color goes viral. Conversations between Starr and each of these characters make The Hate U Give a veritable encyclopedia of these positions, and for that matter a candid set of lessons and models with the power to speak to young people as well as adults. Maverick, for instance, makes certain Starr and her siblings memorize the Black Panther's "Ten-Point System for Self-Defense," and gives them explicit strategies to help de-escalate conflicts with the police should they arise. After Khalil's killing, a group called "Just Us for Justice," which appears to be based on Black Lives Matter, appears on the scene, and one of the group's leaders April Ofrah — played by the absorbing Issa Rae — provides Starr and her community the possibility of a wider platform. While Starr eventually takes her up on this it is a point of considerable conflict for Starr and her family, none of whom are certain that it will be positive if Starr becomes a public figure. Starr's mother Lisa (Regina Hall) is especially protective of her daughter, attending to her fraught mental state after the shooting and modeling how to treat people reckoning with public grief. An uncle (the rapper and actor Common) who serves on the same police force that murdered Khalil explains the police perspective, and how situations can sometimes escalate out of control even for well-intentioned officers.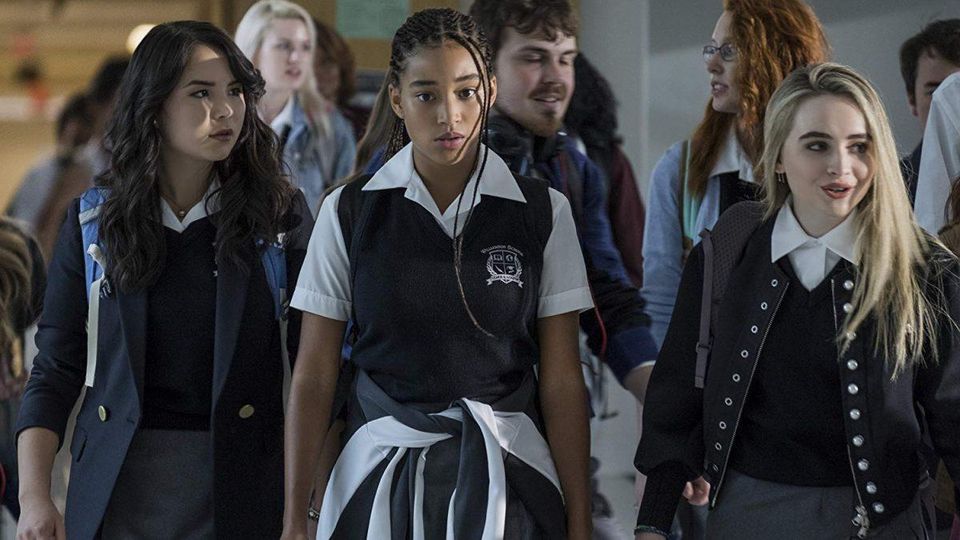 Things are more troubling at Starr's high school, where her white friend, Hailey (Sabrina Carpenter), participates in the equivocal rhetoric of "all lives matter" after the Khalil story becomes major news. Obviously this becomes a point of conflict for Starr, and presumably for the young adult audience as well. Given Carpenter's status as a well-known Disney Channel starlet, to watch her become the most toxic, racist white character in the film is disturbing (albeit a brilliant performance). Starr's Range Rover-driving boyfriend (K.J. Apa), too, initially misunderstands the meaning of what Starr has experienced, although he comes through later in the film, mainly by supporting and making space for Starr.
Admittedly, the genre slippage between The Hate U Give and other prominent YA films, in particular the casting choice of Stenberg, are sometimes a little fraught. Despite Stenberg's remarkable performance, for instance, the film has been criticized as falling into colorist stereotypes for its choice of Stenberg, whose complexion differs from the character depicted in the novel. Stenberg's presence also feels unsettling here because of her previous portrayal of Rue in The Hunger Games. Obviously, that violent, fictional world doesn't coexist with this one, but a dangerous slippage looms in the background insofar as both films offer graphic depictions of violence to and for young people. There is also a strong Harry Potter allusion running throughout the film. This emerges from the novel, where author Angie Thomas presents what she calls the "Harry Potter Gang Theory," given the house alliances pervasive in that YA franchise. This comes to a head late in the film when Starr is rummaging through a box of old possessions and discovers the wizard wands that she and Khalil and another childhood friend once played with. The moment suggests the lost innocence of these characters, who were raised on Harry Potter. Yet some of the protest scenes, especially a moment when Starr throws a tear-gas canister back at the police during the film's final, violent protest sequence, seem deliberately designed to give Starr a superhero appearance.
There may be a slight danger that the film, once in a while, risks mythologizing Black Power — and more importantly Black Female Power — as a conventional YA superpower rather than the historical force that it is. But, ultimately, it's clear that Starr's power isn't magic. Rather her inner strength, and her cautiously growing political awareness — empowered by the support of her community — are what allow Starr to speak so effectively as a representative of Khalil, of her personal trauma, and of her people.