Arts & Entertainment
SBIFF's Screen Cuisine Menu for 2019
Food and Drink Films to Digest During the Film Festival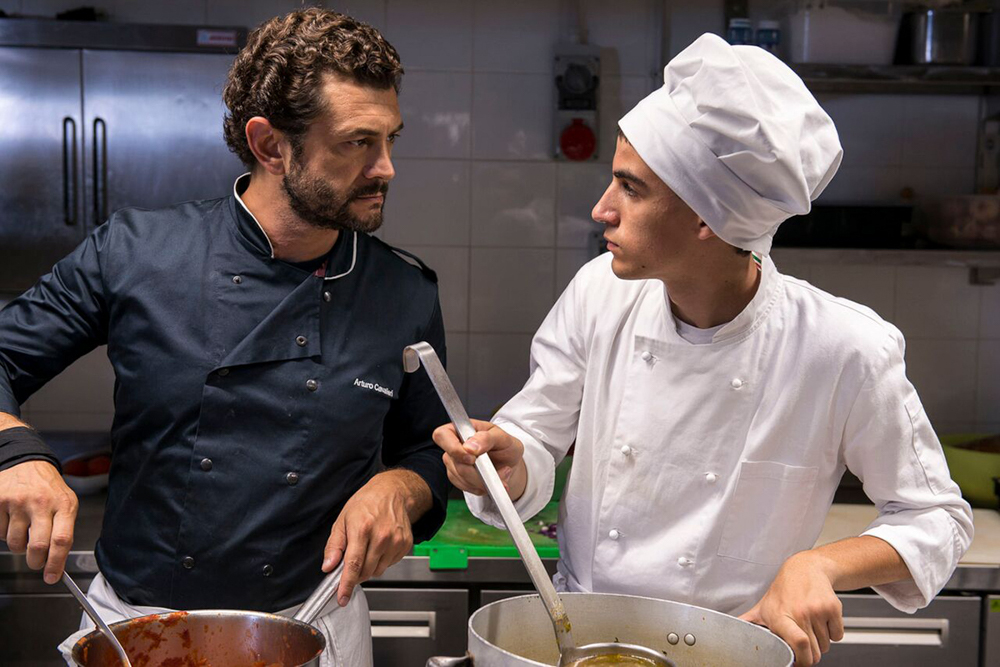 For the eighth year in a row, SBIFF is showcasing films about food and drink in the Screen Cuisine sidebar. The 12-movie menu in 2019 is a mix of documentary, narrative, and short films, from examining the challenges faced by real-life female chef-owners to watching a hot-headed fictional chef devolve in a blaze of vainglory to a mysterious saga surrounding the death of an Italian prosecco producer. Here's an alphabetical rundown.
The Biggest Little Farm: Using personal storytelling, great animation, beautiful nature filmmaking, and disaster drama, this multiyear doc tells the tale of a city-dwelling wildlife cameraman and a private chef who take over a dusty Moorpark property in hopes of building a traditional, nature-friendly farm with multiple crops and animals. Fighting against drought conditions, busted wells, hungry pests, and many naysayers, they turn Apricot Lane Farms into a viable place over many years, only to have it all threatened with wildfire. Despite the challenges, it's a hopeful, inspirational film for all ages.
As Needed (Quanto basta): This is a great feel-good film for foodies. We start with an Italian chef who emerges from jail for his aggressive behavior and lands in a deferred-sentence program that involves teaching people with Asperger's how to cook. One of the students is a super-tasting savant with the perfect palate who uses his skills to enter a famous cooking contest in Tuscany, forcing our reluctant and gruff protagonist to accompany him as a sponsor. Throw in a dash or two of romance and salt with melancholic mentoring, and it's a solid trip to the movies, complete with culinary spice.
Breaking Habits: This doc is a compelling inside look at the Sisters of the Valley, a group of non-Catholic nuns in Merced, California, who grow and distribute cannabis for healing purposes. It's a moving portrait of their controversial leader, Sister Kate, and the many enemies she meets along the way, from husbands who've been financially and physically abusive to right-wing law enforcement and competing criminal interests. Each chapter shift clings to a cliffhanger moment, and just the scenes of nuns clipping kolas are worth the price of admission.
Harvest Season: Award-winning documentarian Bernardo Ruiz moves from covering attacks on journalists in Mexico (Reportero) to the Napa Valley, where he portrays the often-overshadowed lives of Latinos in the glitzy wine business. The deeply personal film traces a history from the Bracero program to modern-day success stories of immigrant workers turned vineyard owners, focusing on, with beautiful cinematography, the difficult choices that must be made with each passing vintage. The horrific fires of 2017 also loom.
The Heat: A Kitchen (R)evolution: The best documentary in the category, this unabashed film reveals, through intimate portraits of six chefs, how tough it is to run your own restaurant and how much more difficult that is for women, who are outnumbered and often overpowered in the male-dominated restaurant industry. With brash, honest, and shocking reflections of these globally respected chefs, who work in London, Boston, Toronto, New York City, and France, we learn of the steep climb they've endured to hit the top of the game, fighting against media bias, toxic work environments, and outright physical assault. It's eye-opening but also entertaining, with plenty of food porn along the way.
The Last Prosecco (Finché c'è prosecco c'è speranza): This is one of the better films in the whole festival, according to insiders. The fictional whodunit-type feature concerns the sudden death of a widely respected Italian count, who is famous for being an outspoken producer of natural organic prosecco in the stunning mountain villages north of Venice. As murders mount, a somewhat bumbling, slightly disheveled detective starts to piece the breadcrumbs together and learns about the count's life and his own family along the way. It's an excellent piece of positively populist, anti-corporate storytelling and a fun crime story throughout.
Nose to Tail: The jerk chef isn't a particularly new concept, but rarely has the archetype been portrayed so viscerally as in this feature film, which follows a troubled, up-against-the-wall restaurateur as he fights to stay relevant and open in a world of food trucks and food bloggers. He's had protégés jump ship, lease issues with the landlord, relationships stuck in workplace limbo, and the stereotypical problems associated with an all-consuming job. He's not a likable fellow, but the foodie aspects of the film are on point, and for those who've worked in kitchens, the characters ring all too true.
A Seed for Change: This DIY-style, autobiographical film follows a man from Greece as he leaves his advertising career amid the 2008 global recession and turns to a life tracking down heirloom plants and seeds. We travel throughout Europe and beyond as he gathers information about why ancient farming practices are much more resilient than so-called modernization and begins growing his own vegetables on the balcony of his Athens apartment.
Virgin and Extra: The Land of Olive Oil (Jaén, virgen y extra): This is a must-see for any olive-oil enthusiast and worth a look for anyone who loves the connection between land and food. It's a rather exhaustive meander through the regional production history of Jaen, where more than 60,000 olive trees grow, making it one of the world's largest artificial forests and the so-called "lungs of Spain." Starting from Roman history and running through more modern industrialization, the film follows the boutique-sized producers as they approach their annual competition to be named best in the region.
Shorts
Opening the Earth: The Potato King: The potato is one of the planet's most popular foods, and many forget that they all came from Peru and the surrounding Andes. This is a half-hour portrait of one man, known as the "Potato King," and his family. As he keeps more than 300 different varieties of potatoes alive, his family and their mountain communities straddle the pull of the money-making modern world and the much-more-sustainable farming practices that their people have practiced for millennia.
Salty Generations: This short doc focuses on well-known Santa Barbara mussel fisherman Bernard Friedman, a female-run NorCal seaweed farm, and the complex government policies regulating shellfish across California.
Return: Native American Women Reclaim Foodways for Health and Spirit: This half-hour doc focuses on the efforts of Native Americans across the United States to reveal the nutritional benefits of indigenous foods and how embracing them can be both better for health and culturally empowering. It's also a reminder of how colonization undermined traditional foods in favor of disease-causing Western cuisine.