The Home Page
The Home Page: A Sunny Home, Fall Feels, and More
Fancy a Tomato-Wall Kitchen, Anyone?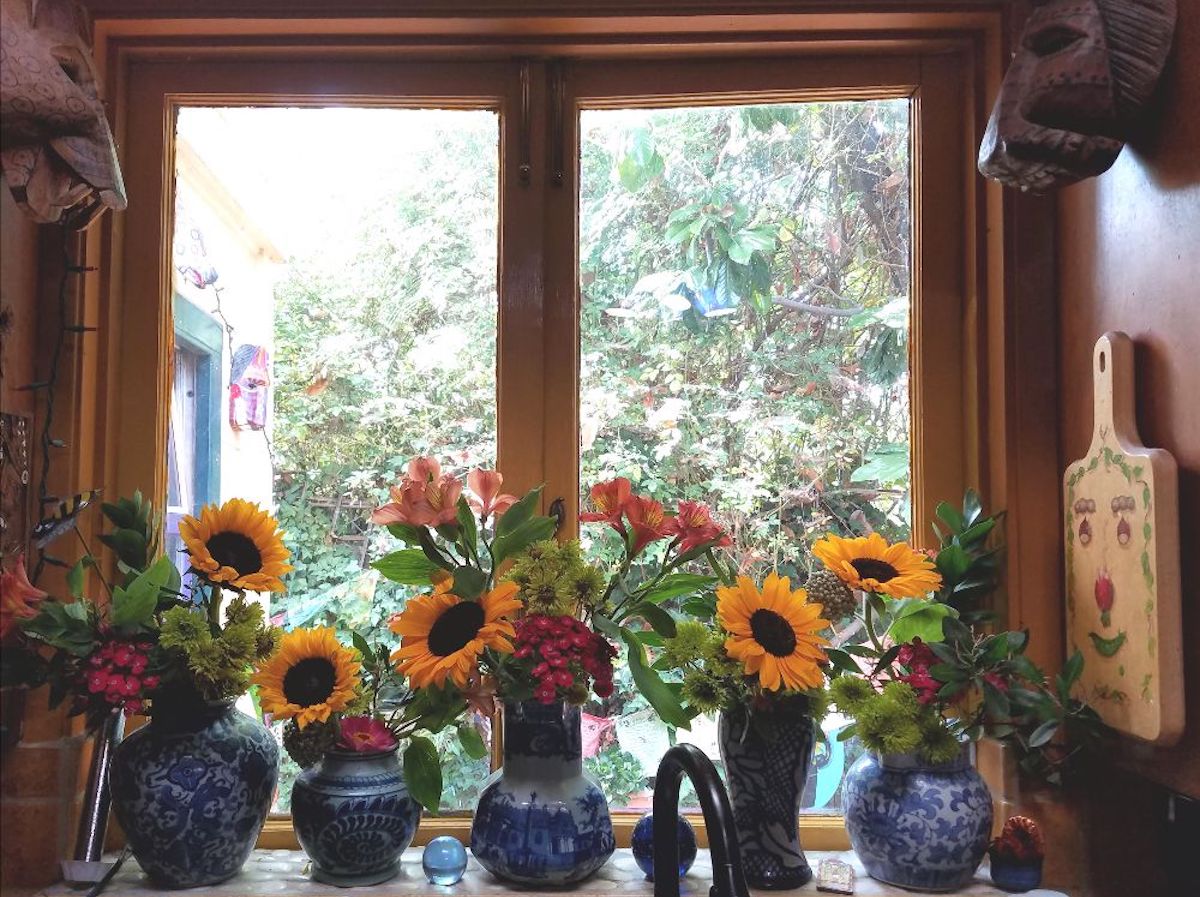 SUMMER HOUSE
Our favorite house historian Betsy J. Green has been recruiting in my neighborhood recently. Her upcoming column will feature a distinctive two-story Victorian home at 1128 Bath Street, owned by former Summer Solstice executive director Claudia Bratton. Its bright facade currently sports an eye-catching sunflower sculpture, matching this colorful windowsill display shown above. Read all about it in next week's Independent real estate section. 
Betsy was recently interviewed on the Conversations with Kenyatta podcast — a relationship formed when host Kenyatta D. Berry vacationed in Santa Barbara for her birthday, picked up the Independent, and discovered The Great House Detective.
RUBY RED BEAUTY
I've always fancied a tomato-red kitchen wall in my home. While I can't scratch that itch right now — my baby-blue tile countertops wouldn't blend well — I still get inspired from stories like this one. New York–based graphic designer Laura Valenzuela found a grimy, spiderweb-ridden horse trailer and turned it into a trendy, tomato-red event space, convertible to fit clients' needs. The project reflects her COVID-quarantine desire to immerse herself in a new challenge, calling on friends and community to help her learn new skills and see her vision through to fruition. Read the before, during, and after details of creating her trailer named "Beauty."
FALL FOR ALL
I have to admit, I struggle with the waning daylight and impending time change that happens this time of year. I thrive on sunshine and love my long, lazy, post-work evening walks on the beach. But I'm trying to embrace it this year. My friend Kelley recently said that moving to a part of the country with seasons has helped her appreciate each one and get excited about what's to come. With that in mind, I'm determined to find some autumn magic this year. I'm traveling to New England next week to visit my son and daughter-in-law, and if I find fall foliage, you can bet I'll be sharing my pics right here. Today, I'm reveling in the amazing fall-like colors closer to home — like this amazing dahlia that my friend Tim Walsh found in his backyard. 
---
Sign up for Indy Today to receive fresh news from Independent.com, in your inbox, every morning.
---
FLEETING CHANCE AT A FOREVER VIEW
This glorious Mission Canyon home graces the cover of this week's Independent real estate section, showing off its mesmerizing views of the ocean and Channel Islands. I'm imagining fall evenings by the fire pit, watching the sunset and enjoying the chill in the air. (See? That's me embracing the seasons!) A little birdie told me this home might already be in escrow; not surprising with this panoramic vista. It's offered by David M. Kim of Village Properties, who's happy to tell you about this or other upcoming homes for sale.
BURRITO WEEK IS HERE!
How are you doing on your Burrito Week passport? There are at least 24 different flavor combinations available from the 16 local restaurants participating in Burrito Week … and only 7 days to tackle them! It takes a village to get through them all, but you'll kick yourself next week if you don't sample as many of these gastronomic delicacies while you can. I've got The Blue Owl, Rori's, and The Little Kitchen scratched off my list and my work cut out for me over the next four days. See you out on the burrito trail!
With burritos on the front and a beautiful home on the back, the current issue of the Indy has something for everyone. Enjoy your burritos and your Sunday!
---
Support the Santa Barbara Independent through a long-term or a single contribution.
---