News
Rainy Monday Leads to Flash Flood Warning, Evacuation Order Expected
Heavy Rains, High Winds Still to Come This Afternoon Across Santa Barbara County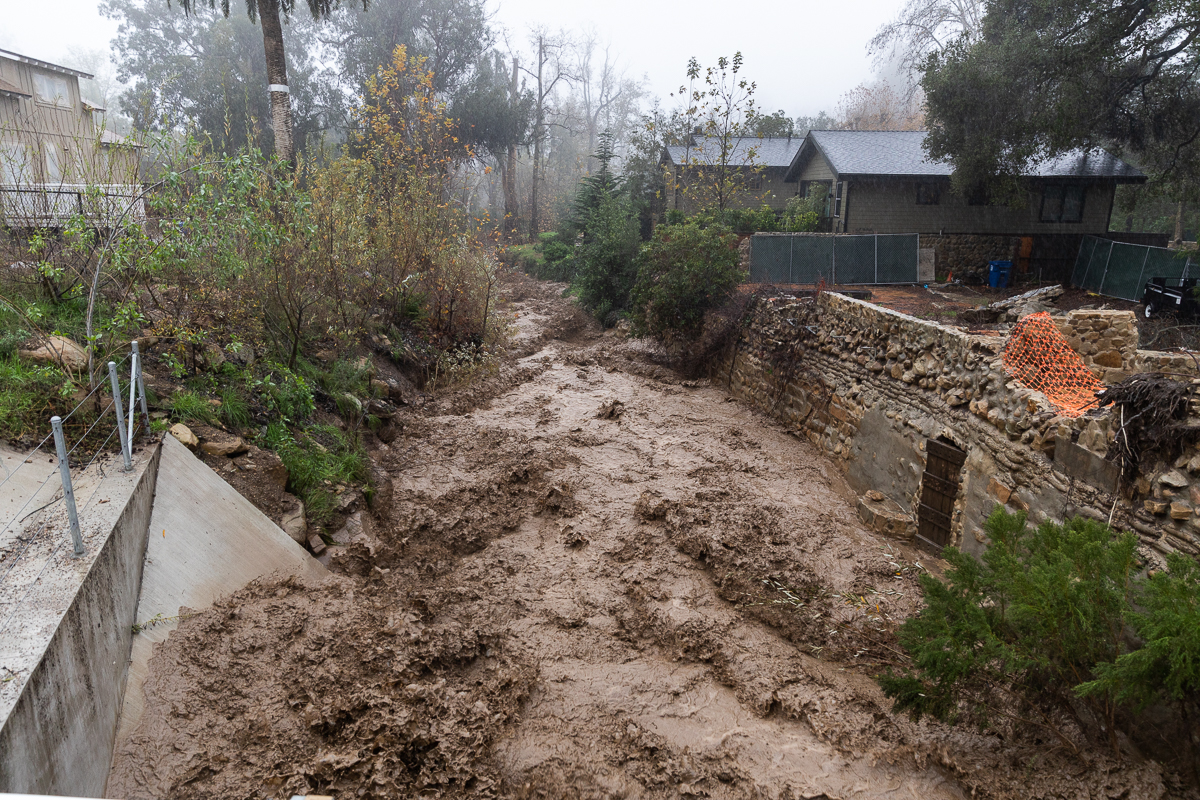 The entirety of Santa Barbara County is under a flash flood warning from the deluge overnight, and even heavier rains are expected between 3 and 7 p.m. today.
County emergency managers gathered for a press conference this morning, expecting to announce an evacuation order for areas scarred by recent burns — as recent as the Thomas Fire in 2018. Instead, they decided they wanted people to shelter in place given the flash flood warnings in place through 4:45 p.m. The evacuation order is expected to follow.
The heavy rains for today are not yet over, Ariel Cohen with the National Weather Service said this morning. "It's only a matter of time," he said, before the afternoon cold front squeezes out torrents of rain from a long line of clouds streaming in from the Pacific.
In this morning's press conference, Sheriff Bill Brown stated high winds and saturated soils made downed trees and power poles another potential. At the county's emergency website — ReadySBC.org — residents in the Alisal burn scar and at Hollister Ranch area are asked to shelter in place. Flooding is affecting roads in the areas, as well as roads in North County and Gibraltar Road on the south coast.
The neighborhoods below and above the Loma Fire burn scar are not included in the evacuation order, Fire Chief Chris Mailes said, as the steep hillside had been examined. If concern should grow, however, Mailes said a hi-lo siren would sound from police cruisers to warn that an evacuation was necessary.
Debris-flow rates of rain are possible, Cohen said. As much as 0.8 inches of rain per half-hour are possible, which would be particularly dangerous for burn scar zones, like the Alisal, Cave, and Thomas Fire areas. As well, "Flooding, mudslide, and landslide are possible with this amount of rain," Cohen warned, indicating that people in low-lying urban and rural areas should pay attention to this afternoon's rainstorm.
Already, since midnight, seven inches have fallen in the coastal ranges. The ground is saturated, and the Sisquoc River is among those being monitored for flooding, according to the National Weather Service. High surf and coastal flooding remain in the forecast, driven by very strong onshore winds, Cohen said, with added effects from the very heavy rainfall.
Tonight will be calmer, with light rains expected, but Cohen said a second storm on Tuesday posed another concern. Likely to be brief but powerful, thunderstorms are a possibility tomorrow.
---
Support the Santa Barbara Independent through a long-term or a single contribution.
---