Public Safety
Evacuations Lifted, Agencies Now in 'Recovery' Mode After Santa Barbara Storm
City and County Officials Release Latest Information at Tuesday Afternoon's Emergency Press Conference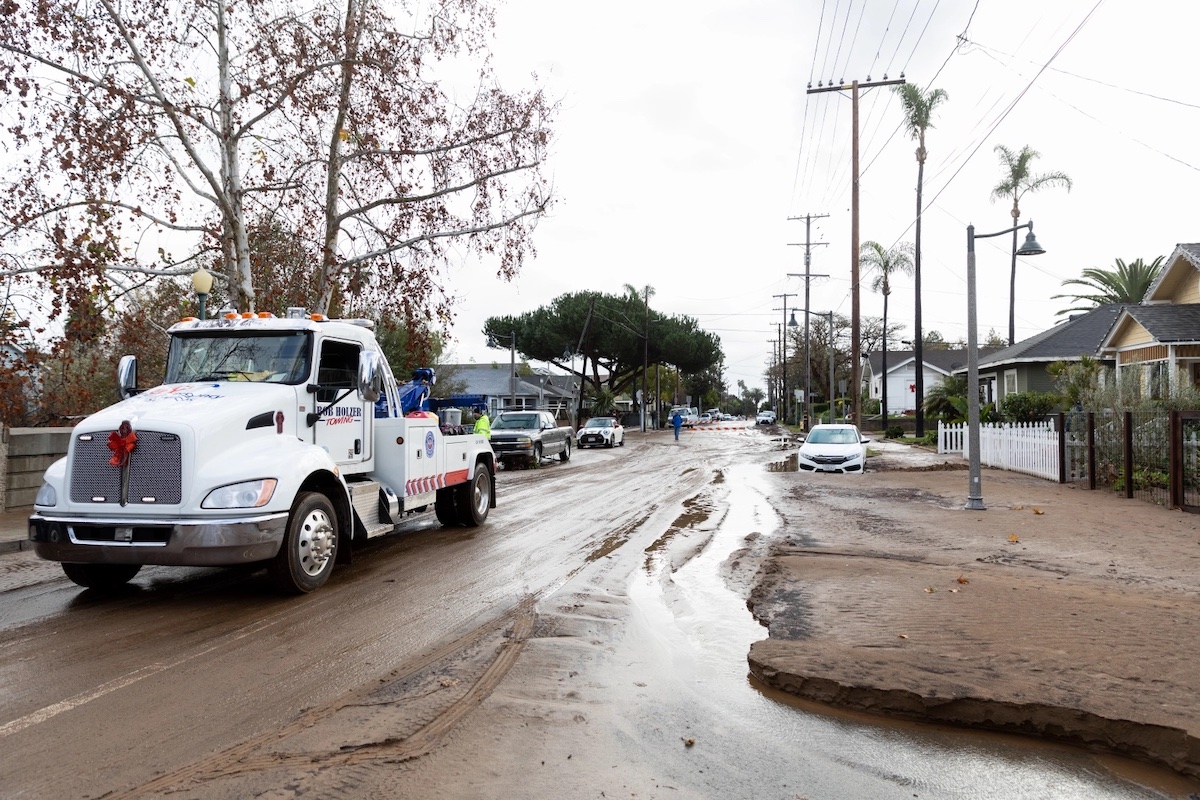 Santa Barbara is now in recovery mode, as all evacuation orders have been lifted for the impacted areas of Carpinteria, Montecito, and the City of Santa Barbara as of 2 p.m. on Tuesday, January 10, according to city and county officials during the latest Winter Storm emergency press conference. Shelter-in-place advisories for impacted areas of the Cave Fire and Alisal Fire burn scars and Foxen Canyon/Santa Maria Mesa/Tepusquet areas have also been lifted.
"We've gone — from a public safety stance — from search and rescue to recovery mode," said Santa Barbara Mayor Randy Rowse during the Tuesday afternoon meeting.
Rowse joined representatives from Santa Barbara City Fire Department, Police Department, Sheriff's Office, Public Works Department, and the Santa Barbara County Office of Emergency Management to provide an update on Monday's storm, which released a deluge of rain on the county with more than 21 inches of rain in the past seven days registered at the San Marcos Pass and more than a foot of rain in a 24-hour period on the Camino Cielo Ridgeline.
Rowse said that while the worst of the storm has passed, "hazards still exist" and city residents should "stay out of flooded areas if you can."
The storm caused more than 47 road closures, and more than 100 cars were abandoned due to flooding in city streets. The city's storm drain system "did what it was designed to do," Rowse said, "but the storm was bigger than it was designed for, and water pressure forced the lids off several manhole covers."
Sheriff Bill Brown said that the listing of evacuation orders will go into effect immediately, and asked that drivers be aware of "restricted areas" and limited closures as road crews clear the areas to allow for those returning home.
"The storm that we just experienced was a significant and powerful weather event, one in a series of storms that have and will continue to hit Santa Barbara County," Brown said. "Looks like we will have a break in the weather until this weekend, when another of these atmospheric river storms is forecasted to come into our area."
The South County was especially affected, Brown added, with "unprecedented and historic rainfall levels over the past seven days," forcing a complete shutdown of local highways in and out of Santa Barbara.
While all evacuation orders have been lifted, some residents attempting to return to evacuated areas may not be able to make it home just yet due to road closures. In the Montecito area, for instance, North Jameson Lane from Sheffield Drive to Olive Mill Road is closed. Sheriff's deputies and CHP officers will be staffing that closure to allow residents through and block general traffic. Check with CHP and Caltrans 
for the latest road closure information, and see this map for precise evacuation locations. 
Highway 101 southbound is now open with no obstructions through Ventura County, and county officials are expecting to have at least one northbound lane open by 5 p.m. and the full highway open as soon as the Gaviota areas are cleared. State Routes 192 and 154 will still experience closures, and will be cleared after the priority areas of the 101, according to California Highway Patrol Captain Mike Logie.
---
Sign up for Indy Today to receive fresh news from Independent.com, in your inbox, every morning.
---
The City Fire Department received more than 400 storm-related calls and had more than 250 firefighters from several agencies throughout the state to help with emergencies. Fire Chief Chris Mailes said there were "countless rescues," in the past two days, including six helicopter rescues, with two helicopter hoist rescues occurring Tuesday morning.
Santa Barbara Police Chief Kelly Gordon said the department received more than 160 calls, and urged residents to stay clear of all areas with standing water or barricades.
"Please don't go around the barricades. Please don't move the barricades," she said.
According to Public Works Deputy Director Julie Hagen, all of the city's debris basins are full or partially full, at least 500,000 cubic yards of material will need to be cleared over the next few weeks. A silver lining to the storm, Hagen added, was that Lake Cachuma is expected to be 75 percent full by the end of the day.
Paradise Road is closed due to "multiple roadslides," she said, and Tepusquet Road is impassable. Portions of East Mountain Drive were washed away near the Cold Spring debris basin, and will be closed for an extended period, along with North Jameson Lane between Sheffield Drive and Olive Mill Road, and Jalama and Gibraltar Roads.
The storm affected many other areas in the city as well. All waste collection was suspended for Tuesday, along with all schools in the county. Both are expected to resume on Wednesday.
Gelson's was forced to close for the day due to many of the employees being unable to travel. At Cottage Hospital, staff were all still in place and more than 50 staff members were provided overnight lodging when they couldn't get home or stayed to cover their colleagues' shifts. "All three of our hospitals and emergency rooms have provided uninterrupted care 24/7 throughout the storm," said hospital spokesperson Maria Zate.
City and county officials will continue to release more information as it is made available. See readysbc.org for more information.
---
Support the Santa Barbara Independent through a long-term or a single contribution.
---