Angry Poodle
Poodle | Matt Gaetz, Ryan Zinke, and Kevin McCarthy Walk into a Santa Barbara Bar…
Unholy Trinity, Four Horsemen of the Apocalypse, or Just a Bad Joke?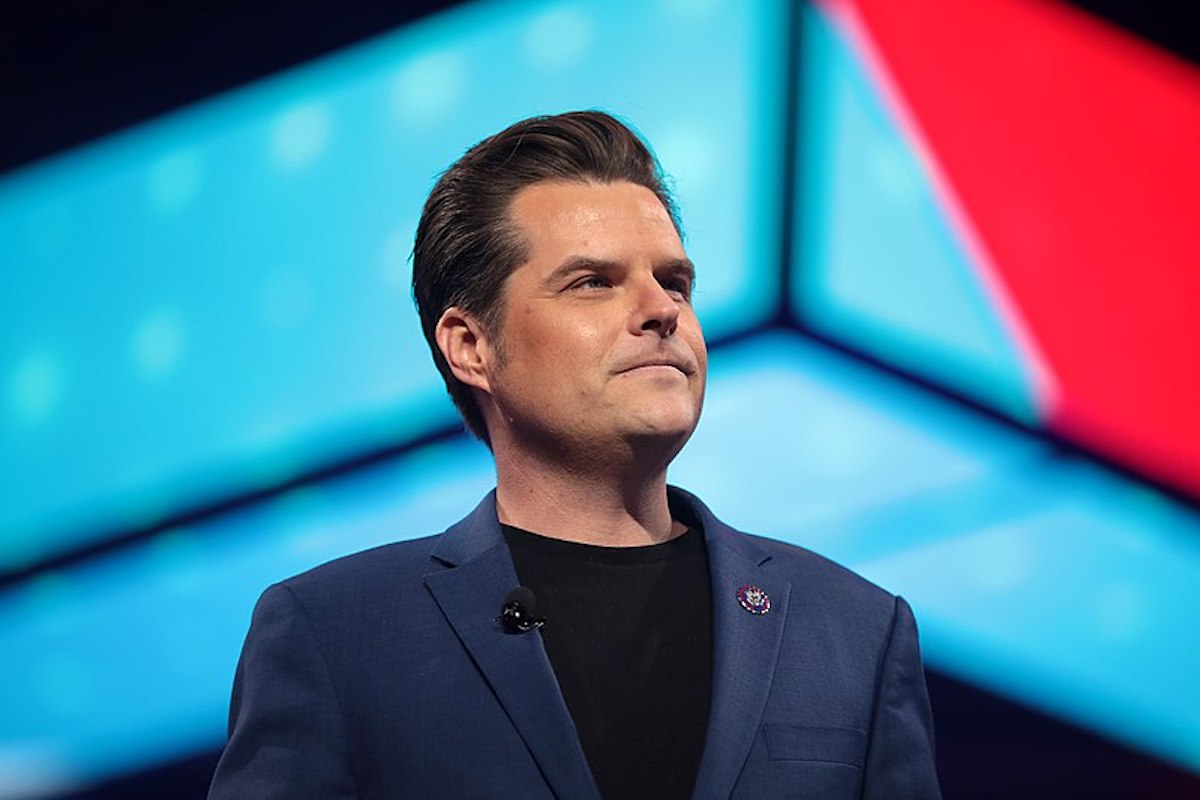 READ IT AND R.I.P:  Over the years, I've been known to shamelessly strain to fabricate some "local hook" for stories national in scope. No such straining is necessary for Kevin McCarthy's gyrations to win the speakership last week. As we all saw, McCarthy sold his soul to the devil so many times that the devil sued to get his money back. It turns out it's only a small claims case.  
McCarthy, as we know, was turned down by the hair-on-fire Republican members of the Freedom Caucus in his quest for House Speakership no less than 14 times before finally getting enough votes to get the ball across the finish line. Not since 1859 when Congress was preparing to split the country in two to preserve the inalienable right to own slaves has it taken any Speaker so many tries.
To mangle the sports analogy here, McCarthy never actually crossed the goal line. Instead, Republicans used a parliamentary maneuver to effectively shorten the field by about 10 yards. Only then could McCarthy claim — as football announcers on TV do — that he had "penetrated the plane." Not to belabor an irrelevant point, but McCarthy needed 218 votes to secure the speakership. He got only 216. Using the funny math by which politics is figured in Washington, McCarthy won because six members of the Freedom Caucus shifted their "no" votes to being merely "present." And "present" votes are effectively discarded when tabulating totals, thus allowing McCarthy to secure a "majority" with a smaller number.
The last — and most vituperatively intransigent — holdout against McCarthy was the famously infamous Matt Gaetz, a hair-waved-back MAGA bad boy from the Sunshine State and one of the nation's leading proponents of high-octane flamethrower politics. Gaetz has explained himself, charging that McCarthy "has sold shares of himself for more than a decade" to assume the throne. He's got a point.
But that may not be the real reason. McCarthy was notably tepid in coming to Gaetz's defense when the Department of Justice was investigating Gaetz on charges of paying to have sex with a 17-year-old girl whom he may or may not have moved across state lines in the process. In public remarks, McCarthy kept an open mind that Gaetz — also accused of showing nude photos of women he claimed to have slept with to his colleagues on the congressional floor — might be legitimately guilty of criminal sleazeballery. He made a point to acknowledge this possibility when explaining why he wasn't going to yank Gaetz from any of his committee assignments just yet. Although Gaetz's alleged "wingman" in this was sentenced to 11 years behind bars, federal prosecutors ultimately recommended against charging Gaetz. It wasn't that he was innocent so much as the two witnesses upon whom their case would rely suffered serious credibility issues. One of those was the wingman who got 11 years.
I mention all this not because this month is National Sex Trafficking Prevention Month — which it is — but because Gaetz has a legit connection to Santa Barbara. In August 2021, when the investigation was still ongoing, Gaetz married a UCSB graduate and Goleta resident named Ginger Luckey, whom he met — where else? — at Mar-a-Lago, At the time, Luckey — the daughter of a major Trump donor — worked for an up-and-coming save-the-planet, feed-the-starving high-tech company named Apeel, which has recently undergone a series of layoffs.
---
Sign Up to get Nick Welsh's award-winning column, The Angry Poodle delivered straight to your inbox on Saturday mornings.
---
Gaetz, true to his convictions, even though he was never charged, was one of only 20 Republicans to vote against an anti–sex trafficking bill last year. Maybe the name — the Frederick Douglass Trafficking Victims Prevention and Protection Reauthorization Act — struck him as too woke. The $1 billion, five-year bill would set aside $35 million annually to provide shelter for women trying to get out of the business. Gaetz objected it would open a back door to "illegal immigrants."
About the same time, Gaetz dissed former Vice President Mike Pence as presidential fodder in 2024. "Nice guy; not a leader," he told a group of conservative teens. Marc Short, a Pence spokesperson, shot back that he fully expected Gaetz to be in prison in 2024 for child trafficking. "I'm actually surprised Florida law enforcement still allows him to speak to teenage conferences like that," he said. The bill, by the way, passed overwhelmingly.
For the record, Gaetz vehemently denies ever having had sex with the 17-year-old in question — who, by the way, had an ID forged by Gaetz's wingman stating she was 19 — or that he'd ever paid for sex. Ever.
Another "local hook" involves Ryan Zinke, former secretary of the U.S. Interior Department under Trump and now the latest member of Congress to be elected by Big Sky State voters. Zinke married Lola Hand, who grew up in Santa Barbara and whose family — well-known especially in the business community — still lives here.
In fact, Zinke spent so much time visiting Santa Barbara that political opponents back home all but charged he no longer qualified as a bona fide Montana resident. He was all hat, no cattle, they charged, noting that Zinke — in a Department of the Interior publicity photo — had his park ranger hat on backward. Say what you will about Zinke's toxic masculinity and numerous ethical breaches, but the guy has a charming arrogance and a winning smile. And a sense of humor. Speaking during the multiple votes on McCarthy's speakership, Zinke commented, "From the outside, it looks like chaos. From the inside, it is." Zinke voted for McCarthy.
With McCarthy now ensconced as Speaker, the Matt Gaetzes of the Grand Old Party will now enjoy unfettered veto power. That was the deal. To steal a line from Bette Davis in All About Eve, "Fasten your seatbelts; it's going to be a bumpy night."
And no, I don't think there's a local hook for Bette Davis.
---
Support the Santa Barbara Independent through a long-term or a single contribution.
---