Homeless
'Where Did You Sleep Last Night?'
Gearing Up for Santa Barbara County's Annual Point-in-Time Homeless Count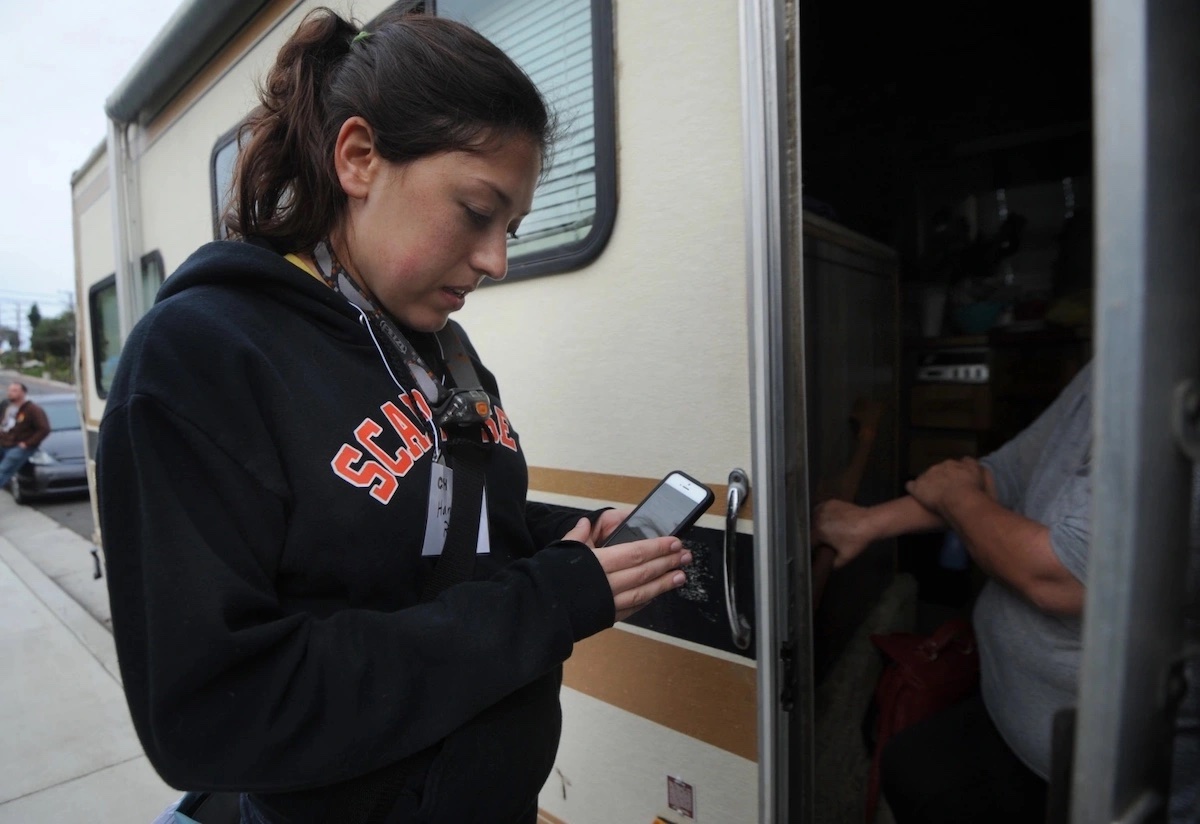 It may not be quite on par with the imperial Census that drove Mary and Joseph from their home in Nazareth to the town of Bethlehem, but for Santa Barbara County, the Point-in-Time homeless count that takes place this coming Wednesday, January 25, may be the next best thing. That's when about 300 volunteers will fan out throughout every census tract in the county in search of homeless people to enumerate so that Santa Barbara County can continue to qualify for state and federal funds needed to shelter the unhoused. Mary and Joseph were famously forced to seek shelter in a manger, and when baby Jesus was born, he would have qualified as homeless by modern standards.
"Overall, this is one of the biggest volunteer efforts that Santa Barbara County does," said Rich Sander of S.B. ACT, the nonprofit group that's been contracted to handle the unwieldly logistics of such an event. "I've been doing this since 2016," Sander added. "It's impressive how much the community comes out." Earlier this week, Sander said no fewer than 285 volunteers had already signed up for this year's canvassing blitz. In the few days since, he said, about 20 additional people a day have signed up.
At 5 a.m. on January 25, these volunteers are supposed to show up at pre-assigned logistics hubs and then disperse out in teams of four — by foot or by car, depending on the density and concentration of the population — to get the best statistical snapshot possible in three hours' time. They are also expected to conduct a brief survey with as many of the people they encounter as possible.
Among the questions they'll be asking is "Where did you sleep last night?" They'll also be asked how long they've been and how they became homeless and where they were living when they first became unhoused. They'll be asked for some additional demographic information, such as their age, and their first names and the first initials of their last names.
Such surveys are, of course, optional, though volunteers will be equipped with $5 fast-food gift certificates and bags containing fresh socks and hygiene kits as enticements. Those bags will be offered whether a person agrees to answer the survey questions.
Volunteers must undergo at least one training session first. They'll learn strategies for how best to approach — and not approach — people living on the street or in shelters early in the morning. They'll also learn how to use the smart-phone app designed to record all this data.
Role playing will be involved. Volunteers will be instructed on how to spot vehicles in which people are likely living. These are to be counted, but volunteers will be told not to knock on the windows. Instead, they'll partially record the license plate of the vehicle, describe the make and location, and provide that data to New Beginnings, the nonprofit running the Safe Parking program for people living in cars or vans for follow-up inquiries.
This element of the count is significant given that more than half the people identified in the last count lived in vehicles. The count focuses on people living outdoors, in encampments, in vehicles, and in homeless shelters. It does not include, however, people in permanent transitional housing.
Volunteers will not venture out to any of the 300 homeless encampments that county administrators have identified and mapped countywide, nor will they traverse property controlled by Union Pacific or Caltrans along the railroad tracks or freeway corridor. Instead, that work will be handled by professional outreach workers employed by Good Samaritan or City Net, the two largest operations dealing with unsheltered people in Santa Barbara County.
---
Sign up for Indy Today to receive fresh news from Independent.com, in your inbox, every morning.
---
Every community accepting state and federal homeless relief money is required to conduct such a count once every two years. Many communities — and Santa Barbara is one — has opted to do so annually. The more people counted, the more money the communities are eligible to receive via the Department of Housing and Urban Development (HUD). Based on the most recent formulation, that translates to $2,576 per person counted, though the math for linking numbers of homeless people with federal relief dollars is far more complicated.
"The PIT [Point-in-Time Count] brings the data collection to the people," explained Jett Black-Maertz with the County's Housing and Community Development Division, "and gives us an overview of all persons experiencing homelessness on a single night, not just those who are engaging services. The more the community knows about how many persons are experiencing homelessness and their needs, the better the homeless response system can meet those needs."
The results, she stressed, are just a single data point and should not be confused as the last word when it comes to statistical precision or certitude. Results from the count often vary in degree from other stats compiled by agencies working with the homeless. They do provide, however, the single simplest and most popularly accessible yardstick for measuring the scope of the problem.
The counts are scheduled late in January — a federal requirement — because that's typically one of the coldest times of year when shelters can reasonably be expected to be at their fullest. COVID clearly has challenged this operating assumption. More and more of the unhoused have shied away from what's termed "congregate care," and more and more have sought refuge either in vehicles or encampments.
Over the years, Santa Barbara has seen its Point-in-Time counts yield gradually higher numbers. The last year's was about 1,962, up from 1,897 the count before. As Black-Maertz explained, "more persons are becoming homeless than the number we can re-house with current resources."
The biggest and most dramatic jump has been in the number of people living outside of shelters. In 2022, the count showed that 30 percent of those counted were staying in shelters, 35 percent on the streets, and 35 percent in vehicles.
One of more intractable issues concerning homelessness in Santa Barbara is the extent to which local governments have made the region a magnet for homeless people from outside the area because of the generosity of programs. Of those surveyed in 2022, 78 percent reported living in Santa Barbara when they first became homeless, and 74 percent listed Santa Barbara as their last permanent address. Sixty percent said they'd lived in Santa Barbara 10 years or more. Of those surveyed, 47 reported being homeless for three years or more.
For Sander, it's been a lot of work gearing up for the count, keeping track of volunteers, and seeing that the right number of volunteers are dispatched to the right neighborhoods. But, he said, it's also rewarding. "Santa Barbara really shows up," he said. One year, he said, Santa Barbara had more volunteers — about 500 — engaged in the count than anywhere in the country.
"It's heartening," he said, "to see people care."
---
Support the Santa Barbara Independent through a long-term or a single contribution.
---