Visual Arts
Cool Creators
G and Ry Roslie's New Slo Curio Studio + Gallery Is an Off-the-Beaten-Path Treasure Trove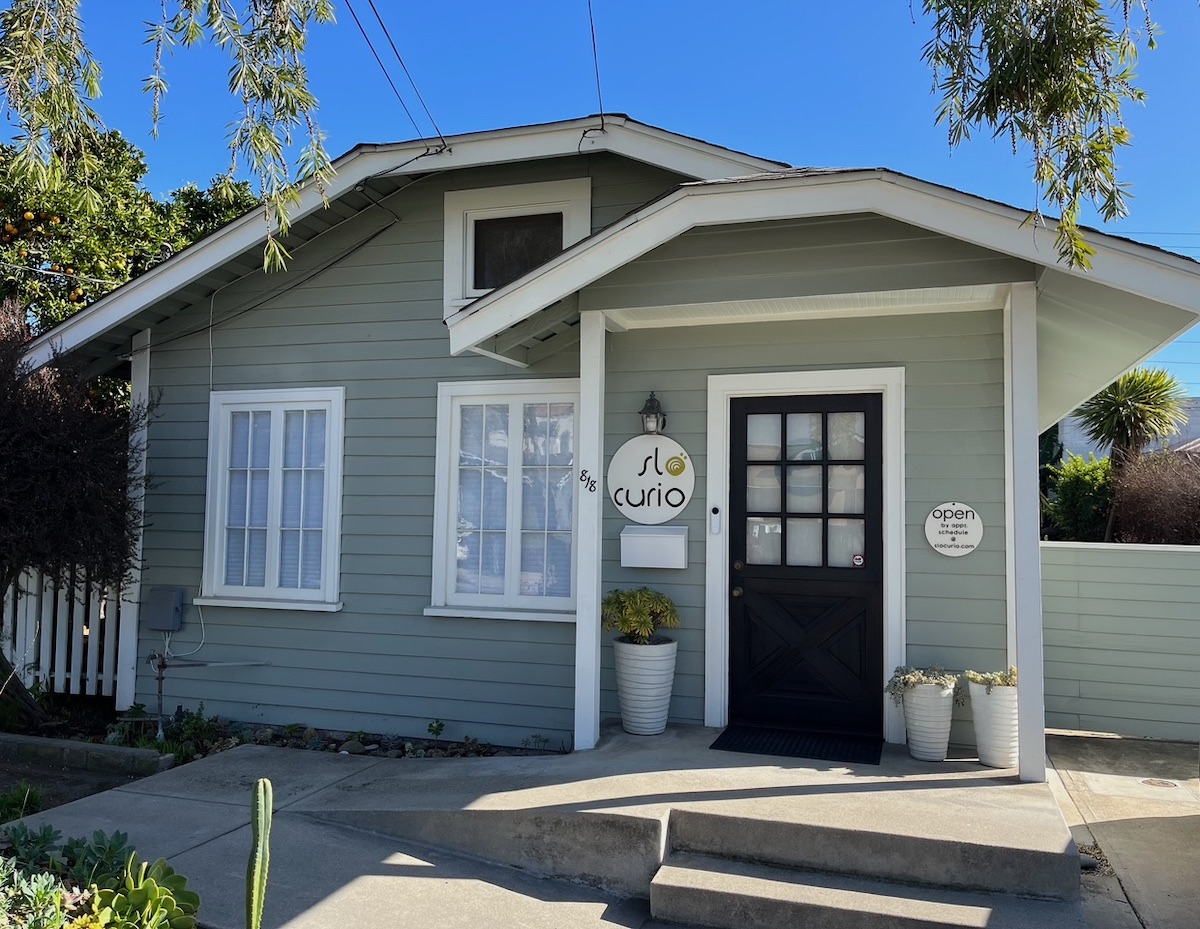 Creative vibes spill out of every corner of G and Ry Roslie's Slo Curio Studio + Gallery, a cool new art studio in a funky live/work neighborhood on Santa Barbara's Eastside. G is a Korean American artist/maker who uses naturally dyed textiles to create abstract modern pieces that reflect the world around us. Ry is an assemblage artist who uses primarily recycled materials to create functional light fixtures that are true works of art.
The couple has been together for almost 25 years and lived in Santa Barbara off and on until the 2017 Thomas Fire and subsequent debris flow sent them seeking shelter in Denver, Colorado. It was there that they first established a Slo Curio space, aiming to explore "a sustainable, eco-conscious way of making art and bringing fellow creatives and curious-minded community members together," as G explains. They were thriving until the pandemic hit and ultimately inspired them to make their home in Santa Barbara once again.
While they loved their live-work space and artist community in Colorado, outdoor inspiration is an important part of G's work and she says, "I'd have to drive for quite some time to get into the mountains. With running the shop, and working in there all the time, I just didn't have a lot of time to explore. Whereas here, every morning I can go for a walk on the beach and get my little nature fix."
Also, having a space like this allows them to make personal connections with the people who take their pieces home. "If you show at a gallery, you may have the opening and you may be able to meet the artist one time," says G, a former fashion designer who still offers a small line of handmade clothing. "I think that being able to come directly into the studio makes for a really special experience."
Every one-of-a-kind piece that G designs has some poetic inspiration, or a song, or a photo she took to capture the moment the lightbulb went off. For example, "The Source II" evokes "the image of powerful sunbeams and this idea that the sun belongs to everyone. So it's kind of a universal message," she says of the 35-by-15-inch wall hanging hand-cut from natural hand-dyed flax linen and sewn on one of her two almost 100-year-old vintage sewing machines.
Raised in the Pacific Northwest, Ry says his inspiration came from his engineer father who collected motorcycles, cars, and other vehicles he built from the ground up. "I have been tinkering around ever since I was a kid building things with my dad." Now he uses wood and composites along with salvage materials to create his mobiles and light fixtures and is constantly experimenting with different forms and shapes.
The gallery has a large outdoor area in the back, and the couple hopes that by the summertime they'll be working with other artists to do pop-ups. Meanwhile, Slo Curio Studio + Gallery (818 Jennings Ave., slocurio.com) is open on Saturdays from 11 a.m.-5 p.m. and by appointment Thursdays, Fridays, and Sundays.
---
Support the Santa Barbara Independent through a long-term or a single contribution.
---