Visual Arts
The Art of Playing with Technology: Lynda Weinman at Santa Barbara's Sullivan Goss Gallery
'Lynda.com' Founder Discusses Her Creative Evolution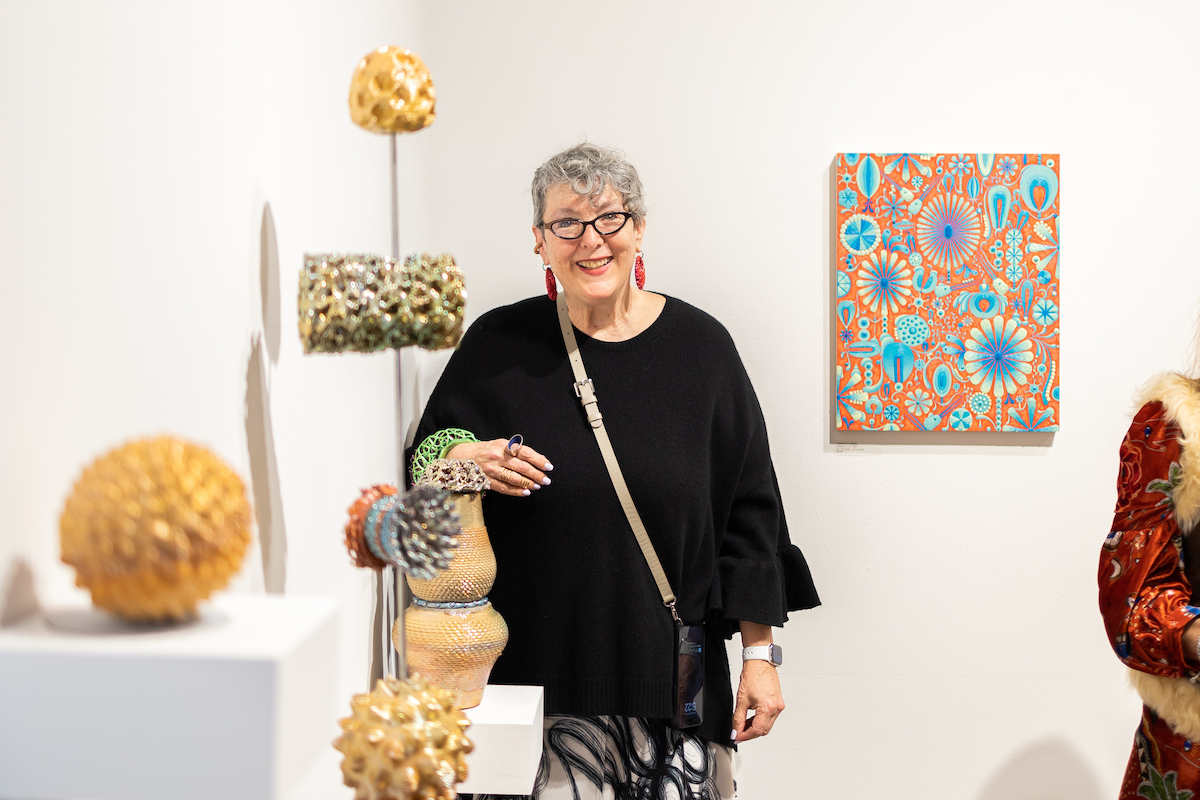 It's always fascinating to see how creative people evolve and continue to create in different ways throughout their lives. Lynda Weinman was an early pioneer in computer and web graphics who went on to cofound (with her husband, Bruce Heavin) Lynda.com, one of the first online educational enterprises to teach digital tools and skills. They sold the company to LinkedIn in 2015, and Weinman began to pursue an interest in ceramics. She discovered 3D clay printing in 2020, and today she is one of its foremost pioneers, working fluently with geometric and parametric forms. Her 3D-printed ceramic and plastic sculptures are currently on view at Sullivan Goss, An American Gallery.
Jeremy Tessmer, the gallery director at Sullivan Goss, described your work as a combination of "technical wizardry" matched with a "sense of play." Could you unpack those two aspects of your art? First, the technology. I'm especially interested in the 3D parametric design software you're using. Could you explain the term "parametrics" and give an example of how the software and your 3D printer help you design and complete your ceramics? Lynda Weinman: Parametric software generally means that the formation of shapes is changeable and controlled by variables. When creating ceramics, you can be using the software while constantly changing your mind until you arrive at the perfect form of your liking. As a child of the 1950s, I grew up thinking technology meant scientists in lab coats obsessing over facts and data. When I witnessed the computer revolution, and the revolution of the Information Age, I realized that there were many magical aspects to technology.
For instance? Being able to scan a photograph, or use drawing tools that make instant arrays of circles or squares. I'm sure it's similar to the way farmers felt with the first plow, or a person seeing a zoetrope for the first time. I'm fascinated and enamored with technology, but it also fights me a lot, like it does everyone! I spend so many hours troubleshooting and testing limits that each piece is probably the result of hundreds of hours of frustration before the success comes. I think everyone who harnesses technology has a love/hate relationship. It helps me with my ceramics in the sense that I can make shapes and surfaces that are physically impossible any other way. That feels magical to me, and I live for those discoveries.
We see your fanciful imagination at work in pieces with titles like "Curvaceous Apothecary," "Atomic Linen Table," and "Mystic Pillow Talk." Is there a characteristic Lynda Weinman sense of humor, and if so, how does it show up in the pieces on display at Sullivan Goss? I enjoy incorporating humor in my work and find naming my pieces to be a fun challenge. I often choose words that evoke the meaning of the pieces, even if they are intentionally mismatched. I have been working on a series of trippy apothecary jars for over a year, some of which are featured in the Sullivan Goss show. The "Atomic Linen Table" is inspired by the 1950s motif, reminiscent of an atomic symbol, and evokes the look of spun-gold silk linen. The "Mystic Pillow Talk" is a contradiction, as clay is not soft, but the shape sits like a pillow inside another pillow and they "talk to each other." Each name I choose has a story behind it.
Though you have a decades-long background in creating art, you're still relatively new to ceramics, having really dived into it during the pandemic. What do you still hope to learn, and what would you still like to create? I hope to learn how to make custom glazes, and to focus on a lot more mold-making in the future. I never stop learning software techniques, and I love wrapping my head around something new and difficult. I took an online class this morning called Microbial Drift about how to make microbiological forms with a software package called Blender with Tissue add-on. It was a five-hour class and I was riveted. I've already been thinking about pieces all day that I want to make using this new technique. I feel so alive learning and making; it's an addiction from which I hope to never recover!
Regenerate: The Works of J. Bradley Greer and Lynda Weinman is on view at Sullivan Goss, An American Gallery (11 E. Anapamu St.) through March 27. See sullivangoss.com.
---
Support the Santa Barbara Independent through a long-term or a single contribution.
---