Theater
Review | 'The Gin Game' (Feb. 2-5 at Center Stage Theater in Santa Barbara)
Cards on the Table for the Latest Production From DramaDogs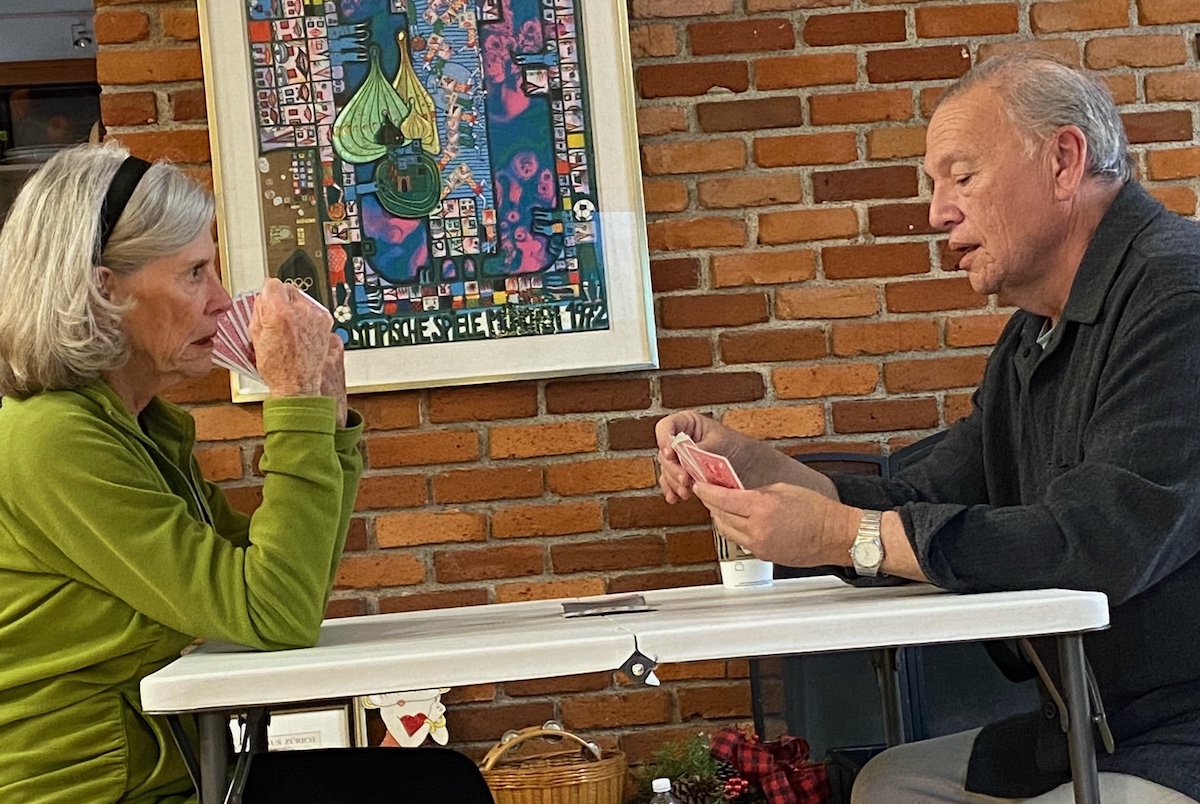 From the first moments of The Gin Game, as Fonsia shuffles sadly about the sunroom of her new nursing home on visiting day, clutching her purse and sniffling into a tissue while fellow resident Weller sits unbothered, reading at a card table in his bathrobe, we can see this is going to be a true collision of personalities.
Weller invites Fonsia to sit down and play gin and their story unfolds from there. He is perhaps happy for the company but loath to admit it, preferring to complain loudly about every aspect of life in the facility — the food, the entertainment, the other residents. When we meet Fonsia, she is timid and forlorn, seemingly thankful for someone to talk to, a game to play, some familiar social activity to anchor her.
The Pulitzer Prize–winning play by DL Coburn is set in a place many in our society would rather ignore: a home for the elderly and infirm — likely these characters' final home as they move closer to the end of life.
As Fonsia, Kathy Marden deftly portrays a woman who, though needy and fearful on the surface, surprises no one more than herself when details of her past come to light, and her true voice comes out as a fierce roar.
Ed Giron's Weller starts out affable if a bit gruff, lonely but proud, careful not to let anyone too close. Eventually, however, we see cracks in his façade and glimpses of a formidable temper. Giron sensitively depicts a man walking a fine line between curmudgeon and bully.
Directors Ken Gilbert and E. Bonnie Lewis, of DramaDogs, sensitively handle these characters and their brokenness, allowing them to dig beneath surface stereotypes to deeper truths.
By the end, we see that Weller may be capable of emotional expression beyond violent outbursts, and Fonsia demonstrates more moxie than maybe even she is aware of possessing. It is satisfying to see them reveal more of themselves, whether they mean to or not. As in life, answers sometimes are not revealed easily, and with no neatly tied-up ending, audience members are left to fill in the details of Fonsia and Weller's future for themselves.
---
Support the Santa Barbara Independent through a long-term or a single contribution.
---