Sports
From Court to Court
George Eskin Ends Honorable 30-Year Run as UCSB Gauchos' Announcer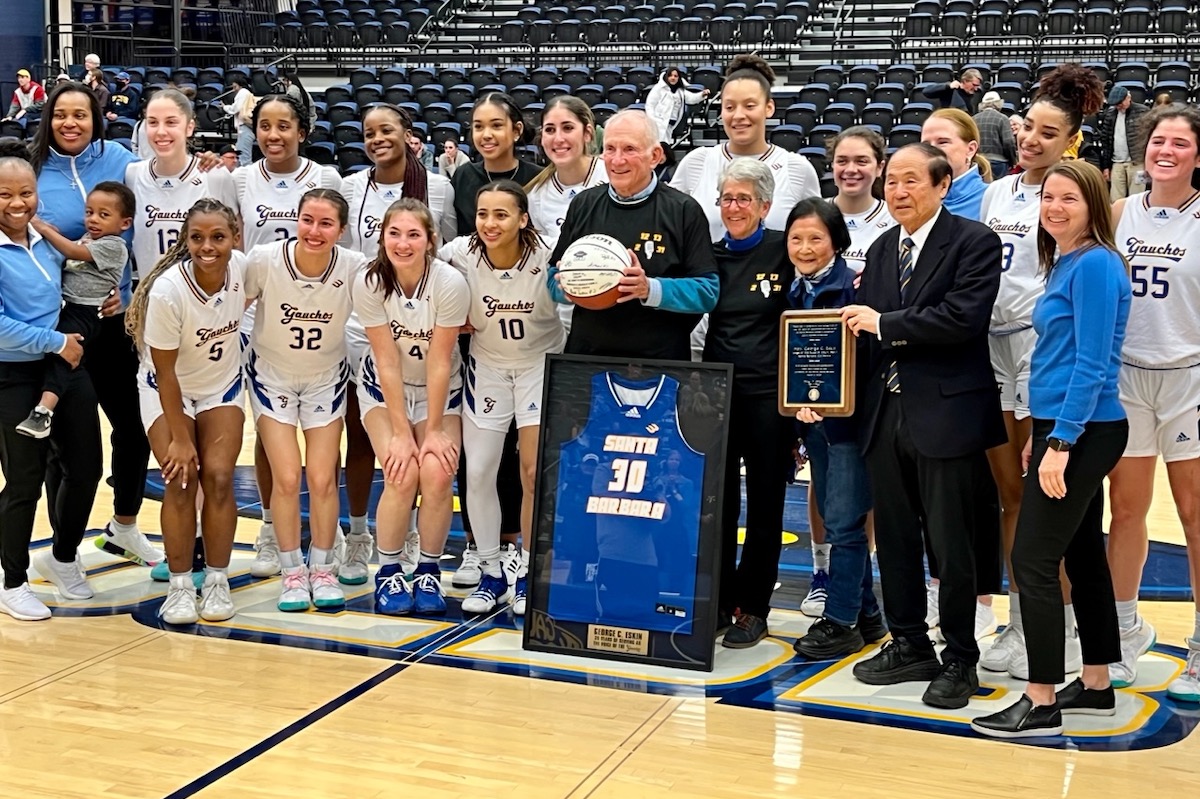 At the end of the game on Thursday, March 2, the last day of George Eskin's 30 years as public-address announcer for UCSB women's basketball, he signed off with these words: "Final score: UC Davis, 80; UCSB, 59. Thank you, ladies and gentlemen, for attending tonight's game. Drive safely on your way home. Follow the Gauchos to the Big West Conference tournament in Henderson, Nevada … and, ladies and gentlemen, thanks for the memories."
Eskin accrued a treasure trove of memories through three decades of glorious triumphs and heartbreaking defeats, while endearing himself to fans, players, and coaches alike.
His favorite moment occurred when Lisa Willett, a Santa Barbara High graduate, stood at the line to sink the free throws that clinched UCSB's 56-52 victory over Houston in the second round of the 2004 NCAA tournament. It sent the Gauchos into the Sweet 16.
"I said, 'How sweet it is!' " Eskin recalled.
Then his law-and-order mentality sunk in. Eskin, a Superior Court judge, had been advised that NCAA tournament announcers were required to maintain strict neutrality.
"I was so nervous about being reprimanded that as soon as the game ended, I ran out of here," he said.
Nobody faulted Eskin for his honest emotion. During regular-season games, when he could side with the Gauchos, only with his inflection did he give his feelings away. UCSB's baskets received more emphasis than the opponent's: "Stacy Clinesmith for THREE!"
His excitement reached a peak during a 2005 game against UCLA, when Jessica Wilson dribbled the length of the court and scored at the buzzer to tie the score. Wilson added 11 points in overtime as the Gauchos upset the Bruins, 90-81. "That's my next favorite moment," Eskin said.
He included Wilson when asked to list his favorite players over the years. The top 10: Erin Buescher, Kristen Mann, Stacy Clinesmith, Kayte Christensen, Lindsay Taylor, Erin Alexander, April McDivitt, Emilie Johnson, Jessica Wilson, and Jess Hansen.
Most of them played from 1995-96 to 2004-05 when the Gaucho women made 10 consecutive appearances in the NCAA tournament under Coach Mark French. Their home-court record during that span was 119 wins and 14 losses.
A rival Big West coach once said that Eskin's enthusiasm was worth several points a game for the Gauchos.
"People frequently ask what brings you joy in life," said Eskin, who retired as a judge 10 years ago. "I found joy in my [law] career helping people solve problems. And for 30 years, I found joy in the experience of being the basketball game announcer."
He started in 1993 after a Gaucho fan heard Eskin announcing results at his daughter's youth track and field meet. He was already following the Gaucho women's team. "When I saw Barb Beainy and Cori Close, I thought 'Wow,'" he said of two UCSB stars in the early 1990s.
His wife, former State Senator Hannah-Beth Jackson, remembered hearing him in the shower, forcefully pronouncing players' names: "Dio Aguinaldo! Sasha Scardino!"
During his final game at the mic, Eskin received several recorded plaudits on the video board at the Thunderdome. Clinesmith, who is coaching at Gonzaga, said she was motivated to score baskets so she could hear Eskin announce her name.
"That blew me away," he said.
UCSB honored him after the game with a framed number-30 jersey, a plaque, a signed basketball, and proclamations.
It most touched him, he said, that after their resounding loss to UC Davis, the Gaucho players all stuck around for the tribute.
"I don't get close to the players," he said. "When Ila Lane came over, gave me a big hug, and said how much she appreciated me, that made an incredible impression on me."
Eskin addressed the UCSB women with some words that might have sounded Pollyannaish after their 21-point defeat: "You're going to win it all in Henderson, Nevada."
So Coach Bonnie Henrickson's Gauchos went out last Wednesday and thumped UC Davis, 70-36 — a 55-point turnaround. They reached 20 wins for the first time in 14 years.
They added another victory over Cal State Bakersfield in the semifinals, but in the title game, they fell short of defending champion Hawai'i, 61-59. They had a shot at the end, but lacked George Eskin at the mic to say, "Anya Choice for THREE."