Columns
Society Matters | C.A.R.E.4Paws Hosts Fundraiser for New Mobile Clinic
New Clinic Will Expand Capacity to Serve Low-Income Pet Owners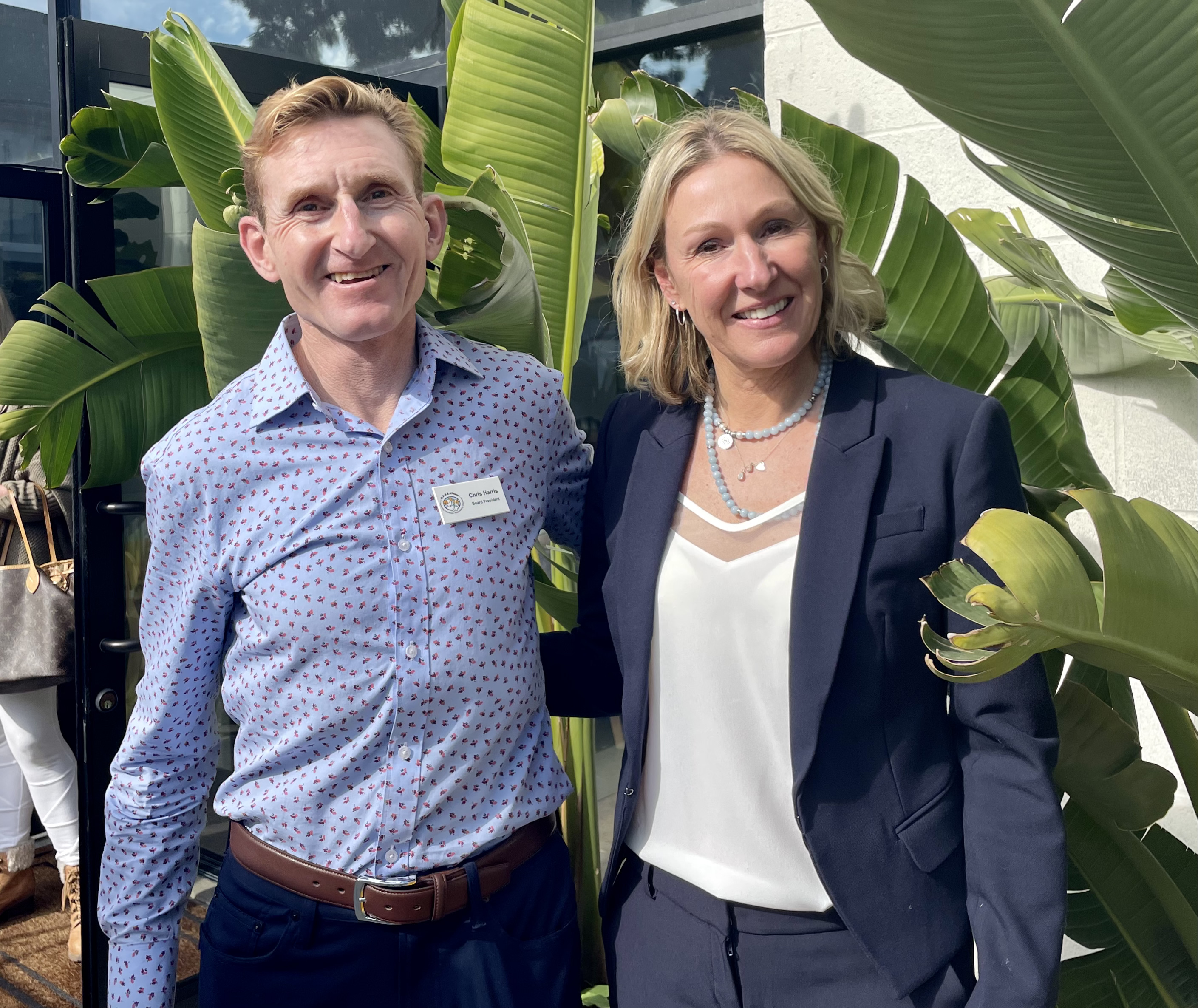 On March 12, about 100 of C.A.R.E.4Paws supporters gathered at La Lieff Winery in the Funk Zone to raise funds for a new mobile clinic that will enable the nonprofit to serve more pets in need. Guests enjoyed the first rays of sunshine in several days, along with wine and nibbles.
During the short program, Executive Director Isabelle Gullo thanked donors and recognized lead supporters for the new mobile clinic: Lee Heller, Lyn Proctor, John and Karen Jostes, and a few others. She shared how last year, C.A.R.E.4Paws helped nearly 13,000 dogs and cats in its two aging mobile clinics. It did 2,300 spay and neuter surgeries and 2,800 microchips. It provided wound care, infection care, and dental care, along with vaccines and flea treatments to many more.
The mobile clinic is C.A.R.E.4Paws largest program, serving Santa Barbara County — Santa Barbara, Santa Maria, and Lompoc — five days per week and San Louis Obispo County twice a month. The nonprofit's aim is to ensure that neither cost nor transportation are barriers to pets receiving medical care or getting spayed or neutered. The clinics are staffed by paid veterinarians and veterinary technicians and a volunteer team.
Having now reached its $350,000 goal, C.A.R.E.4Paws has the new 37-foot van on order. It is much larger than the existing, vintage 1995 and 2004 vans, enabling increased space to perform procedures and to house equipment and kennels. The present space limitations have led to a backlog for larger dogs needing surgeries. The new clinic will also allow for more types of procedures and for a greater geographic reach, pending sufficient operational funding. Given the high level of demand for services, C.A.R.E.4Paws will continue to operate its two older vans for as long as they are useable.
C.A.R.E.4Paws saw a spike in demand for its services with the pandemic, but even now, Gullo relates, so many of our community members still struggle to meet basic expenses for themselves, and these financial constraints "can get in the way of a pet receiving the care he or she needs. C.A.R.E.4Paws helps bridge this gap, making it possible for pet families to alter and provide medical services for their dogs and cats, for free or at a very low cost."
According to Gullo, spaying and neutering are the keys to preventing the birth of unwanted litters and thus lowering our shelter intake numbers. Since the cost of these procedures can be prohibitive, C.A.R.E.4Paws offers them for free or for a small donation for those who otherwise could not pay.
It offers spay and neuter surgeries also for several rescue organizations on an ongoing basis. Lately, because of the nationwide and local vet shortage, C.A.R.E.4Paws has been doing spay and neuter procedures and providing some other medical care for S.B. County Animal Services and S.L.O. County Animal Services as well.
In addition to its main mobile clinic program, C.A.R.E.4Paws also distributes pet food to low-income and homeless individuals year-round. About 2 tons of food go out each week at sites throughout the county, some in collaboration with other nonprofits.
Another valuable program is its Safe Haven Domestic Violence Assistance Program, which arranges for immediate, anonymous foster care for pets of domestic violence victims. Referrals to the program come from Domestic Violence Solutions and government agencies. Additional foster families are being sought for this program.
Another program directly serves homeless individuals. Every Thursday, C.A.R.E.4Paws is part of the pack of nonprofits serving this population in Alameda Park. It provides pet food and supplies and once per month, with A's Mobile Grooming, free dog grooming. Gullo remarked on how big a difference these services make to the unhoused and that C.A.R.E.4Paws is committed to continuing the service as long as it can. It is now offering similar services in Santa Maria and hopes to do so in Lompoc as well.
While C.A.R.E.4Paws reached its funding goal for the new van, it continues to rely on the community to fund the critical services it provides year-round. For more info or to make a donation, go to http://C.A.R.E.4Paws.org.