Society Matters
Society Matters | People Helping People Hosts Vino de Sueños
Proceeds Fund Assistance to Farmworkers and Hospitality Workers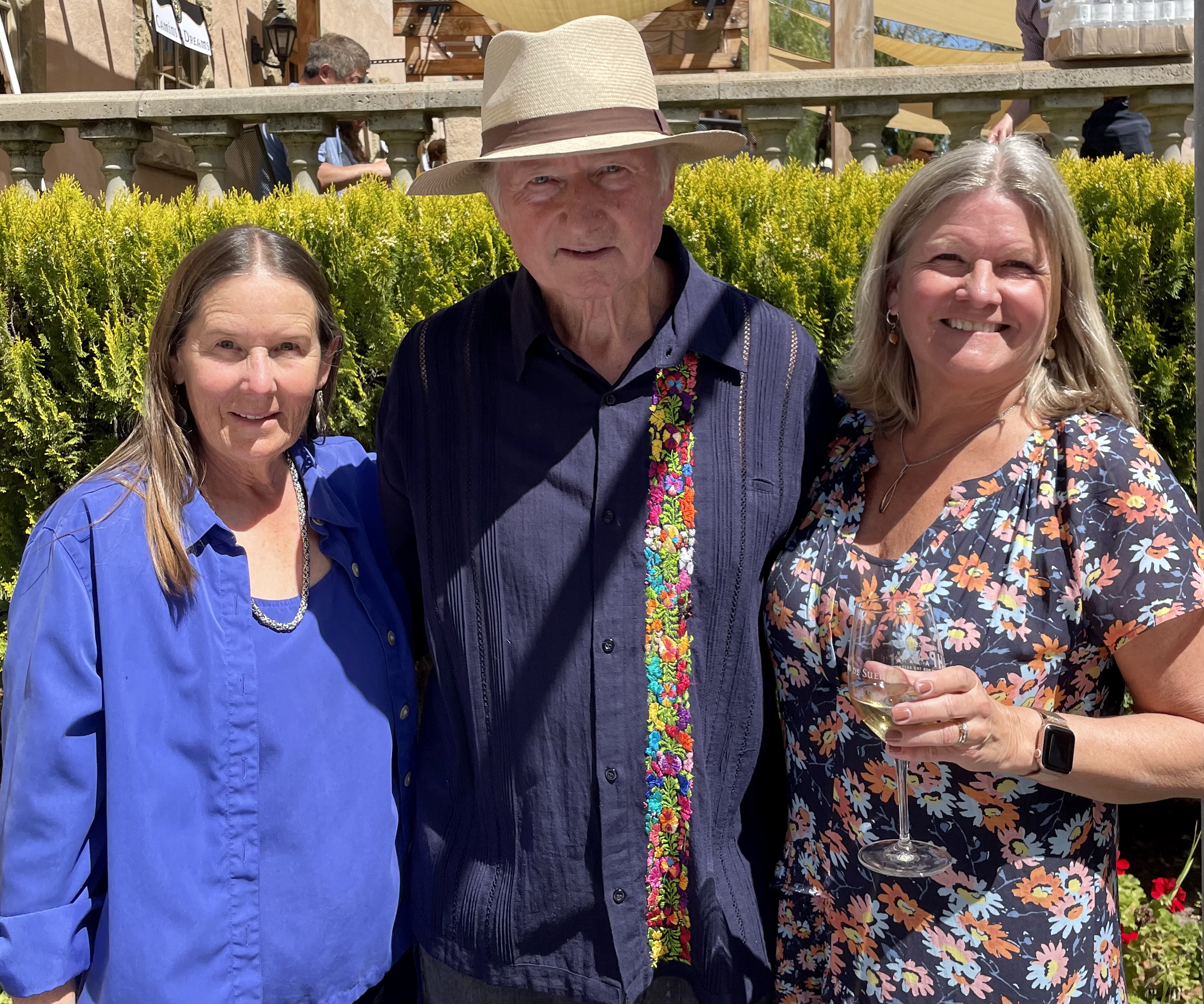 On April 15, Santa Ynez Valley People Helping People (PHP) hosted a delightful Vino de Sueños event, this year at Brander Vineyard, to raise funds for the assistance it provides to farmworkers and hospitality workers. The annual event this year featured 12 wineries pouring their wines alongside a few chefs serving their creations. Artists were on hand with their artwork, while Bobby Montanes and Steve Puailoa provided live music. The150 guests seemed to really savor the experience — enjoying exceptional wine, food, art, and music in an idyllic setting on a sunny afternoon. The best part was that event proceeds support the invaluable assistance that People Helping People provides to farmworkers and hospitality workers in the Santa Ynez Valley and surrounding areas.
Guests sauntered around Brander's patio and garden, visiting with friends while sampling wine and food and perusing artwork offered through silent auction. All wine, food, and art was donated, reflecting both the generosity of community members and the high regard the community has for People Helping People.
Many guests also opted for a guided tour of the Brander Museum of Folk Art, currently showing Oaxacan indigenous art.
During the short program, Executive Director Valerie Kissell remarked how there is so much abundance in the Santa Ynez Valley, but also very great need. In an interview, she expanded, noting that the extended lockdown that came with the pandemic hit farmworkers and hospitality workers especially hard and now these workers are grappling with the high cost of living. Supporting those who work in our fields and serve us food, according to Kissell, is really important during these difficult times.
She explained how PHP's assistance is tailored to each client's needs, with intensive case management seeking to meet immediate needs and provide tools to enable clients to become self-sufficient in the long term. She stressed the uniqueness of each client's needs and, accordingly, the uniqueness of PHP's assistance. For example, when clients have needed a vehicle, PHP finds community members to donate one. When a client needed a prosthetic leg, PHP negotiated with healthcare providers and made it happen.
With farmworkers and hospitality workers, the main areas PHP helps with are food, housing, and healthcare. Kissell noted the irony of farmworkers needing food, but that is the reality given the level of their wages and the cost of food staples. PHP receives food from the Foodbank of S.B. County and from Veggie Rescue.
Housing assistance is in the form of cash assistance for rent and help with locating affordable rentals. With COVID, a lot of ranches sold to people from out of the area, and some of the new owners terminated onsite housing for farmworkers. As with Santa Barbara, there is a dearth of affordable housing in the valley.
Many clients are uninsured or underinsured, making healthcare costs beyond their means. PHP staff negotiates lower fees with providers, which it pays in whole or in part. PHP associates and interns provide mental health counseling, and there has been a big increase in demand for services.
PHP operates Thriftology, a thrift store in Buellton open to the public, where clients can shop for merchandise with vouchers. It currently operates with a $2.1 million budget and provides a wide range of assistance to those in need. Its next big event is the annual Santa Ynez Valley Polo Classic at Piocho Ranch on June 10.
Wineries pouring at the event were Brander Vineyard, Foxen Vineyard and Winery, Stolpman Vineyards, Buttonwood Winery, Riverbench Winery, Gainey Vineyard, Barieau, Colluvial, Camins 2 Dreams, Esfuerzo Wines, Dascomb Cellars, and Clendenen Family Vineyard Wines.
Food purveyors included Valley Piggery, which since the start of COVID has very generously prepared 60 meals each week for low-income clients of PHP, assuming all of the costs for this weekly commitment. Co-owner Amy Francis shared that they want to do whatever they can for PHP because the nonprofit is so integral to the community. Also serving at the event were the Los Olivos Wine Merchant & Café and the Corner House Café. Beautiful artwork from 16 artists was on display and part of the silent auction.