Food
Dining Like Kings at Peasants Feast in Solvang
Restaurant's New Dinner Menu Is Comfort Food That's Anything But Common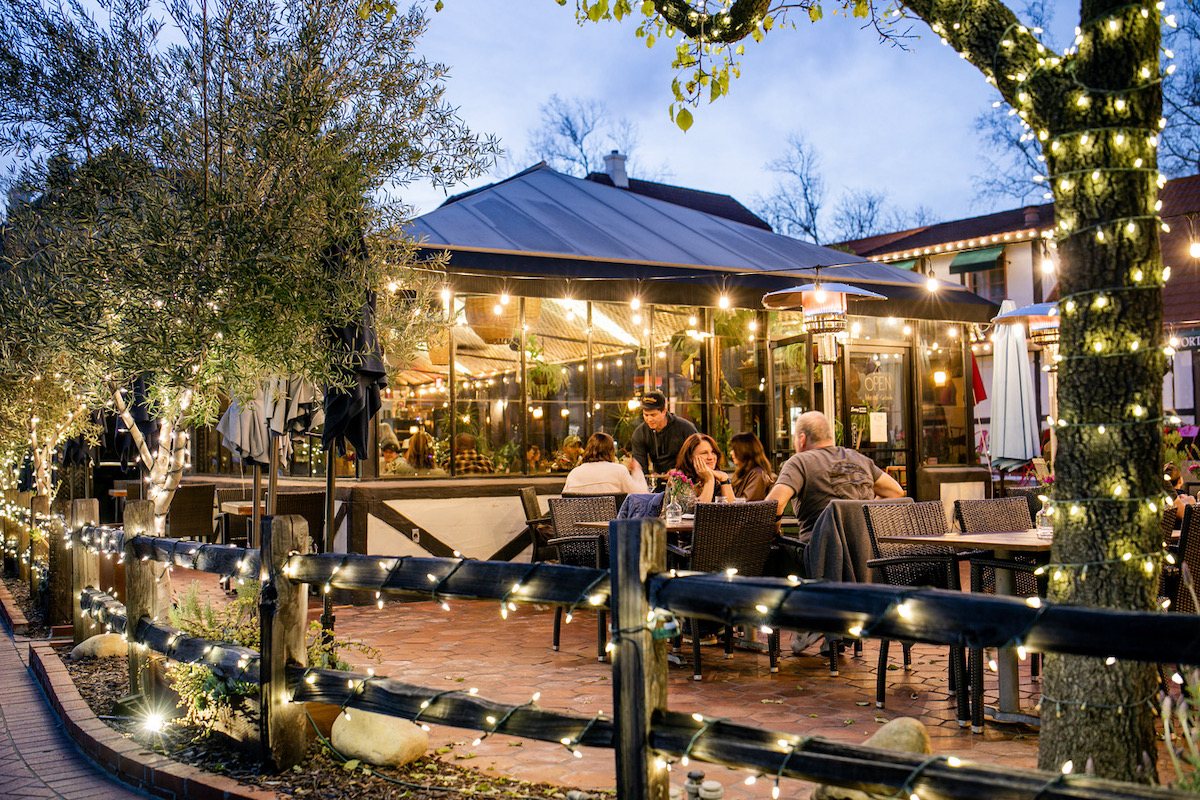 Up until very recently, one of the very top restaurants in Santa Barbara County — the Michelin Bib Gourmand–recognized Peasants Feast — was only open for lunch. Lucky for us, the three-year-old restaurant, which opened to great acclaim at the height of the pandemic restrictions, now offers dinner service Thursdays through Saturdays.
It was definitely worth the wait.
Offering a menu of seasonally driven, elevated comfort food with ingredients sourced directly from our region's farms, ranches, and fishers — think Hope Ranch mussels in escabeche on toast, fennel soup with local olive oil, and fried chicken with garlicky greens — I'm happy to report that the warm and friendly service in the restaurant's converted greenhouse dining room and pleasant outdoor patio is just as splendid as the food.
This is a family affair with Sarah Cherney and her husband, Chef Michael Cherney, at the helm, and their considered attention to detail was evident every step of the way.
The execution of each dish is indeed top-shelf, but as Chef Michael Cherney briefly explained when he stopped by our table, part of the vision of Peasants Feast is to creatively use up what's in the pantry. A great example of this is the radish and pastrami tallow, a colorfully plated texture and flavor indulgence that pairs bright, crispy radishes with a creamy, decadent tallow made from the fat rendered by the masses of brisket used for their excellent house-made pastrami served at lunch and sold across the street at Peasants Deli & Market. 
Another notable starter is the roasted chanterelles, made with cipollini onions, and crispy potatoes blanketed in a fabulous Hollandaise that evokes the most luxuriously sinful brunch imaginable. I could have happily lapped that sauce up all day with the house-made parmesan and herb focaccia, served warm in a cast-iron skillet.
But there was more — so much more.
Another colorfully inviting plate, the yellow crudo was prepared in small chunks, rather than the typical slices, with a nice array of strawberries, cucumber, seaweed, and ponzu for a salty, sweet, and tangy dish that was perfectly balanced and wonderfully light. Also on the lighter side was a gorgeous halibut, prepared with bok choy, fennel soubise, and pickled daikon, with the delicious warmth of jamón ibérico jus (no doubt also from the deli pantry) delicately poured over the fish at the table. Hitting the heartier side of the mains were the beautiful, buttery pork cheeks, served with peas, carrots, and potato puree — just like Grandma used to make … in her wildest dreams! 
A few things on my list to try for next time (and there definitely will be one, hopefully soon) are the Jamón Ibérico de Bellota platter which pairs the aged Spanish ham with Stepladder Ranch & Creamery's Cabrillo cheese; the veggie-forward sunflower seed risotto, topped with spring snap peas, asparagus, mushrooms, sunflower sprouts, and Grana Padano; and the Chips, Dip & Caviar, featuring their Peasants Deli private-label Regiis Ova Caviar.
After much debate about dessert, we ended our meal with Reina's Ice Cream, named for the Cherneys' teen daughter, Reina, who hand-crafts the icy treats. We ordered the popcorn flavor, which amazingly really did taste like a creamy popcorn treat. And in an even sweeter development — the Cherneys' hospitality must be contagious — the people at the table next to us also ordered Reina's Triple Chocolate and Cinnamon Basil flavors, which they then generously shared with us.
487 Atterdag Rd., Solvang; (805) 686-4555; peasantsfeast.com