Music
Review | Indigo De Souza at UC Santa Barbara
Indie-Rocker is a Crowd Pleaser, Despite Some Health Issues Affecting Performance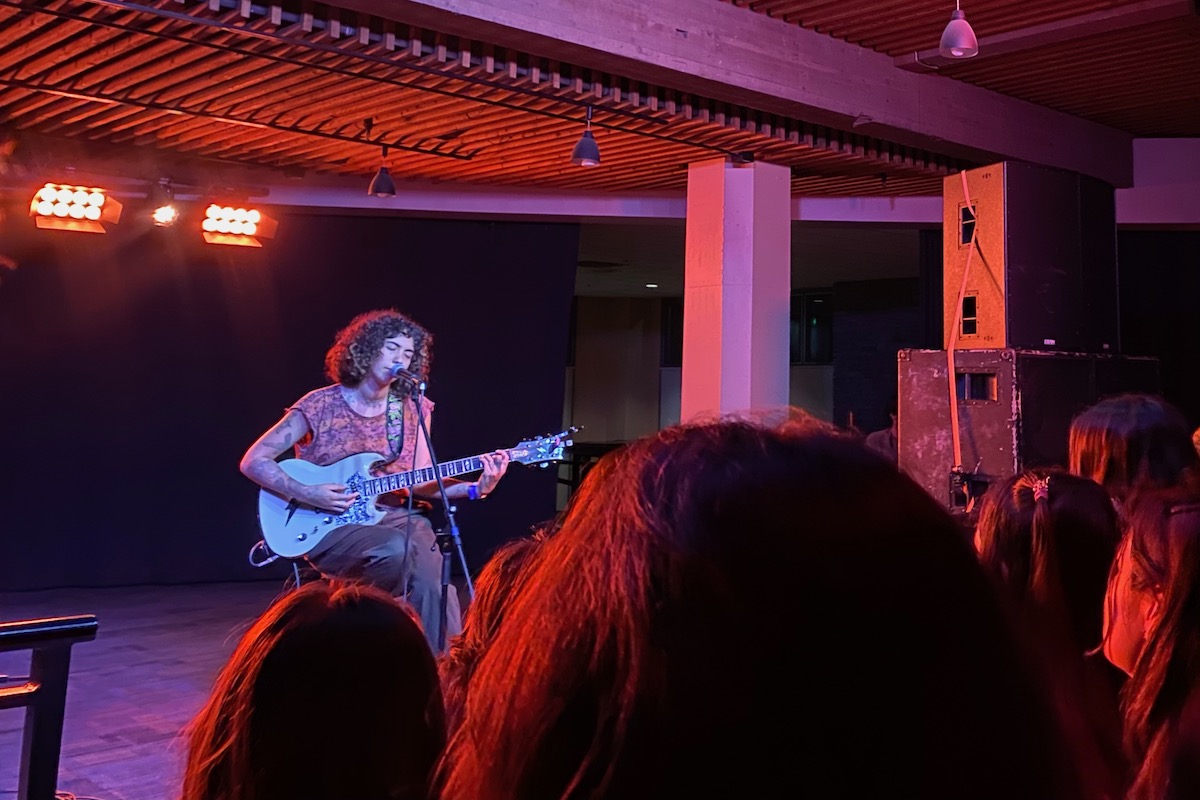 Despite fighting with a sinus infection, rising indie-rock star Indigo De Souza commanded the Hub at UC Santa Barbara last week with gut-wrenching intimacy. De Souza took the stage accompanied only by her guitar, and confessed this is the second solo show she has played in nearly a decade.
The Asheville, North Carolina-native released her third record, All of This Will End, at the end of last month. With heavy themes of growing up and letting go, it is no surprise De Souza's newest release struck the college students' heartstrings with songs that actively toe the blurred line between adulthood and adolescence. Yet, due to the absence of her band and poor health, De Souza was unable to play the upbeat, synth-dominated singles from All of This Will End such as "You Can Be Mean," and "Smog."
However, this opened the door for audience members to take control of the setlist, successfully requesting hits from her previous records like "Good Heart" and "Kill Me," by holding up phone screens displaying song titles. She refuted requests for more complex and demanding songs by simply stating, "I honestly don't know how to play that." The crowd seemed understanding of De Souza's situation and were happy to merely be in her presence, vocally assuring her she could do anything and they'd be happy.
The intimate size of the venue allowed for De Souza to have countless, casual interactions with the crowd, and constantly check in with us as her show progressed. "Is this fun for you?" she asked. Audience members emphatically responded, "Yes," causing her to counter with "why?" A voice from the crowd responded, "because we love you." The singer smiled and responded, "nice."
De Souza's airy vocals soared over a completely silent crowd during ballads such as "The Sun is Bad," repeating the melancholy mantra: "Sun just don't rise up for me, this time/ Sun just don't rise up for us tonight."
As the concert drew to a close, De Souza needed to follow up on a promise made earlier in the show: that she would play "Younger and Dumber" — the lead single off of her newest record. The power ballad, which made Pitchfork's "Best New Music of 2023" list, begins barren, with pondering vocals, expressing the fleeting sense of home as De Souza ascends into adulthood that eventually explodes into a belted chorus.
Before the song began, the singer joked, "If this is embarrassing, let's just have it be our own little secret." Sinus infection and all, De Souza crushed the song, swiftly recovering from her voice beginning to give out on her by delivering a falsetto-ed option up, instead of the belted chorus.
Although she was clearly feeling under the weather, De Souza managed to create an immensely enjoyable experience for her fans. As we filtered up the stairs back to the main floor of the University Center, I heard nothing but rave reviews for her, and well wishes for her health.