Visual Arts
'Organic Perspectives' by Young Artists
Bright Start Preschool Students Display Their Work at Special Gallery Exhibition in the Santa Barbara Funk Zone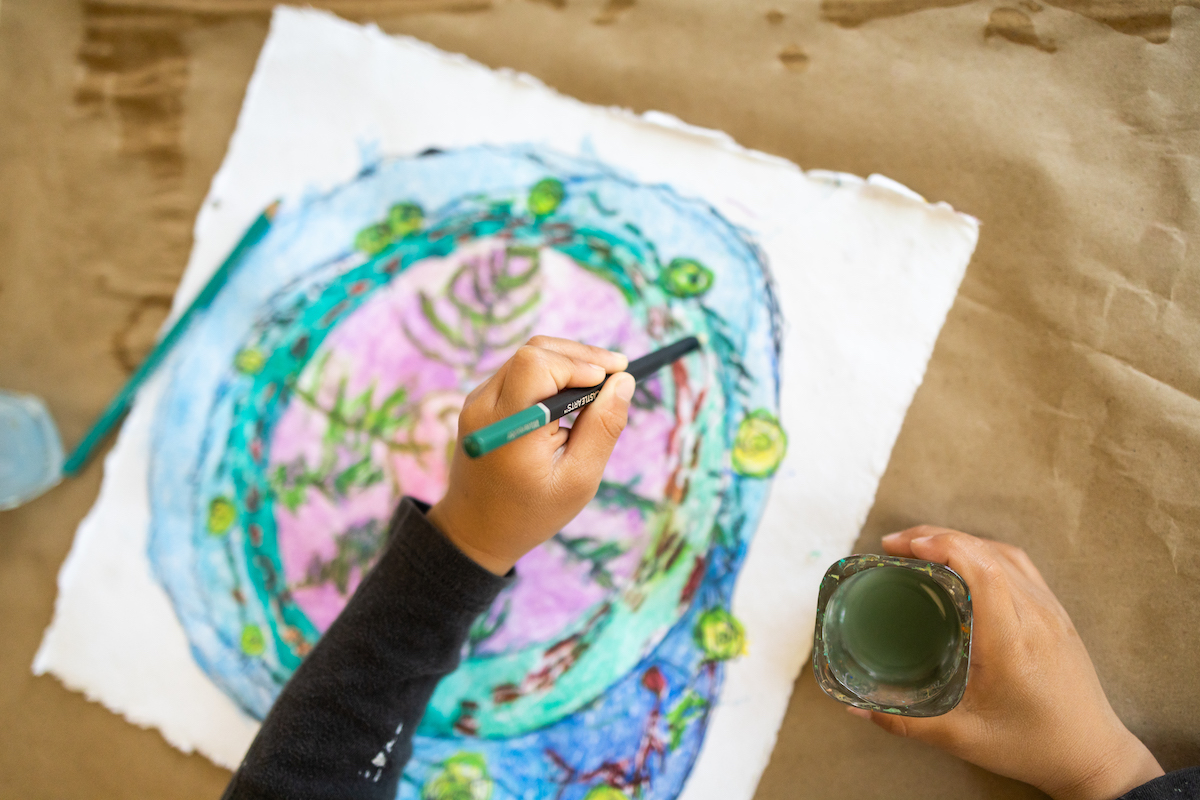 Though they may not yet have the vocabulary to express themselves with pinpoint specificity through language, preschool-aged children do have the ability to create physical manifestations of their knowledge and emotional state through art. Case in point, Bright Start, a local Reggio Emilia–inspired preschool and early childhood education center, will display the work of their young community with an art show called Organic Perspectives.
This exhibit, on view at the Helena Mason Art Gallery from May 26-29, offers interactive experiences as well as paintings and sculptures made by the children. The inspiration behind this artwork is the exploration of nature that Bright Start encourages as an integral aspect of their program.
"The Reggio experience is about the children creating their own knowledge," says Marcela Caceres Gelinas, the director and founder of Bright Start. "They are the protagonists of the learning; they're not empty vessels that you have to fill with knowledge. They have knowledge; they just need to make connections." This approach not only encourages the children to notice details and develop a strong empathy for the natural world, but it also fosters revelations based on the information gleaned from the five senses. This allows the young explorers to build expertise organically through analysis and discovery.
The children have spent the year focusing on local ecological specimens, such as bamboo, redwoods, lavender, and soil. The resulting artwork indicates the beginnings of a complex understanding of the artists' environment. The gallery exhibition will also feature documentation of the learning process, which provides added context for each piece on display. "We have a very high image of children in this philosophy," says Gelinas. "These are 2-, 3-, 4-, and 5-year-olds with lots to say. They're very creative, and the creativity needs to shine."
Organic Perspectives is on view at the Helena Mason Art Gallery (48 Helena Ave.) from May 26-29 from noon to 5 p.m.
Bright Start student's artwork | Credit: Ingrid Bostrom

Artwork created with bamboo | Credit: Ingrid Bostrom

Bright Start student, inspired by the lavendar clippings at her workspace | Credit: Ingrid Bostrom

Study of the school's garden | Credit: Ingrid Bostrom

Triptych depiction of the redwood tree in the school yard | Credit: Ingrid Bostrom

Bright Start creative zone | Credit: Ingrid Bostrom

Artwork inspired by fresh lavendar | Credit: Ingrid Bostrom

Artwork inspired by the redwood tree on campus | Credit: Ingrid Bostrom

Proud parents took photographs of their child's artwork on display at Helena Mason Art Gallery | Credit: Ingrid Bostrom

Bright Start show at Helena Mason Art Gallery | Credit: Ingrid Bostrom

Marcela Caceres Gelinas – founder, director and pedagogical coordinator of Bright Start Child Development Center | Credit: Ingrid Bostrom

Bright Start show at Helena Mason Art Gallery | Credit: Ingrid Bostrom